Even Sea Creatures Can't Catch A Break From The Trump Administration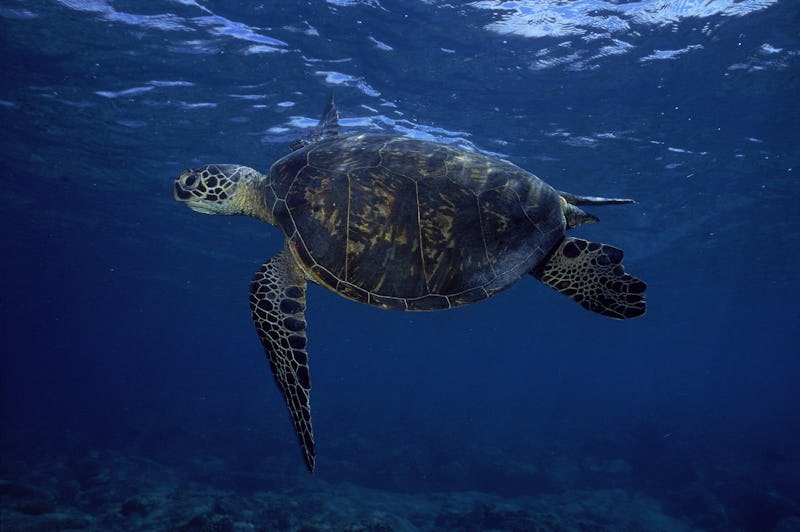 Donald Miralle/Getty Images Sport/Getty Images
National Ocean Month is shaping up to be a surprisingly difficult time for American ocean life. That's partially because on Monday, the National Oceanic and Atmospheric Administration fisheries division said it's scrapping plans to protect wildlife from the gillnets on the West Coast.
Essentially, the gillnet rule would have been an attempt to limit the amount of certain marine life inadvertently killed by swordfish gillnets on the California coast. Gillnets are mile-long nets that are set out by boaters to catch swordfish in the Pacific Ocean. The limit on accidental injury or killing of animals like sperm whales and loggerhead turtles approved by the Pacific Fishery Management Council would have been two per two years. If the limit was breached, the nets would be banned for two seasons. According to Reuters, several types of whales and turtles and one species of dolphin that had been declining in the area, and the rule was meant to protect them from becoming extinct.
The month of June was recognized by President Donald Trump as National Ocean Month. But so far, his administration seems to be using the time to advance initiatives opposite of the cause. In his National Ocean Month speech, he highlighted the importance of "harnessing the seas for our national security and prosperity." Apparently, that means using it for drilling. In April, Trump signed an executive order to open up offshore drilling in parts of the Arctic and Atlantic oceans protected by Former President Barack Obama-era rules.
And why was the rule tossed? According to NBC, the National Marine Fisheries Service determined that the existing restrictions were good enough to protect marine life. The rule also reportedly only applied to about 20 boats on the California coast.
However, environmental groups disagree that the rule had a lack of impact. Catherine Kilduff, senior attorney for environmental group Center for Biological Diversity, told The Los Angeles Times that because of the current low numbers of some species, any number of them caught drastically affects the total population. According to NBC, one group of humpback whales is down to only 411, so any more whales lost or injured is a problem.
The tossing of the rule may seem like a small issue, but with the already low numbers of the animals specified, every one injured or killed by fisheries, even inadvertently, is not good. Hopefully the administration will use the rest of National Ocean Month to look at policies that will help us protect our oceans, animals, and natural resources before they deteriorate.