Every Celebrity Statement Against Harvey Weinstein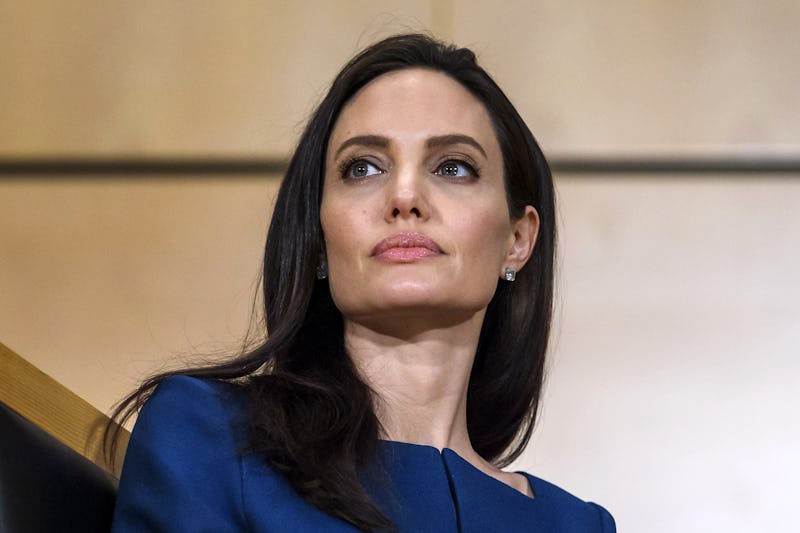 FABRICE COFFRINI/AFP/Getty Images
Ever since The New York Times released its Oct. 5 exposé on Harvey Weinstein detailing decades of allegations of sexual assault and harassment and reported settlements involving different women, not only have there been even more similar allegations unveiled, but celebrities have begun speaking out against Weinstein in increasing numbers. Based on many of the following responses, it's clear that many major players in Hollywood refuse to remain silent and are choosing to support Weinstein's accusers.
Weinstein's lawyer, Charles Harder, told The Hollywood Reporter on Oct. 5, his client would be suing the outlet. "The New York Times published today a story that is saturated with false and defamatory statements about Harvey Weinstein," Harder wrote. "It relies on mostly hearsay accounts and a faulty report, apparently stolen from an employee personnel file, which has been debunked by nine different eyewitnesses. We sent the Times the facts and evidence, but they ignored it and rushed to publish. We are preparing the lawsuit now. All proceeds will be donated to women's organizations."
Weinstein also provided a written statement to the Times, partly reading: "I appreciate the way I've behaved with colleagues in the past has caused a lot of pain, and I sincerely apologize for it. I realized some time ago that I needed to be a better person and my interactions with the people I work with have changed." After the publication of the Times story, Weinstein was fired by The Weinstein Company and there were four other resignations from his all-male board.
On Tuesday, Ronan Farrow published a piece for The New Yorker, which included interviews from 13 different women (actors Mira Sorvino and Rosanna Arquette included), in which three women, including actor Asia Argento, alleged Weinstein had raped them. Weinstein's spokesperson, Sallie Hofmeister, told The New Yorker, "Any allegations of non-consensual sex are unequivocally denied by Mr. Weinstein." The rest of the statement reads:
"Mr. Weinstein has further confirmed that there were never any acts of retaliation against any women for refusing his advances. Mr. Weinstein obviously can't speak to anonymous allegations, but with respect to any women who have made allegations on the record, Mr. Weinstein believes that all of these relationships were consensual. Mr. Weinstein has begun counseling, has listened to the community and is pursuing a better path. Mr. Weinstein is hoping that, if he makes enough progress, he will be given a second chance."
In an interview published by the Times Tuesday, Angelina Jolie, Gwyneth Paltrow, and other women also made allegations against Weinstein. Regarding their claims, Weinstein's spokesperson told the Times:
"Any allegations of non-consensual sex are unequivocally denied by Mr. Weinstein. Mr. Weinstein has further confirmed that there were never any acts of retaliation against any women for refusing his advances. He will not be available for further comments, as he is taking the time to focus on his family, on getting counseling and rebuilding his life."
With that, here is how celebrities are reacting to all of the disturbing allegations.
Matt Damon
In response to The Wrap's Sharon Waxman's claims that Matt Damon and Russell Crowe called her to vouch for Fabrizio Lombardo, who she was investigating for a story about Weinstein for The New York Times in 2004, Damon claimed he didn't know what the point of the story was and said: "For the record, I would never, ever, ever try to kill a story like that. I just wouldn't do that. It's not something I would do, for anybody." He said that he did have a short phone call with Waxman about Lombardo.
He also commented on the recent allegatations against Weinstein. Part of his response reads:
"I did five or six movies with Harvey. I never saw this. I think a lot of actors have come out and said, everybody's saying we all knew. That's not true. This type of predation happens behind closed doors, and out of public view. If there was ever an event that I was at and Harvey was doing this kind of thing and I didn't see it, then I am so deeply sorry, because I would have stopped it. And I will peel my eyes back now, father than I ever have, to look for this type of behavior. Because we know that it happens. I feel horrible for these women and it's wonderful they have this incredible courage and are standing up now."
Nicole Kidman
Nicole Kidman's publicist told The Huffington Post in a statement Tuesday: "As I've stated before publicly, I support and applaud all women and these women who speak out against any abuse and misuse of power ― be it domestic violence or sexual harassment in the workforce. We need to eradicate this behavior."
Angelina Jolie
In her interview with the Times, Jolie said in an email about Weinstein: "I had a bad experience with Harvey Weinstein in my youth, and as a result, chose never to work with him again and warn others when they did. This behavior towards women in any field, any country is unacceptable."
Rosanna Arquette
In her interview with The New Yorker, Rosanna Arquette claims she was once asked to go to Weinstein's Beverly Hills Hotel room in the early '90s, where he allegedly was wearing only a bathrobe and asked for a massage. After she reportedly recommended a masseuse, Rosanna claimed, "Then he grabbed my hand," and he allegedly put it on his neck. She claimed after she yanked her hand away he pulled it towards his genitals. She said, "My heart was really racing. I was in a fight-or-flight moment." She allegedly told Weinstein, "I will never do that," and left the room.
Patricia Arquette
Patricia Arquette praised her sister, Rosanna, and everyone else who has spoken out.
Mira Sorvino
Like Arquette, Mira Sorvino also alleged to The New Yorker that Weinstein sexually harassed her and tried to pressure her into a physical relationship when they were working together. After claiming she rejected him several times, Sorvino said she felt it affected her career. "There may have been other factors, but I definitely felt iced out and that my rejection of Harvey had something to do with it," she claimed.
Gwyneth Paltrow
In the same Times piece as Jolie, Paltrow alleged she was asked to Weinstein's suit at the Peninsula Beverly Hills hotel for a meeting before the filming of Emma commenced in the late '90s. Paltrow claims Weinstein placed his hands on her and suggested they head to the bedroom for massages. "I was a kid, I was signed up, I was petrified," Paltrow said. According to her, she refused Weinstein, told her then-boyfriend Brad Pitt of what occurred, who allegedly confronted Weinstein. "I thought he was going to fire me," Paltrow added.
George Clooney
"It's indefensible," George Clooney told The Daily Beast. "That's the only word you can start with. Harvey's admitted to it, and it's indefensible. I've known Harvey for 20 years. He gave me my first big break as an actor in films on From Dusk Till Dawn, he gave me my first big break as a director with Confessions of a Dangerous Mind. We've had dinners, we've been on location together, we've had arguments. But I can tell you that I've never seen any of this behavior — ever."
Meryl Streep
Meryl Streep gave a lengthy statement to The Huffington Post. "The disgraceful news about Harvey Weinstein has appalled those of us whose work he championed, and those whose good and worthy causes he supported," a portion of it read. "The intrepid women who raised their voices to expose this abuse are our heroes."
Jessica Chastain
Jessica Chastain has spoken out repeatedly on Twitter regarding the allegations made against Weinstein, including the above tweet.
Lena Dunham
Not only has Lena Dunham tweeted about Weinstein, but she also wrote an op-ed for The New York Times detailing what Hollywood needs to do next, especially the men in Hollywood. She wrote, "The reason I am zeroing in on the men is that they have the least to lose and the most power to shift the narrative, and are probably not dealing with the same level of collective and personal trauma around these allegations."
Mindy Kaling
Like Dunham, Mindy Kaling also believes men speaking up will do more good than harm.
Ben Affleck
Ben Affleck worked with Weinstein multiple times, including when he gave Affleck his start in Good Will Hunting, and says he is "saddened and angry" about the entire situation.
Jennifer Lawrence
Jennifer Lawrence spoke with The Daily Beast and said:
"I was deeply disturbed to hear the news about Harvey Weinstein's behavior. I worked with Harvey five years ago and I did not experience any form of harassment personally, nor did I know about any of these allegations. This kind of abuse is inexcusable and absolutely upsetting. My heart goes out to all of the women affected by these gross actions. And I want to thank them for their bravery to come forward."
Julianne Moore
Julianne Moore stands with Weinstein's accusers.
Romola Garai
The Dirty Dancing: Havana Nights star, like many other women, made allegations against Weinstein. "Like every other woman in the industry, I've had an 'audition' with Harvey Weinstein, where I'd actually already had the audition but you had to be personally approved by him," she claimed to The Guardian. "So I had to go to his hotel room in the Savoy, and he answered the door in his bathrobe. I was only 18. I felt violated by it, it has stayed very clearly in my memory."
Ashley Judd
In The New York Times exposé, Ashley Judd recounted a time in 1997, while she was busy filming Kiss the Girls, when Weinstein allegedly invited her to meet him at a hotel for breakfast. In a meeting she thought was to discuss her career, Judd claims Weinstein "appeared in a bathrobe and asked if he could give her a massage or she could watch him shower." At the time, she said she was thinking, "How do I get out of the room as fast as possible without alienating Harvey Weinstein?"
Amber Tamblyn
Amber Tamblyn has been extremely outspoken on social media about Weinstein and it looks like she isn't going to stop anytime soon.
Olivia Munn
Olivia Munn stands with everyone who has ever been sexually harassed or assaulted.
Brie Larson
Brie Larson believes Weinstein's accusers.
Constance Wu
Constance Wu refuses to stay silent.
America Ferrera
America Ferrera is calling it like she sees it.
Andy Serkis
In a statement given to The Cut, Andy Serkis said about Weinstein:
"Look, the truth always comes out for people in positions of power who abuse their power. I am a firm believer of that. There is a sadness there because Harvey Weinstein was a great advocate for young talented filmmakers and worked hard to bring those films to the world, and yet, the means by which he did that are indefensible."
Claire Foy
Claire Foy also gave a statement to The Cut and said:
"I have never had any experiences with sexual harassment in the workplace. But then I am very fortunate that is the case because I know a lot of people that it is the case for. And quite frankly it shouldn't be something that anyone has to experience. So the more people speak out, the more it helps people in the future, and it helps the industry to change and it needs to change desperately. The attitude towards women [needs to change], and the way women are treated. Any harassment or bullying in the workplace is absolutely unacceptable."
Andrew Garfield
Like Foy, his Breathe co-star, Andrew Garfield reacted with a statement to The Cut:
"I mean it's shocking. I found it very saddening, and disappointing, but mostly I felt very inspired, I suppose by the women who have come forward and shared their stories and it is kind of heroic thing as far as I'm concerned. That is the only way those abuses of power will stop. So I am in full support."
Stephen Colbert
Here's a portion of what Stephen Colbert said on The Late Show on Monday: "This is monstrous behavior that in a just world would not have been allowed to go on for decades. It is indefensible. Weinstein immediately defended it..."
Charlize Theron
Charlize Theron, who's worked with Weinstein before, gave a statement to BuzzFeed:
The women who have spoken about their abuse are brave and heroic and although I didn't have a personal experience like this with Harvey Weinstein, I unfortunately cannot say I'm surprised. This culture has always existed, not just in Hollywood but across the world. And many men in positions of power have gotten away with it for far too long. And we cannot blame the victims here. A lot of these women are young and just starting out in their respective fields, and have absolutely no way to stand up to a man with such greater influence than them. If they speak up, they are shut down, and that could be the end of their career. This is all a positive step forward in changing that culture, and these young women need to know that they have a support system should anything like this happen to them. And I want you all to know I'm here to support you.
Judd Apatow
As stated in the comments above, while Weinstein did issue an apology for some past behavior, he and his representatives are still denying many of the allegations.
Kevin Smith
Kevin Smith noted his personal connection to Weinstein.
Judge Judy
In a Tuesday interview with TMZ, Judge Judy gave her honest opinion about Weinstein. "If half of what has been reported is accurate, then, I think, you can't ask for support from people you've worked with over the years — just out of loyalty," she said before adding, "I think you have to be able to say, 'You know what? Somebody who has talent is not entitled to be a misogynist, is not entitled to cause emotional or physical pain.'" She also said, "If you've been given a pass for a long time, then there is payback. And sometimes payback is nasty."
Sophia Bush
Sophia Bush wants the perpetuation of rape culture to stop.
Paul Feig
Director Paul Feig also told The Huffington Post Tuesday, "These women are enormously brave for coming out and I know this is the hardest thing in the world to come out like this, and it's great. But they can't do it alone. They need men speaking out." He also said, "This is so despicable because Harvey is a gatekeeper. Harassment is never excusable, but this makes it doubly horrible because he's someone in power holding that power over people who want something from him and whom he can retaliate against if they go against his wishes."
Seth Rogen
Seth Rogen is speaking loud and clear.
James Gunn
Guardians of the Galaxy director James Gunn wrote a lengthy response on Facebook titled "On Sexual Predators in Hollywood (and the World)." Part of it reads:
"I am hoping with recent truths coming to light, that their reign is coming to an end, in Hollywood, and everywhere. I promise to do everything I personally can to stop it, and I applaud and have deep love for every human being who breaks the silence."
Josh Gad
Josh Gad is ready for everyone to learn from this situation.
Emmy Rossum
Emmy Rossum isn't here for excuses.
Michael Keaton
Michael Keaton is voicing exactly how he feels.
Charisma Carpenter
The former Buffy the Vampire Slayer actor is thankful to those stepping forward.
Olivia Wilde
Olivia Wilde isn't backing down.
Anthony Bourdain
Anthony Bourdain spoke out about the allegations in numerous tweets and supported Argento, his girlfriend.
Eric McCormack
According to Variety, McCormack spoke of the Weinstein allegations during a brunch in Beverly Hills on Sunday benefiting the Rape Foundation. When asked about the scandal, the Will & Grace star said,
"I don't think anyone is particularly surprised with that. It reminds us that the abuse of women is systematic. It's a very real thing that women have had to endure in this business for a long time. It's good that it's out from under the rug."
Milo Ventimiglia
The Gilmore Girls alum was at the same brunch as McCormack, according to Us Weekly. Ventimiglia addressed the Weinstein situation by calling on his fellow men to stand up for others. He said,
"I think men have a great responsibility in Hollywood in general. I think we need to show compassion and strength. We need to show understanding, communication, and I think we need to stand up for people."
According to Us Weekly, Ventimiglia added, "Let's represent ourselves as good leaders and represent ourselves as good men. I think good men kind of need to come back."
Mandy Moore
The singer-turned-actor addressed the situation on more than one occasion. In addition to the tweet above, Moore discussed the Weinstein allegations during a recent radio appearance on EW Morning Live, according to Just Jared. She said,
"Women need to be believed and their stories need to be out there, and men need to be a part of the answer. They need to be part of the story…it's uncomfortable, but we need to get uncomfortable to affect change."
Minnie Driver
In an exclusive statement to Variety, Driver responded to the accusations against Weinstein on Tuesday. She told the publication,
"In light of the revelations about Harvey Weinstein in the past few days, I feel it necessary to add my support for the women who have been victimized and have been brave enough to talk about it. While I never experienced any abuse while working with Harvey, I think it's important to add my voice to those of women everywhere who have experienced abuse at the hands of powerful men."
She was nominated for an Oscar for her role in Good Will Hunting, which is one of many movies that was backed by Weinstein.
Rose McGowan
Dubbed the "voice of the Harvey Weinstein resistance" by Newsweek, McGowan has been vocal on Twitter, calling for the board of The Weinstein Company to be dissolved and more men in Hollywood to speak out. She wrote, "Women fight on. And to the men out there, stand up. We need you as allies. #bebrave."
Though she declined to comment to the New York Times, she's mentioned in their initial report; McGowan reportedly received a settlement following an alleged incident with Weinstein back in the '90s, according to the Times. (They noted that the settlement was "not to be construed as an admission" from Weinstein, but intended to "avoid litigation and buy peace," per a legal document.)
Gretchen Mol
The actor, who's been associated with Weinstein in the past, wrote a guest column for The Hollywood Reporter. Mol condemned Weinstein's alleged actions, and clarified she never received a settlement from the producer nor exchanged any "sexual favors." She wrote,
"I am angry and disgusted about Harvey Weinstein's abuse of power and his shameless assaults against women. This kind of abuse of women is grossly familiar, and for many of us, it's hard to muster up surprise. I feel deeply for the women who had to deal with and navigate his incredibly entitled, bullying, revolting and inexcusable behavior. I am grateful to them and applaud their bravery in speaking out."
Susan Sarandon
Sarandon showed she had Judd's back, as well as supporting all the other women who came forward.
Mark Ruffalo
The actor made his views crystal clear, while looking ahead to the future.
Christian Slater
The Mr. Robot actor joins the many in Hollywood who have the women's backs. He also acknowledges male privilege in the process.
Lin-Manuel Miranda
The Hamilton creator's reaction echoes that of many fellow celebrities: disgust at the alleged actions and support for the accusers.
Zoe Kazan
Kazan, who starred in the summer hit The Big Sick, posed valuable questions on Twitter. Reflecting on sexual harassment as a whole, she added, "I hope holding him accountable brings about change. But that only happens if we don't act like he's the exception, when he's an exemplar."
Kumail Nanjiani
Similarly, Kazan's Big Sick costar reflected on what this can mean going forward. Nanjiani wrote a series of tweets about Weinstein, including, "Stores [sic] like Weinstein are awful. But men also need to be aware of the ways in which we're trained to be sexist in less obvious ways."
Rosie O'Donnell
In addition to multiple retweets about the allegations, O'Donnell responded to some fellow Twitter user's posts.
Judi Dench
Dench said in a statement to Newsweek:
"Whilst there is no doubt that Harvey Weinstein has helped and championed my film career for the past 20 years, I was completely unaware of these offenses which are, of course, horrifying, and I offer my sympathy to those who have suffered, and wholehearted support to those who have spoken out."
Kate Winslet
Winslet released a lengthy statement to Variety that reads in part:
"The fact that these women are starting to speak out about the gross misconduct of one of our most important and well regarded film producers, is incredibly brave and has been deeply shocking to hear. The way Harvey Weinstein has treated these vulnerable, talented young women is NOT the way women should ever EVER deem to be acceptable or commonplace in ANY workplace.
Glenn Close
Close also shared a long statement. Her statement, to the New York Times, begins,
I'm sitting here, deeply upset, acknowledging to myself that, yes, for many years, I have been aware of the vague rumors that Harvey Weinstein had a pattern of behaving inappropriately around women. Harvey has always been decent to me, but now that the rumors are being substantiated, I feel angry and darkly sad.
Alyssa Milano
Milano wrote a post on her website, Patriot Not Partisan, that mentions her friendship with Weinstein's wife, Georgina Chapman (who on Tuesday announced she was leaving him) and also links to organizations that fight for women's rights. It reads in part:
To the women who have suffered any form of abuse of power, I stand beside you. To the women who have come forward against a system that is designed to keep you silent, I stand in awe of you and appreciate you and your fortitude. It is not easy to disclose such experiences, especially in the public eye. Your strength will inspire others.
Leonardo DiCaprio
While he didn't mention Weinstein's name specifically, DiCaprio did write a message about sexual assault on his Facebook page Tuesday night.
Zendaya
Zendaya is grateful to all of the women who continue to step forward, especially as a young woman in Hollywood.
Viola Davis
Davis' full statement given to Variety Tuesday reads:
The predator wants your silence. It feeds their power, entitlement AND they want it to feed your shame. Our bodies are not the "spoils of war"… a trophy to be collected to fuel your ego. It's OURS!!! It doesn't belong to you!! And when you take it without permission, it DESTROYS…… like a virus!!! To the predators.. Weinstein, the stranger, the relative, the boyfriend…. I say to you, "You can choose your sin but you don't get to choose the consequences." To the victims…. I see you. I believe you… and I'm listening.
Cate Blanchett
Blanchett, who has worked with Weinsten in several projects, including Carol and The Aviator, told Variety Tuesday:
"Any man in a position of power or authority who thinks it's his prerogative to threaten, intimidate or sexually assault any woman he encounters or works alongside needs to be called to account. It is never easy for a woman to come forward in such situations and I wholeheartedly support those who have."
Colin Firth
Firth worked with Weinstein during The King's Speech, which won the actor an Oscar. "It's with a feeling of nausea that I read what was going on while I was benefiting from Harvey Weinstein's support," he told The Guardian Tuesday. "He was a powerful and frightening man to stand up to. It must have been terrifying for these women to step up and call him out. And horrifying to be subjected to that kind of harassment. I applaud their courage."
Benedict Cumberbatch
He stars in Weinstein's upcoming film The Current War, but that hasn't prevented Cumberbatch from speaking out. A portion of his statement given to The Hollywood Reporter Tuesday reads: "I am utterly disgusted by the continuing revelations of Harvey Weinstein's horrifying and unforgivable actions. We need to collectively stand up and support victims of abuse such as the brave and inspiring women who have spoken out against him and say we hear you and believe you."
Mayim Bialik
In a piece written for her website, Grok Nation, Monday, Bialik opened up about why she's not surprised about the allegations brought against Weinstein. "I am not surprised because men in power seek to maintain it and reap what they see as the acceptable cultural benefits of that power," she wrote. "Women should never be subjected to abuse of the kind Harvey doled out. Women should never be punished for rejecting the advances of a lecherous man. Women should not be required to satisfy a man's sexual desires in order to get ahead."
David Thewlis
The Harry Potter actor told BuzzFeed in a statement: "Men like this who equate fame and power with the right to degrade women should be unequivocally condemned, shamed and be seen to suffer the consequences."
Ryan Gosling
Gosling posted a message on Twitter in which he noted that men need to stand with women.
More to come...
If you or someone you know has been sexually assaulted, call the National Sexual Assault Telephone Hotline at 800-656-HOPE (4673) or visit online.rainn.org.