Angelina Jolie & Gwyneth Paltrow Join The Growing List Of Stars Accusing Harvey Weinstein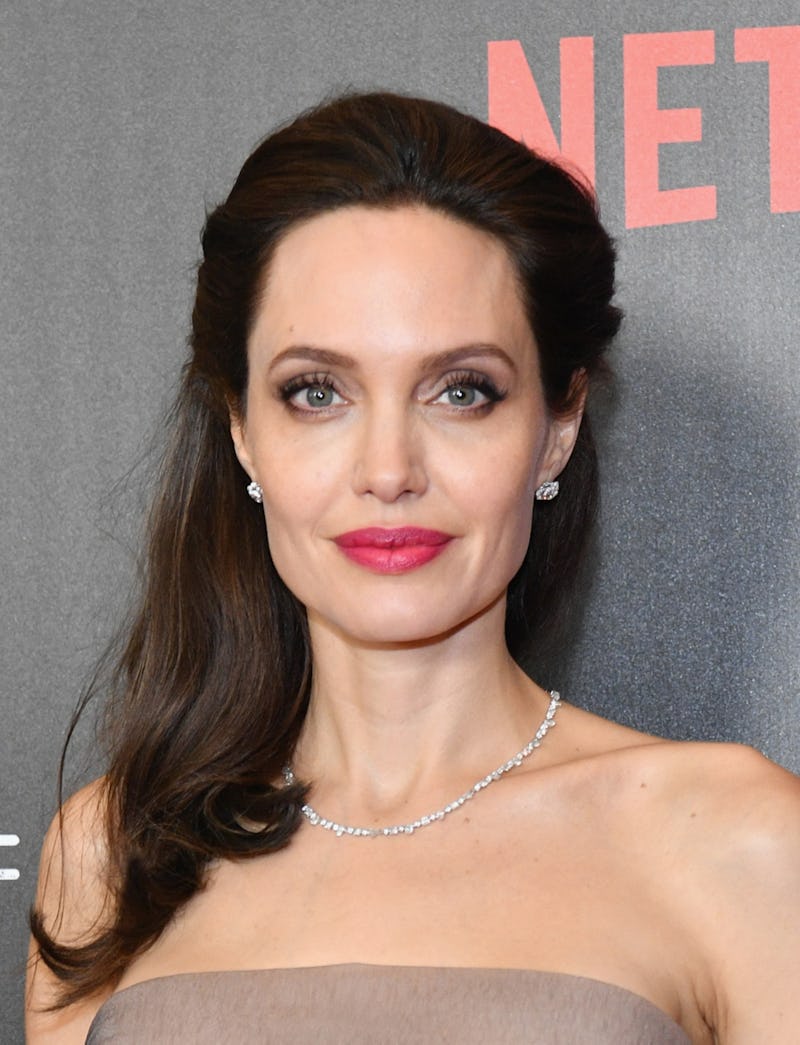 Dia Dipasupil/Getty Images Entertainment/Getty Images
The accusations against Harvey Weinstein keep piling up. On Tuesday, the New York Times published another story, this one including Angelina Jolie and Gwyneth Paltrow's allegations against Weinstein. Jolie alleges that Weinstein made unwanted sexual advances toward her in a hotel room in the late '90s, while Paltrow claims the producer allegedly came onto her in a hotel room, reportedly placing his hands on her and suggesting they go to the bedroom for massages. The Times also interviewed Rosanna Arquette, Tomi-Ann Roberts, Judith Godrèche, Dawn Dunning, and Katherine Kendall for this report.
In response to all of the allegations in this latest development, Weinstein's spokesperson released a statement to the Times that reads,
"Any allegations of non-consensual sex are unequivocally denied by Mr. Weinstein. Mr. Weinstein has further confirmed that there were never any acts of retaliation against any women for refusing his advances. He will not be available for further comments, as he is taking the time to focus on his family, on getting counseling and rebuilding his life."
Jolie claimed in an email to the Times, "I had a bad experience with Harvey Weinstein in my youth, and as a result, chose never to work with him again and warn others when they did." She says this happened while working on the 1998 movie, Playing by Heart. She added, "This behavior towards women in any field, any country is unacceptable."
Meanwhile, it's Jolie's current husband, Brad Pitt, who came to the defense of then-girlfriend Paltrow after Weinstein invited her to his hotel for a presumed work meeting that led to the aforementioned massage invitation, according to Paltrow. Paltrow told the Times, "I was a kid, I was signed up, I was petrified." She told Pitt about what happened, she says, and he reportedly confronted Weinstein. Afterward, Weinstein reportedly told Paltrow to not tell anyone else, and she feared she would get fired.
Last Thursday, the Times published their first report, uncovering nearly three decades of allegations against the movie producer. That initial article included Ashley Judd's account of being invited to Weinstein's hotel room, as well as citing a hotel room incident with Rose McGowan at Sundance Film Festival that led to McGowan reportedly receiving a settlement. (Though she declined to comment in the Times story, she's been vocal on Twitter, even calling for the entire Weinstein Company board to resign.)
Weinstein has since been fired from The Weinstein Company. Meanwhile, his attorney Charles Harder told The Hollywood Reporter that they are preparing a lawsuit against the Times. Harder also claimed the report was "saturated with false and defamatory statements about Harvey Weinstein." Weinstein himself released an apology to the Times, stating, "I appreciate the way I've behaved with colleagues in the past has caused a lot of pain, and I sincerely apologize for it. Though I'm trying to do better, I know I have a long way to go."
On the same day the Times released this latest report, journalist Ronan Farow published an exposé for the New Yorker, which included rape allegations against Weinstein, where he allegedly forced women to receive and give oral sex. The story also included audio from 2015, where Weinstein can be heard admitting to groping a model named Ambra Battilana Gutierrez. (A spokesperson for Weinstein denied these claims with a statement to the New Yorker that's similar to the Times one above. It reads, in part, "Any allegations of non-consensual sex are unequivocally denied by Mr. Weinstein... With respect to any women who have made allegations on the record, Mr. Weinstein believes that all of these relationships were consensual.")
As the allegations continue to unfold, more and more celebrities have spoken out in support of the women coming forward. Meryl Streep, Lena Dunham, Amber Tamblyn, and Christian Slater are just a few who have voiced disappointment over Weinstein's alleged behavior and commended the women's strength.
If you or someone you know has been sexually assaulted, call the National Sexual Assault Telephone Hotline at 800-656-HOPE (4673) or visit online.rainn.org.