What's Leaving & Coming To Netflix In July 2017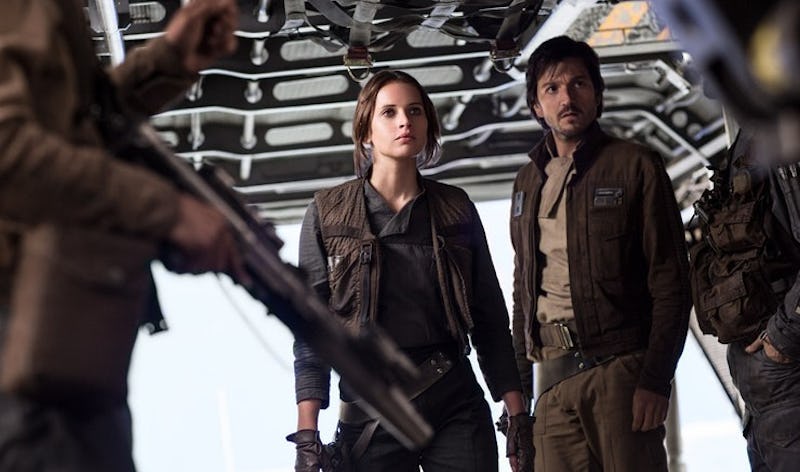 Walt Disney Pictures/Lucasfilm
The time has come: No, not summer time, but the time when new shows and movies come to Netflix, and leaving the streaming site throughout June and July, to bribe you into staying indoors instead of playing in the sun. Don't get me wrong. I'm sure the beach and the pool are equally fun places to spend your time, but, come July, you'll be able to watch Rogue One: A Star Wars Story on Netflix. Look into your heart, friends. Do you really want to leave the comfort of your home after that? I know, I know. It's quite a dilemma.
But Rogue One isn't the only amazing thing that's on its way to the streaming site. We've got classics like Titanic, finales like Pretty Little Liars 7B, and a whole mess of comedy specials and Netflix originals to tempt you into making a you-sized dent in your couch instead of lounging by the nearest body of water. Personally, I'll be watching The Worst Witch like it's going out of style, just for the sheer nostalgia value, but I know there's got to be something below that will make even the most outdoorsy person reconsider that hike. Whether you're more into movies or more into TV shows, we're all into Netflix. And these shows coming in July will remind you why.
What's Coming
AVAILABLE JULY 1
Titanic
The Originals Season 4
Free Willy
I remember watching this film on one of my first plane rides. The relationship depicted between a young troubled boy and his orca is beautiful.
Disney's The Mighty Ducks
Madagascar: Escape 2 Africa
Capo "El amo del tunel" Season 1
El Barco Season 1
The Truth Is in the Stars
Deep Water Season 1
E.T. the Extra-Terrestrial
Hostages (Israel) Season 2
Zip & Zap and the Marble Gang
The Invisible Guest (Contratiempo)
Albion: The Enchanted Stallion
Liar's Dice
A woman and her daughter take the journey of a lifetime to find their missing father and husband. You don't want to miss this one.
Offspring Season 6
Boat Trip
Mixed Signals
Delicatessen
Caramel
Yours Fatefully Season 1
The Ultimatum Season 1
Unriddle 2
Xiao Man and Da Bao investigate some of the most dangerous and time-sensitive cases in this Singaporean drama.
Unriddle
Yes We Can! Season 1
Spice Up Season 1
World at Your Feet Season 1
Emma
The Boy in the Striped Pajamas
Last Night
Out of Thin Air
Witnesses Season 2
The Longest Yard
Jackass: Number Two
Punch-Drunk Love
Are We There Yet?
Are We Done Yet?
The Land Before Time
Dad
The Land Before Time II: The Great Valley Adventure
The Land Before Time III: The Time of the Great Giving
Here Alone
Spawn: The Movie
Code Name: The Cleaner
The Astronaut Farmer
Best in Show
Proof of Life
Matchstick Men
Nicolas Cage plays a depressed con artist who is inspired by his daughter to live life just a little differently for his own sanity.
Taking Lives
Police Academy
AVAILABLE JULY 2
AVAILABLE JULY 3
A deal goes wrong by a former lover, and then they learn they have to be on good terms before someone gets hurt. Sounds complicated.
Extraordinary: The Stan Romanek Story
AVAILABLE JULY 4
AVAILABLE JULY 5
AVAILABLE JULY 6
Speech & Debate
The Void
Butter
AVAILABLE JULY 7
Castlevania Season 1
Dawn of the Croods Season 4
Degrassi: Next Class Season 4
Luna Petunia Season 2
It's a great show for kids to learn that there are truly no limits to what you can do.
1 Mile to You (Life At These Speeds)
AVAILABLE JULY 8
AVAILABLE JULY 9
AVAILABLE JULY 11
Gabriel Iglesias Presents The Gentleman Jerry Rocha
AVAILABLE JULY 14
Friends From College Season 1
To the Bone
Chasing Coral
Marine biologists and ad executives team up to study the effects of global warming. Perfect for the documentary lovers out there.
Buddy Thunderstruck: The Maybe Pile
AVAILABLE JULY 15
Rake Season 4
West Coast Customs Season 4
AVAILABLE JULY 17
Uncertain Glory
Fittest on Earth: A Decade of Fitness
A Cowgirl's Story
AVAILABLE JULY 18
Aditi Mittal: Things They Wouldn't Let Me Say
Ari Shaffir: Double Negative: Collection
Girlfriends' Guide to Divorce Season 3
This comedy is a perfect example of what not to do when divorce papers are served.
Rogue One: A Star Wars Story
AVAILABLE JULY 20
Pretty Little Liars Season 7B
AVAILABLE JULY 21
Ozark Season 1
Last Chance U Season 2
The Worst Witch Season 1
AVAILABLE JULY 22
If you're a big Jackie Chan fan, you'll love watching him battle an army aboard a dangerous train.
AVAILABLE JULY 24
AVAILABLE JULY 25
Joe Mande's Award-Winning Comedy Special
Munroe Island
AVAILABLE JULY 28
The Incredible Jessica James
Daughters of Destiny Season 1
The Adventures of Puss in Boots Season 5
AVAILABLE JULY 31
A man is sent packing by choice from a Bachelorette-type show after he discovers that his dad has passed away.
Checkpoint
Dark Night
Taking Earth
Being Mary Jane: The Series Season 4 (Date TBD)
What's Leaving
LEAVING JULY 1
Blazing Saddles
American Pie Presents: Band Camp
Flicka 2
9/11: Stories in Fragments
Secrets: The Sphinx
Batman
Working Girl
Gentlemen Prefer Blondes
An Unmarried Woman
Hello, Dolly!
Barbara Streisand stars in this musical about a young widow named Dolly and a professional matchmaker.
MacGyver Seasons 1 - 7
Ghost Whisperer Seasons 1 - 5
Futurama Season 6
Day of the Kamikaze
Mystery Files: Hitler
Mystery Files: Leonardo da Vinci
Nazi Temple of Doom
The Hunt for Bin Laden
The Incredible Bionic Man
History in HD: The Last Bomb
Secrets: A Viking Map?
Secrets: Richard III Revealed
Shuttle Discovery's Last Mission
Titanic's Final Mystery
Samurai Headhunters
America's Secret D-Day Disaster
Black Wings
Blondie's New York
Punks turn into legends in this story of how Blondie truly came to be.
Bombs, Bullets and Fraud
Death Beach
Hip Hop: The Furious Force of Rhymes
American Pie Presents: Beta House
Hugo
American Pie Presents: The Naked Mile
Angus, Thongs and Perfect Snogging
While You Were Sleeping
Kate & Leopold
El Dorado
LEAVING JULY 3
The Last Samurai
Two Weeks Notice
LEAVING JULY 6
Los Heroes del Norte Seasons 1 - 2
The most famous grupero band in Mexico is created when five young people seek a way out of their personal drama.
LEAVING JULY 11
LEAVING JULY 12
No, not the animated film. The childhood favorite about a girl cursed into an everlasting sleep made its return in 2014. See what happens when her prince finds her before it's too late.
Adventures of Pepper and Paula
In The Basement
LEAVING JULY 13
Kevin Heart: Laugh at my Pain
LEAVING JULY 17
If you remember your first awkward kiss, then you'll feel for the kid who's taking everyone's pointers on how to get it just right with the girl of his dreams.
Editor's Note: A previous version of this story incorrectly referred to Unriddle 2 as a Korean drama, instead of a Singaporean drama.