Everything You Need To Know About The Donald Trump Jr. Russia Scandal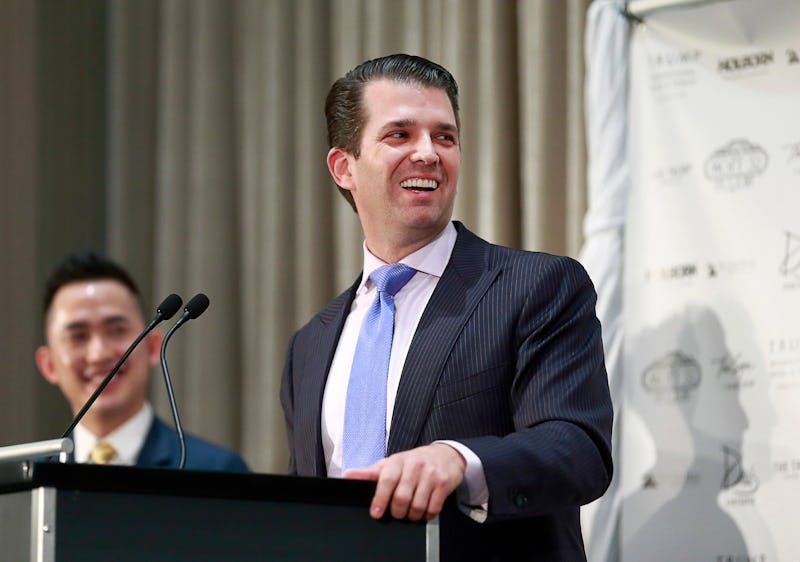 Jeff Vinnick/Getty Images News/Getty Images
According to a series of emails he released on Tuesday, Donald Trump Jr. met with a Russian lawyer during the 2016 election to discuss potentially damaging information about Hillary Clinton. Certainly, this information is significant on its own, but when you fit it into the larger timeline of the Donald Trump Jr. Russia email scandal and the notable developments and contradictions from the Trump family over the past year, it takes on another level of meaning.
The contents of the email chain that Trump Jr. released show that the meeting was also attended by Jared Kushner, Trump Jr.'s brother-in-law, who is now a top White House official, as well as former campaign manager Paul Manafort. Both men were also copied on the email thread that Trump Jr. posted online, which is significant because of their proximity to the campaign.
According to the Russian lawyer implicated, Natalia Veselnitskaya, the meeting wasn't focused on Clinton's campaign at all, but rather was to discuss U.S. sanctions against Russia. She told NBC News on Tuesday, "I never had any damaging or sensitive information about Hillary Clinton. It was never my intention to have that,"
In response to the emails his eldest son shared with the public, president Trump issued a brief statement defending Trump Jr. "My son is a high-quality person and I applaud his transparency," read the statement, which White House deputy press secretary Sarah Huckabee Sanders shared with reporters on Tuesday.
In order to fully comprehend how significant this email chain actually is, it's important to look back on the gradual unfolding of the possible collusion between Russia and the Trump administration.
So let's start from the beginning.
June 2016: Trump Jr. Emails With Rob Goldstone
On June 3, 2016, Trump Jr. and music publicist Rob Goldstone corresponded over email. In the emails, Goldstone claimed that his client Emin Agalarov had potentially incriminating information about the Clinton campaign. The father of Emin, Aras Agalarov, is a billionaire Russian real estate agent who previously worked with Trump during the 2013 Miss Universe Pageant in Moscow.
In the email chain, Goldstone claimed that Agalarov had connections with Russia's "crown prosecutor" in Russia, who had damaging information about Clinton. (There is no such position.) "This is obviously very high level and sensitive information but is part of Russia and its government's support for Mr Trump," wrote Goldstone.
Trump Jr. soon replied, "If it's what you say, I love it, especially later in the summer."
In a following email, Goldstone described Veselnitskaya as "a Russian government attorney" when arranging a meeting. Veselnitskaya says she is a private citizen and was not working on behalf of the Russian government.
You can read the full text of their emails here.
June 2016: Trump Jr. Meets With The Russian Lawyer
On June 9, 2016, Trump Jr., Kushner, and Manafort all met with Veselnitskaya in Trump Tower. Trump Jr. told reporters at a press briefing Saturday:
It was a short introductory meeting. I asked Jared and Paul to stop by. We primarily discussed a program about the adoption of Russian children that was active and popular with American families years ago and was since ended by the Russian government, but it was not a campaign issue at the time and there was no follow up. I was asked to attend the meeting by an acquaintance, but was not told the name of the person I would be meeting with beforehand.
In a follow-up tweet on Tuesday, Trump Jr. claimed that the meeting "went nowhere but [he] had to listen."
July 2016: WikiLeaks Publishes The DNC Emails
On July 22, WikiLeaks published a trove of Democratic National Committee emails that were gathered from a hack of the organization's server. There were over 19,000 messages in the leak, which some believe displayed former DNC chairman Debbie Wasserman Schultz's bias toward Clinton over the fellow Democratic candidate, Bernie Sanders. In one of the emails, Wasserman Schultz responded to a CNN segment featuring Sanders, in which he threatened to fire her if he took office: "This is a silly story. He isn't going to be president."
Following the leak, Wasserman Schultz resigned from her position as DNC chair. Later, the Clinton campaign blamed Russia for the hack, claiming it was part of a plan to get Trump into office.
During an interview with Sean Hannity, WikiLeaks founder Julian Assange denied that Russia was the direct source of the emails, but deflected whether the source was connected to the Kremlin. "Our source is not a state party. So the answer, for our interactions, is no," Assange said.
July 2016: Paul Manafort Denies Russia Connection
On July 24, during an interview with George Stephanopoulos on ABC News, Manafort, was prompted with the question: "Are there any ties between Mr. Trump, you or your campaign and Putin and his regime?"
In response, Manafort denied a Russia connection: "No there are not. It's absurd and there's no basis to it."
July 2016: Trump Jr. Denies Russia Connection On CNN
On July 24, during an interview on CNN's State of the Union, when asked whether the Russian government was helping Trump's campaign, specifically by hacking the DNC's emails, Trump Jr. vehemently denied the possibility.
"It just goes to show you their exact moral compass. They'll say anything to be able to win this. This is time and time again, lie after lie — it's disgusting, it's so phony. I can't think of bigger lies. But that exactly goes to show you what the DNC and what the Clinton camp will do. They will lie and do anything to win," Trump Jr. replied.
July 2016: Government Agencies Suggest Russia Hacked DNC
On July 26, intelligence officials told the White House they had "high confidence" that the Kremlin was behind the DNC hack, according to a report from the New York Times.
In an essay published on Lawfare, a former lawyer for the National Security Agency, Susan Hennessy, claimed the evidence regarding Russian involvement was "about as close to a smoking gun as can be expected when a sophisticated nation-state is involved."
September 2016: Trump Denies Russia Hack At Presidential Debate
On Sept. 26, during a presidential debate against Clinton, Trump denied Russia's involvement in the DNC hack, and claimed it could have been anyone with hacking abilities: "I don't think anybody knows it was Russia that broke into the DNC. She's saying Russia Russia Russia, but I don't- Maybe it was. It could be Russia, but it could also be China. It could be someone sitting on their bed that weighs 400 pounds, okay?"
November 2016: Trump Campaign Spokesperson Denies Russia Connection
On Nov. 11, while speaking with the Associated Press, Trump campaign spokeswoman Hope Hicks denied contacts with Russian representatives.
"It never happened. There was no communication between the campaign and any foreign entity during the campaign," she said.
December 2016: The CIA Claims Russian Involvement
In early December, the CIA shared an assessment with a handful of senators in a closed door briefing on Capitol Hill. The presentation included findings from the CIA, the NSA, the FBI, and the Director of National Intelligence's office. With minor disagreements on the details, there was an overall agreement on Russia's involvement in the hack.
"It is the assessment of the intelligence community that Russia's goal here was to favor one candidate over the other, to help Trump get elected. That's the consensus view," a senior U.S. official shared following the briefing.
A few weeks after that meeting, the Director of National Intelligence released an intelligence report on the Russian hacking to the public.
December 2016: Obama Sanctions Russia
In response to these reports, President Obama issued new sanctions on Russia and expelled 35 Russians from the U.S. Americans should "be alarmed by Russia's actions," Obama said.
February 2017: Michael Flynn Resigns As Security Advisor
On Feb. 8, White House National Security Adviser Michael Flynn resigned from his position after admitting that he misled Vice President Mike Pence about his phone calls with a Russian diplomat, Sergey Kislyak. The phone calls took place after Obama's sanctions against Russia, which were implemented as a precaution for possible foreign interference.
In his resignation letter, Flynn said he "inadvertently briefed the Vice President Elect and others with incomplete information regarding my phone calls to the Russian Ambassador." He then apologized.
February 2017: Trump Once Again Denies Russia Involvement
On Feb. 16, during Trump's first press conference since taking office, he firmly denied Russian involvement in the election, following prompts from reporters.
"I guess one of the reasons I'm here today is to tell you the whole Russian thing, that's a ruse. That's a ruse. And by the way, it would be great if we could get along with Russia, just so you understand that," Trump said.
March 2017: FBI Director James Comey Confirms FBI Investigation
On March 20, during opening statements at a hearing for the House Intelligence Committee, FBI Director James Comey confirmed that the bureau had been formally investigating possible ties between Trump and Russia since July 2016. This investigation was performed in conjunction with a larger probe into the hacking of the DNC server.
"That includes investigating the nature of any links between individuals associated with the Trump campaign and the Russian government and whether there was any coordination between the campaign and Russia's efforts," Comey said of the case.
May 2017: Trump Fires Comey
On May 9, Trump fired Comey. This move spurred Democrats to call for a special counsel investigation into the 2016 election.
May 2017: A Special Counsel Investigation Begins
On May 17, the Department of Justice appointed former FBI director Robert Mueller as the special counsel for the Russia case.
According to the New York Times, the deputy attorney general for the Department of Justice, Rod Rosenstein, made the decision to bring Mueller onto the case. "It is in the public interest for me to exercise my authorities and appoint a special counsel to assume responsibility for this matter," said Rosenstein.
July 2017: The New York Times Reveals Trump Jr.'s Meeting With The Russian Lawyer
This past weekend, the New York Times published information about Trump Jr.'s meeting with Veselnitskaya, as described by confidential government records, which showed that he was told that Russia was trying to help his dad get elected.
July 2017: Trump Jr. Tweets Out Email Correspondence
This brings us to this past Tuesday, when Trump Jr. tweeted out screenshots of his email correspondence with Goldstone.
As both the investigation continues and the administration deals with the fallout from Trump Jr's meeting, it is very likely that this timeline will only gather in length.