Donald Trump Jr. Reportedly Knew Russia Was Trying To Get His Dad Elected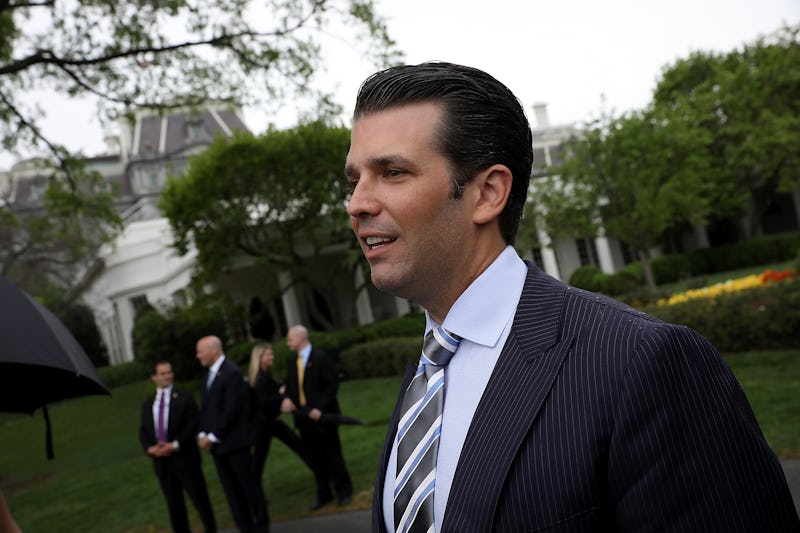 Win McNamee/Getty Images News/Getty Images
Prior to meeting with a Russian lawyer who claimed to have damaging information about Hillary Clinton, Donald Trump Jr. was told in an email that the information in question was part of an effort by the Russian government to aid his father's presidential campaign, The New York Times reported Monday. Trump Jr. has acknowledged that the meeting happened, but his lawyer told the Times that he has done nothing wrong.
Trump Jr. met with Natalia Veselnitskaya, a Russian lawyer with alleged links to the Krelin, in June 2016. Jared Kushner and Paul Manafort, Donald Trump's son-in-law and former campaign manager, respectively, were also in attendance.
In a statement released Sunday, Trump Jr. said Veselnitskaya claimed to have "information that individuals connected to Russia were funding the Democratic National Committee and supporting Ms. Clinton." However, he also said that she didn't actually provide any such material or explain what it consisted of, and quickly began discussing unrelated policy matters. He concluded that "the claims of potentially helpful information were a pretext for the meeting."
According to the Times, Trump Jr. received an email from the man who helped broker the meeting, British tabloid reporter Rob Goldstone, before it took place. Goldstone allegedly told Trump Jr. that the information Veselnitskaya was offering to give him was part of an effort by the Russian government to defeat Clinton and elect Trump to the U.S. presidency.
Trump Jr. said in his statement that he agreed to meet with Veselnitskaya because he was told that she might have "information helpful to the campaign," and that he didn't tell his father about the meeting.
Numerous U.S. intelligence agencies have concluded that the Russian government interfered in the 2016 presidential election with the hope of electing Trump. The White House has said many times that the Trump campaign did not collude with Russia, and when asked in December if anyone from the campaign had "any contact with Russians trying to meddle with the election," senior White House advisor Kellyanne Conway replied, "absolutely not."
According to The Washington Post, President Trump is under investigation for possible obstruction of justice relating to his firing of FBI Director James Comey in May. Comey had been investigating Russian interference in the election, and Trump later told CNN that he fired Comey in part because of "this Russia thing." In June, Trump's lawyer Jay Sekulow claimed on Fox News Sunday that the president was not under investigation.