Ezra Miller's Thoughts On Johnny Depp's 'Fantastic Beasts' Casting Are Subtle AF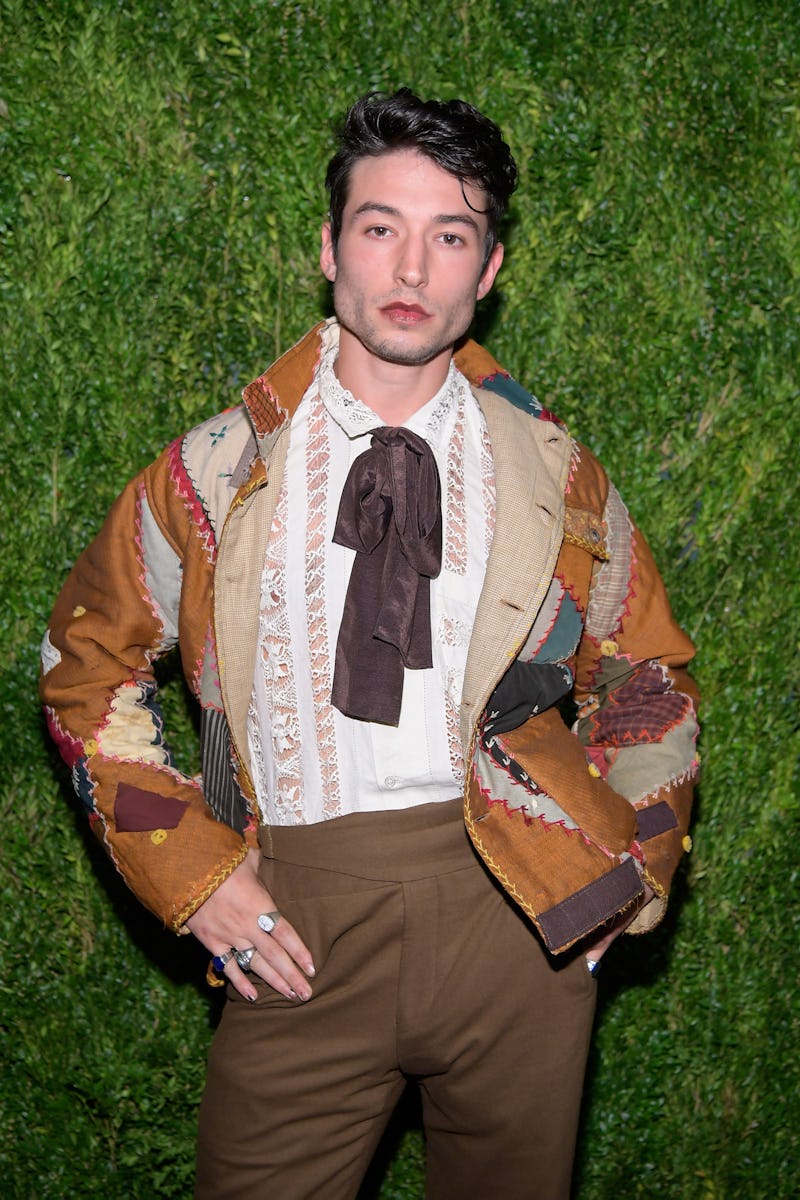 Roy Rochlin/Getty Images Entertainment/Getty Images
Fantastic Beasts: The Crimes Of Grindelwald opened in UK cinemas on Nov. 16, and the buzz that has surrounded the second film in the Fantastic Beasts franchise has been unsurprisingly massive. And while a good bit of the chatter could be categorized as excited, some has been decidedly less enthusiastic about the film — fans have threatened to boycott the film due to the casting of Johnny Depp as Grindelwald following serious accusations against the actor from 2016. Though some Harry Potter fans have made their concerns heard, conversation surrounding the actor's casting has largely dissipated of late. But, recently, Ezra Miller opened up about working alongside Depp.
Miller was interviewed by Playboy magazine in the run up to the release of the second Fantastic Beasts film. Embracing some bunny ears, he spoke about being queer, the Harry Potter universe, and, of course, working with the controversial actor. When asked what he knew about the casting of Grindelwald he said, "None of us were consulted. None of us knew."
Miller continued, "Look, I bring forth my work to this job, and I do the best that I can. I would say that literally every single aspect of my reality, inclusive of a lot of things that are not fine with me, are fine with me. It's amazing how far the banner of all good can extend."
Whilst that statement is a little bit cryptic and vague, I think what we can read from that is that it was only good vibes coming from Miller on the set of Fantastic Beasts. As for Depp, I have reached out to his representatives for comment, and will update the piece if I hear back.
Depp's casting as Gellert Grindelwald was criticised by commentators and fans alike, due to allegations made by ex-wife Amber Heard. In 2016, she obtained a temporary restraining order against Depp citing physical and verbal abuse. The actor denies all allegations, and the Los Angeles Police Department said it found "no evidence of any crime" in an investigation into the incident.
JK Rowling, for her part, released a statement on her website backing the decision to stick with the actor in the role of Grindelwald. She wrote, "The agreements that have been put in place to protect the privacy of two people, both of whom have expressed a desire to get on with their lives, must be respected. Based on our understanding of the circumstances, the filmmakers and I are not only comfortable sticking with our original casting, but genuinely happy to have Johnny playing a major character in the movies."
Speaking to Entertainment Weekly in the run up to the release of Fantastic Beasts: The Crimes of Grindelwald, Depp spoke about his feelings towards Rowling. He said, "I'll be honest […] I felt bad for JK having to field all these various feelings from people out there […] But ultimately, there is real controversy. The fact remains I was falsely accused […] JK has seen the evidence and therefore knows I was falsely accused, and that's why she has publicly supported me."
While the casting of Depp has split Fantastic Beasts fans, if Miller's statement if anything to go by it seemed it was all kept very professional and positive whilst the cast were filming. That just leaves fans to decide for themselves where they stand on the matter. Fantastic Beasts: The Crimes of Grindelwald is out now in cinemas around the UK.