A Stacey Abrams-Backed Group Just Challenged Georgia's Election Process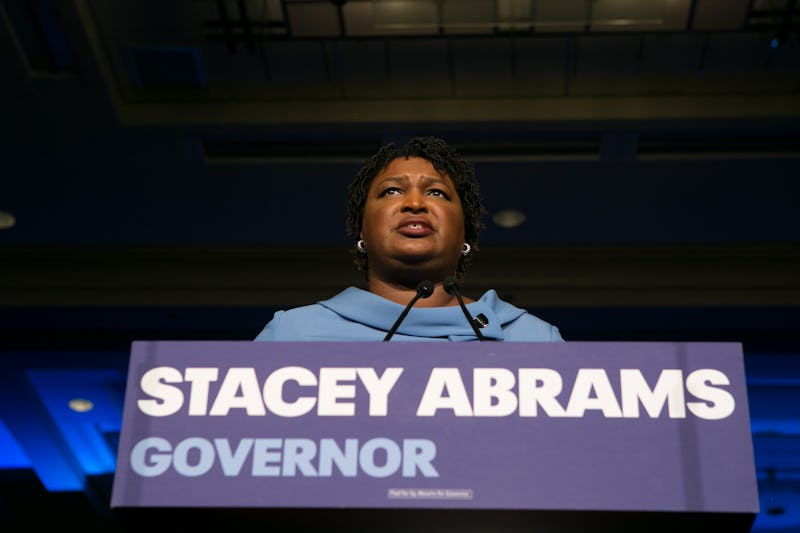 Jessica McGowan/Getty Images News/Getty Images
Stacey Abrams, as it turned out, will not represent the people of Georgia as their governor. However, she has already fulfilled a promise that she made when she finally ended her campaign. Abrams' new organization, Fair Fight Action, is challenging Georgia's election process in federal court, according to a report from the Associated Press.
Abrams set up Fair Fight Action after her election defeat in mid-November, as the Epoch Times wrote. When she gave her concession speech, she pledged that she would set up an organization that would "[file] a major federal lawsuit against the state of Georgia for the gross mismanagement of this election and to protect future elections from unconstitutional actions."
That is exactly what Fair Fight Action has just done, according to the AP. Fair Fight Action CEO Lauren Groh-Wargo, who previously served as Abrams' campaign manager, said publicly that Abrams' opponent — and Georgia's former Secretary of State — had "mismanaged this election to sway it in his favor," and this is exactly what the lawsuit is addressing, the AP wrote. They're filing it against Robyn Crittenden, Georgia's interim Secretary of States, and the members of the state election board, claiming that a judge needs to step in to correct the way Georgia runs its elections.
Fair Fight Action put out a press release announcing the lawsuit, saying that the lawsuit would "address the gross mismanagement of this election and to protect future elections from unconstitutional actions."
"This lawsuit will have the potential to improve Georgia election administration for decades to come," the release continued.
Claims of voter suppression in Georgia made up one of the most prominent stories about the 2018 midterms nationwide, as Vox explained. Kemp, in his position as Secretary of State, had allegedly managed to remove over 3,000 voters as "non-citizens," and his office was holding up another 53,000 voter registrations because of minor discrepancies in the paperwork submitted, according to the AP. A majority of these held-up registrations came from potential minority and black voters. Kemp, according to the AP, denied all claims that he had worked to suppress the vote.
However, Rolling Stone published an audio recording of Kemp complaining about the possibility that more Georgians might come out to vote following Abrams outreach efforts, and Kemp refused to step down from his position as the person in charge of running the election until after Election Day. Finally, a federal judge ruled that the 3,000 incorrectly marked as non-citizens be allowed to vote, but additional problems still came up on when people showed up to vote on Election Day.
"Your zip code, race, gender, or income level should not determine if your vote is counted," said Georgia state Senator Nikema Williams, plaintiff in the lawsuit, and Georgia state director for Care in Action, in a press release about the lawsuit. "We're working with Fair Fight Georgia to make sure Georgians don't face these problems ever again. We're fighting to make sure every eligible vote counts in 2020, 2022, and beyond."