Fans Have Some VERY Strong Reactions To Cardi B's Baby Name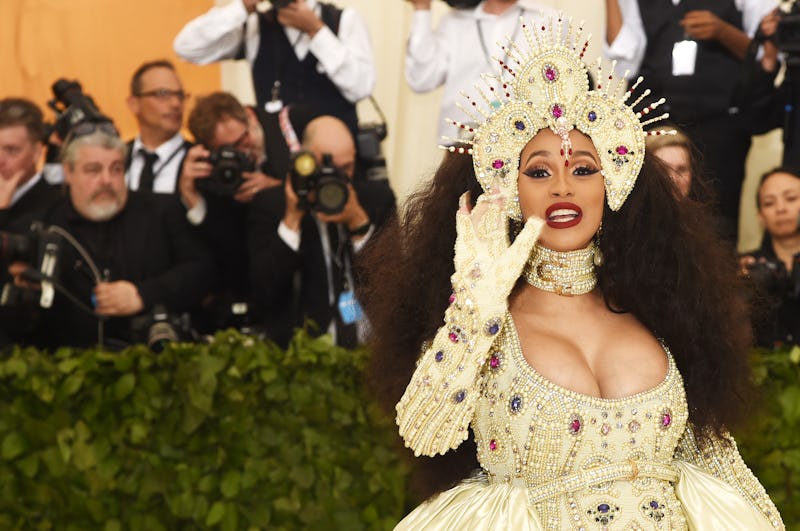 Jamie McCarthy/Getty Images Entertainment/Getty Images
It doesn't seem that long ago since Cardi B revealed her pregnancy on Saturday Night Live back in April, but just a few short months later, it has been confirmed that the talented singer/rapper has officially given birth. Cardi B gave birth to her first child with her husband, Offset, on July 10, 2018, according to TMZ. The rapper announced the news with a photo on Instagram. She also revealed the name of her daughter to be Kulture Kiari Cephus and these tweets about Cardi B's baby name definitely are a mixed bag of opinions on the matter.
While some fans were quick to praise the singer for choosing such a unique and original name, others were a little confused about why Cardi B chose that particular name for her child. But it turns out that there's a special meaning behind those words. For starters, Culture was the name of the second album of Offset's hip hop trio Migos, which came out in January 2017. And while the duo seem to have put a very Kardashian-like twist to the name by switching the "C" to a "K," it looks like the name itself could be a subtle link to that project. And as for the "Kiari Cephus" portion of the moniker, that's actually yet another homage to Offset himself, given that it's his real first and last name.
Naturally, just like with any celebrity birth announcement, Twitter was flooded with opinions over the name choice. Most of the sentiments were overwhelmingly positive, with many just excited to hear about the birth itself.
Others wasted no time in welcoming a new Hollywood dynasty into the world:
Some liked the name, but felt that it gave off a strangely familiar Harry Potter vibe, which obviously makes it all the more amazing.
Then there were those who simply weren't all that surprised by the name decision. After all, it's not as if the industry hasn't had a fair share of unique baby names in the past. "Cardi B had her baby... Kulture Kiari Cephus," Twitter user @aubreymariah14 wrote. "Not shocked by this name choice... it would've been weird if she named her something like Brianna."
But, of course, there were also a ton of shock-related tweets and memes:
Some just didn't like the fact that the name was so prominently linked to Offset's album:
Some opted to embrace the name with jokes:
Meanwhile, others just seemed to flat out dislike the name — some so much so that they resorted to drastic measures:
As of right now, no photos of Baby Kulture have been released. The Instagram post Cardi B used to confirm the birth was of her cradling her baby bump with her child's name and date of birth in the caption. However, it's only a matter of time until the world will be graced with an eyeful of adorableness.
Ever since Cardi B made her pregnancy known on SNL during her musical guest stint, the singer has made a point of opening up about her journey through the glorious (and sometimes treacherous) waters of being pregnant. Back in June, she even took to Twitter to reveal a particular turning point in her pregnancy that many women are undoubtedly familiar with: "SAD NEWS: I can't see my vagina anymore," she wrote. "You know how hard it is to shave my vagina? I literally have to put one leg up in the sink while I look in the mirror facefront. I hate all of yaaa."
The struggle is real. But now Baby Kulture is finally here and whether you're a fan of the name or not, it'll be great to watch as Cardi B continues down this journey of motherhood. Congrats to the family on their newest addition!