Cardi B Officially Welcomed Her Baby Girl & She Announced The Name On Instagram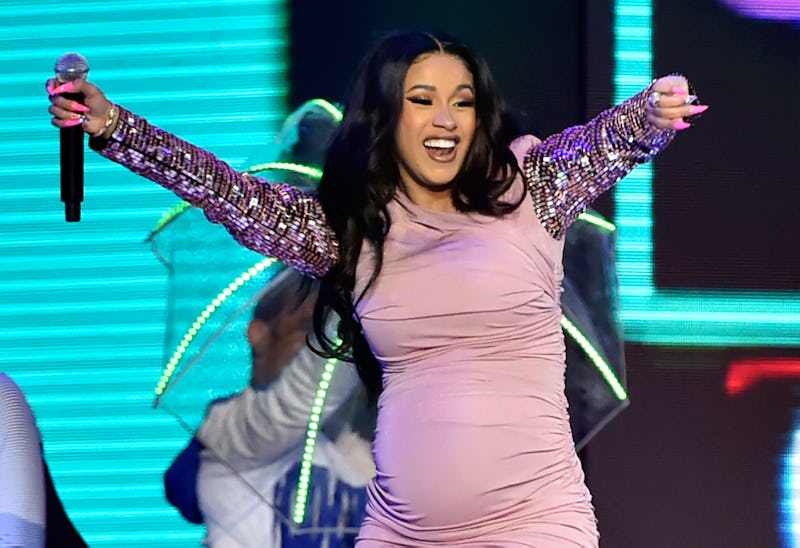 David Becker/Getty Images Entertainment/Getty Images
Bartier Cardi had a Bartier Baby, y'all. Eeeeooowwww! On Tuesday, July 10, Cardi B and Offset welcomed a baby girl, according to TMZ. The singer announced on Instagram that her daughter's name is Kulture Kiari Cephus. And yes, Offset was by her side in the hospital, TMZ reported.
Cardi B first revealed her pregnancy to the world in a way that only Cardi B could. On April 7, the Bronx-born rapper was the musical guest on Saturday Night Live, and about halfway through her second song of the evening — "Be Careful" — the camera panned back to reveal her bump in a white, curve-hugging, custom Christian Siriano dress, as per Us Weekly. It was a moment.
Since then, Cardi has provided fans with a wealth of information — too much information, according to some, but it's not like she's ever been shy — about the trials, tribulations, and joys of being pregnant. "Ok soooo one thing I don't like about pregnancy is these weird, crazy, spooky dreams I be having," Cardi tweeted on May 5. "I hate them. I be waking up in the middle of the night out my naps. Is the weirdest thing."
On June 3, Cardi asked Twitter, "Why is it that every time babyfather leaves that's when i start getting heart burn, cramps, back pains, baby start kicking harder and faster ..Like wtf?? I Been so uncomfortable for the past 2 days Do babies get attach to people even if they in the belly?" (Do they? IDK.)
Cardi even blessed fans with the specifics of exactly how she got pregnant, but the rapper went way beyond the basics of the birds and the bees. During an appearance on The Ellen DeGeneres Show on April 19, DeGeneres played a video of Cardi twerking at Coachella and said, "It looks like you're getting ready to give birth right there."
"You know, they say the more you move, the easier [the baby] will come out," Cardi explained. "I was just trying to show the world how I got pregnant in the first place." After the show's producers paused the video on one of her dance moves in particular (as seen in the photo above), Cardi pointed at the screen and said, "Like that. Like that. That's how it happened." *Cue "The More You Know."*
After months of speculation — in addition to some not-so-subtle hints, as well as some accidental pronoun dropping — Cardi confirmed that she and Offset were expecting a baby girl during a May 8 interview on The Howard Stern Show, as People reported.
"Do you know what you're having … what are you having?" Stern straight-up asked her. "Yes," she replied. "I'm having a girl." Cardi also revealed that her husband Offset had already decided on what they'd call the baby. "You know what? I didn't pick the name," she said. "So if you interview my dude, he will tell you."
It wasn't exactly easy for Cardi to open up about her baby at first, though. She initially denied rumors that she was pregnant, as per The Cut, and personally replied to one fan on Instagram who asked, "Is there maybe a Kylie Jenner secret that we need to know about lol Just asking." Cardi snapped back, "No b*tch I'm just getting fat. Let me fat in peace." Fair.
She'd later go on to explain why she was so reluctant to confirm the news in an Instagram Stories post, according to The Shade Room. "This is why i did not [want] to say nothing," she wrote on April 8, seemingly in response to trolls hating on her announcement. "People be so thirsty to scrutinize and try to destroy something that [is] suppose [to] be a blessing."
Now that her baby has finally arrived, Cardi won't have much time for the haters anymore. She'll be way too busy.