A Second Kylie Cosmetics Birthday Collection Could Be Coming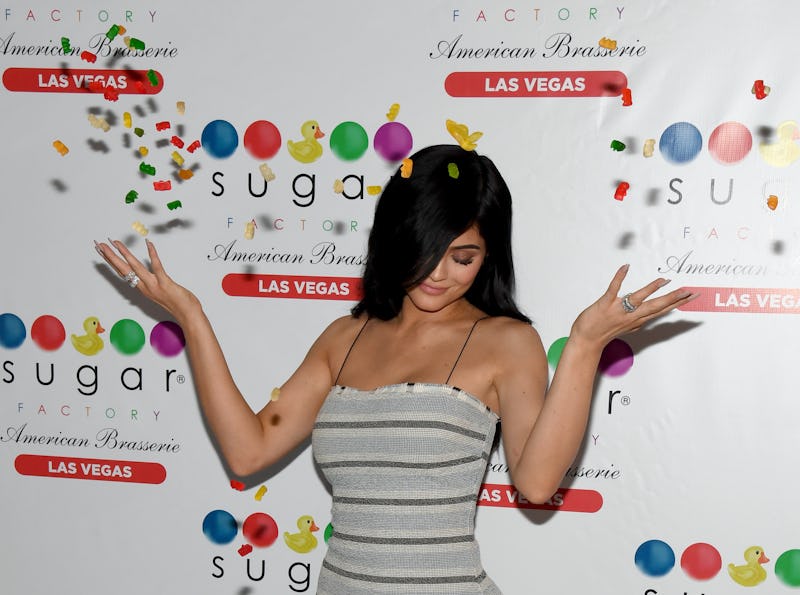 Ethan Miller/Getty Images Entertainment/Getty Images
Stop what you're doing, because some major makeup news is here. Kylie Jenner gave a hint about upcoming beauty items, and it looks like a second Kylie Cosmetics Birthday Collection could be on the way. To no surprise, fans are freaking out about the upcoming beauty launch — even though they have no idea what it is. If these reactions are any indication, it looks like another bestselling collection is on the way.
If you think your having deja vu, allow me to refresh your memory. Back in August 2016, Jenner released a collection of products to celebrate her birthday. Now, it looks like she might just be doing it again. She posted a photo on Snapchat saying that new products will be popping up soon on the Kylie Cosmetics website. She wrote, "hint hint .. my birthday is soon" at the bottom, which has fans thinking the second coming of her Birthday Collection could be on its way.
The first time around the Birthday Collection had an eyeliner kit, lipgloss set, three individual liquid lipsticks, three cream eyeshadows, and a limited edition makeup bag. There's no telling whether the products will be the exact same or if it will be even bigger or better. Bustle reached out to the brand to confirm, but there's a good chance Jenner will tell her fans herself on social media.
The collection details aren't even here yet, and fans are completely freaking out about the possible new items. To say Jenner's fans are dedicated is an understatement. Here are some of the best reactions to get you in the mood for more makeup.
Yay for double celebrations!
People are already begging for hints.
Fantastic question.
I'm not crying, you're crying.
Because the best birthday gift is a profit.
It better be epic!
Prepare yourself, people.
Let's hope she shares some hints soon!