There's Some Trouble With The Free Manchester Benefit Concert Tickets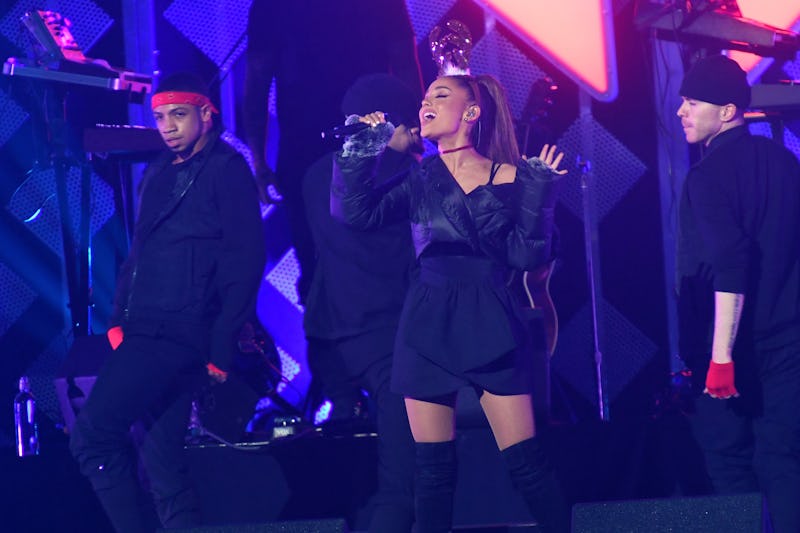 Paras Griffin/Getty Images Entertainment/Getty Images
On Sunday, June 4, there'll be a vast musical event featuring the likes of Katy Perry, Miley Cyrus, and Pharrell. But there's just one issue: some Ariana Grande fans are having trouble getting their free Manchester Benefit Concert tickets before the deadline on May 31. The pop star had previously offered free tickets to the event to everyone who had been at her concert on May 22, which was hit by a terrorist attack. However, now the members of the audience who bought their pass to the show through a secondary website are now having difficulties securing tickets without the original booking reference number.
Update: On Thursday, a Ticketmaster spokesperson gave Bustle an updated statement on the situation, which reads
"We have set aside tickets for the 14,200 people who were at the Ariana Grande concert to attend One Love Manchester for free. More than 25,000 people applied for them. Sadly, over 10,000 unscrupulous applications have been made.
At Ticketmaster we are doing everything we can – including extending today's deadline - to ensure that tickets go to the actual fans and not the opportunists or touts who have also been applying for free tickets."
Earlier: A spokesperson for Ticketmaster clarified that:
"If a customer bought through GET ME IN! or Seatwave we will be able to verify the tickets. There is now an option for them to input their details.
We are doing everything possible to extend the offer to all fans we can verify were at the show. All fans should register their details here: https://manchester_benefit.ontouraccess.com/"
It's easy to understand the frustration. While it's a generous and compassionate move on Grande's part, it must be disappointing for those who bought them from other outlets to find that they're not applicable for free tickets to One Love Manchester benefit, especially as, at least according to the website address listed above, they do not appear to be accepting applications from those who bought tickets from viagogo. (Bustle has reached out to viagogo for comment, but did not receive an immediate response.)
However, if you were at the May 22 concert and think you're applicable for tickets, do hurry; you will only be considered if you submit the form before 4 p.m. GMT on May 31st.
The star-studded lineup, which includes artists like Justin Bieber and Coldplay, means that excitement surrounding the concert has reached fever pitch. This is great since the event is being held to raise money for charity, specifically The British Red Cross Society's "Manchester Emergency Fund," which is there to support victims of the bombing. On the website for the event, it states "This is expected to be at least £2M."
But if you're unable to secure tickets to the Emirates Old Trafford Cricket Ground concert, take some small comfort in the fact that the event will be aired live on the BBC, both via TV and radio.
Here's sincerely hoping the event organizers are able to untangle the ticket confusion at the earliest opportunity so that the "Dangerous Woman" singer's good deed can reach the concert-goers who need it most.