The Father's Day Immigration Protests Reveal How Angry People Are About Trump's Policies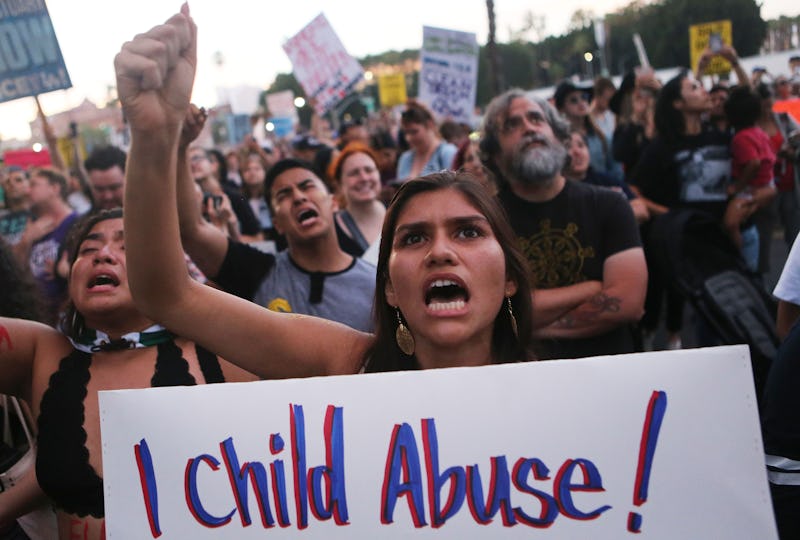 Mario Tama/Getty Images News/Getty Images
On Sunday, politicians and activists gathered at various immigration detention centers to protest the thousands of undocumented children who have been separated from their families after crossing the U.S. border. They popped all around the country over the course of Father's Day weekend, and photos of immigration protests show a country torn over a recent undocumented immigration crackdown.
Nearly 2,000 children have been separated from their families while traveling across the U.S.-Mexico border, the Department of Homeland Security (DHS) reported on Friday. Those separations occurred between April 19 and May 31.
One Father's Day protest took place in the form of a march. Beginning in El Paso, Texas, and ending in Tornillo, Texas, several hundred participants drew attention to a tent city that is reportedly housing detained immigrant children. The march was largely organized by Democrat Rep. Beto O'Rourke, NPR reports. O'Rourke announced the march on Twitter just before the holiday weekend.
"This is inhumane," O'Rourke told CNN's Jake Tapper on State of the Union. "I'd like to say it's un-American, but it's happening right now in America. And it is on all of us, not just the Trump administration. This is on all of us."
The Father's Day protests were not limited to southern states. New Jersey politicians also made waves on Sunday, when they insisted they be allowed inside of the Elizabeth Contract Detention Facility in Elizabeth, New Jersey, though they were not immediately allowed inside.
Rep. Jerry Nadler, who serves parts of Manhattan and Brooklyn, said on Twitter that he and his cohorts faced "delays and stalling tactics" when they attempted to gain access to the facility.
"They came to this country in search of the protection and refuge that the proud inscription on the Statue of Liberty promises to those fleeing terror," Nadler told reporters after they were eventually allowed in side, according to The Huffington Post. "They are being welcomed by more terror. What could be more terrifying than having your [child] taken from your arms?"
Another protest, the "Rally for Migrants," took place in front an ICE office in Phoenix. According to The Arizona Republic, that rally was organized by Phoenix's Shadow Rock United Church of Christ, which has a reputation for providing sanctuary to undocumented immigrants.
The rally featured a teenager, 19 year-old Melanie Delgado, whose father lived at the church for nearly two years before he was ultimately deported. He was picked up returning from yard work job, which he had taken to help support his family, the Republic reported.
The Father's Day protests marked the most recent reactions to a policy which mandates that children be separated from their undocumented parents if they are caught crossing the border. President Trump has said that the separations were required by law, but as NPR reports, that is not true. Illegally crossing the border has long been classified as misdemeanor, but being caught has not always guaranteed prosecution. And even when prosecution does take place, families were often released to away judicial procedures together, because children aren't allowed to be kept in jails.
This changed in May, when Attorney General Jeff Sessions announced that if a person was "smuggling a child, then we will prosecute you and that child will be separated from you as required by law."
"If you don't like that," Sessions said, "then don't smuggle children over our border."
DHS made a similar announcement on May 4. "If you enter our country illegally, you have broken the law and will be referred for prosecution," Press Secretary Tyler Houlton said in a statement. He continued:
DHS has zero tolerance for those who break the law and will no longer exempt classes or groups of individuals from prosecution. Whether you are a single adult or an adult member of a family unit, if you are apprehended you will be prosecuted and put in removal proceedings.
A pilot version of the mandatory separations policy was tested out on a small portion of the U.S.-Mexico border in 2017. Illegal crossings dropped 64 percent, according to The Washington Post. The policy is not supposed to apply to those seeking asylum, but it also didn't include special protections for them, either.
The Trump administration has largely deferred the issue of separated children to Congress, insisting that legislation is needed to stop it. Several bills are currently pending, NPR reports, but their futures are uncertain.