Michael Avenatti Was Just Charged With Stealing Money From Stormy Daniels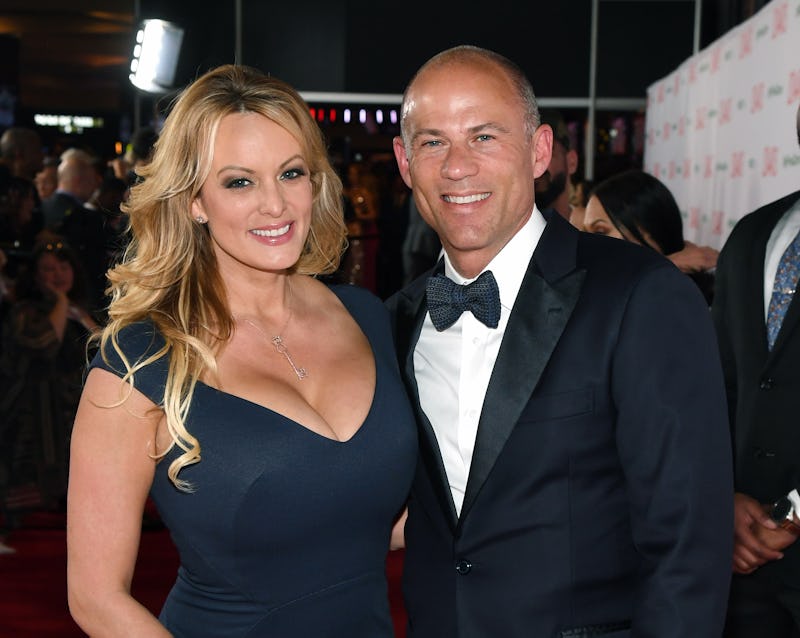 Ethan Miller/Getty Images Entertainment/Getty Images
On Wednesday, a high profile lawyer was accused of stealing from his client. The AP reports that federal charges against Michael Avenatti now include allegations that he defrauded his former client, porn star Stormy Daniels.
In a press release, the Department of Justice said that Avenatti was indicted "on fraud and aggravated identity theft charges." Prosecutors say that Avenatti took money that one of his clients was supposed to receive has part of a book deal. The AP reports that the client in question was Daniels. He was also indicted on extortion charges related to allegations that he tried "to extract more than $20 million in payments from Nike, Inc," per the Justice Department. Avenatti has denied the allegations against him.
"I look forward to a jury hearing all of the evidence and passing judgment on my conduct," Avenatti says in a statement to Bustle about the most recent charges. "At no time was any money misappropriated or mishandled. I will be fully exonerated once the relevant emails, contracts, text messages, and documents are presented. I was entitled to any monies retained relating to a book per my agreement with the client. It was part of my agreement for representation and compensation."
U.S. Attorney Geoffrey S. Berman said in a statement that Avenatti "abused and violated the core duty of an attorney — the duty to his client."
Prosecutors say that, in total, Avenatti diverted about $300,000 of Daniels' book advance to himself. In doing say, Berman said, "he blatantly lied to and stole from his client to maintain his extravagant lifestyle, including to pay for, among other things, a monthly car payment on a Ferrari."
"Far from zealously representing his client, Avenatti, as alleged, instead engaged in outright deception and theft, victimizing rather than advocating for his client," Berman said.
Avenatti rocketed to fame when he represented Daniels, who claims to have had an affair with President Donald Trump before he was elected president. (Trump's former lawyer Michael Cohen denied the affair on the president's behalf.) With Avenatti's help, Daniels sued Trump to release herself from a nondisclosure agreement she said she signed in the weeks leading up to the 2016 presidential election, per CNN.
After Avenatti was first arrested in March, Daniels said she wasn't surprised when she heard about it, per USA Today.
"Knowing that I know now about Michael Avenatti, I am saddened but not shocked by news reports that he has been criminally charged today," Daniels said in a statement provided to the news outlet. "I made the decision more than a month ago to terminate Michael's services after discovering that he had dealt with me extremely dishonestly and there will be more announced to come."
As of Wednesday afternoon, Daniels has not yet publicly commented on the latest developments regarding Avenatti.
USA Today reports that Avenatti did address the charges on social media, tweeting that "no monies relating to Ms. Daniels were ever misappropriated or mishandled." Although Avenatti has, in the past, tweeted about the charges against him, as of Wednesday afternoon, he had set his Twitter account to private.