Here's Why Stormy Daniels' Lawsuit Is Now Zeroing In On Michael Cohen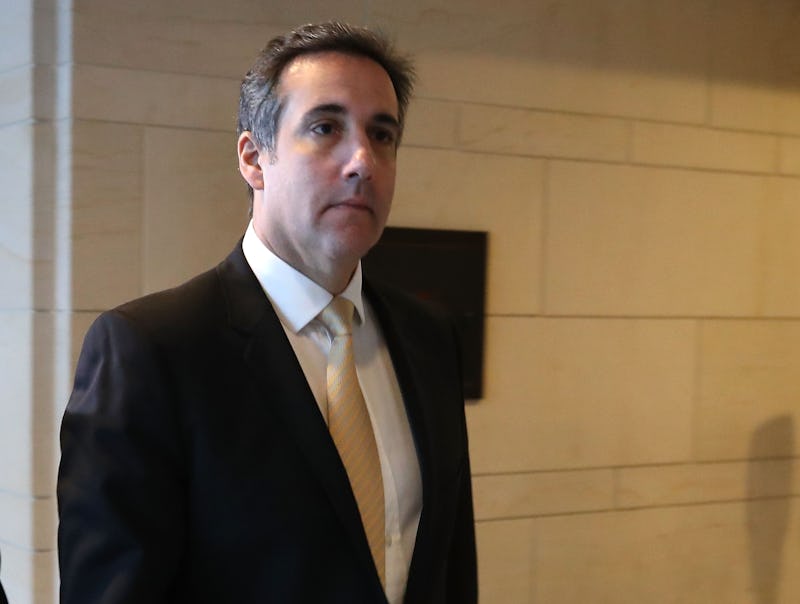 Mark Wilson/Getty Images News/Getty Images
Just one day after her 60 Minutes interview aired, adult film actress Stormy Daniels announced she's suing Michael Cohen, Trump's lawyer, The Washington Post reported. Cohen is currently representing Trump in several legal battles between him and Daniels. But on Monday, Daniels' lawyer, Michael Avenatti, said she's adding Cohen to the complaint she filed against Trump on March 6.
Daniels announced several weeks ago that she's suing Trump in order to extricate herself from a nondisclosure agreement (NDA) she signed in the weeks leading up to the 2016 presidential election. Essentially, she's arguing that the NDA is invalid because Trump never personally signed the document. Now, though, she's also alleging that Cohen defamed her when he implied that she lied about having an alleged affair with Trump back in 2006.
Trump has never personally responded in public to allegations that he had an affair with Daniels, whose legal name is Stephanie Clifford. Cohen, however, has repeatedly and emphatically denied the affair on Trump's behalf.
The NDA in question was initially put together in order to keep Daniels from publicly speaking about the alleged affair, and Daniels says she was also paid $130,000 as part of her "hush" agreement. Now, she says, she believes the agreement is void and she wants to be able to talk about her alleged experiences.
But the defamation allegation was not the only thing that Daniels added to the suit. She and her lawyer are also joining those who have argued that the $130,000 payout amounted to an unreported in-kind donation to the Trump campaign. That's because, they say, the money could've been intended to influence the election. Cohen has admitted to paying Daniels the sum, and has insisted that he paid her with his own money, without Trump's knowledge.
Daniels and Avenatti are not the first to allege that the so-called hush money constitutes an unlawful campaign donation. The watchdog nonprofit Common Cause has made similar arguments, and has filed complaints with the Department of Justice and the Federal Election Commission, asking that the groups investigate any alleged rule-breaking.
Trump is not the only one being sued. He is also suing Daniels, arguing that not only is their NDA valid, but also demanding that she pay $20 million for violating it. Cohen and Trump claim that Daniels violated the agreement 20 times and are suing for $1 million per each alleged violation.
"The fact that a sitting president is pursuing over $20 million in bogus damages against a private citizen, who is only trying to tell the public what really happened, is truly remarkable — likely unprecedented in our history," Avenatti told The New York Times of the lawsuit against Daniels, adding: "We are not going away and we will not be intimidated by these threats."
The expanded complaint against Trump's camp serves to enlarge what appears to be an ever-expanding conflict between the president and the adult film actress. In her 60 Minutes interview on Sunday, Daniels said she is continuing to fight because she wants to set the record straight.
"People are just saying whatever they wanted to say about me, I was perfectly fine saying nothing at all, but I'm not okay with being made out to be a liar, or people thinking that I did this for money and people are like, 'Oh, you're an opportunist,'" Daniels told Anderson Cooper during the Sunday night interview.
During the interview, Cooper asked Daniels why the public should believe her side of the story, particularly considering she repeatedly said in the past that she never had a relationship with Trump. Daniels response was that the ball is not truly in her court. "'Cause I have no reason to lie," she said. "I'm opening myself up for, you know, possible danger and definitely a whole lot of sh*t."