How Celebrities Reacted To Beyoncé Giving Birth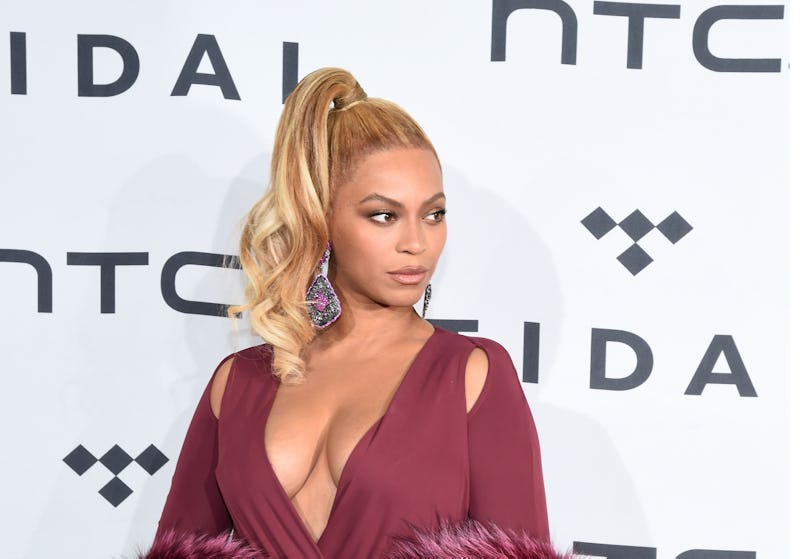 Ilya S. Savenok/Getty Images Entertainment/Getty Images
In February, Beyoncé posted the pregnancy announcement viewed 'round the world. Four months later, news broke that she had allegedly given birth to twins in mid-June 2017. (Bustle has reached out to Beyoncé's rep, but has not yet heard back.) If you think you're excited, wait until you see how her fellow celebrities have reacted to Beyonce having twins. They may be famous, too, but that doesn't mean they're not absolutely stoked to welcome the newest additions to the Knowles-Carter family.
In case you somehow missed it, Beyoncé and Jay Z revealed this spring that the wildly popular singer was pregnant with twins. Naturally, this was no run of the mill pregnancy announcement. In lieu of a press release or tweet, Beyoncé posted a picture on Instagram of herself clad in a veil and lingerie, photographed against a backdrop of dozens of flowers. "We are incredibly grateful that our family will be growing by two, and we thank you for your well wishes," read the caption. Later, she released a more extensive (read: glorious) pregnancy photo shoot on her website.
Her initial pregnancy announcement quickly became the most liked Instagram post of all time, beating out the record previously held by Selena Gomez. Currently, the post has more than 11 million likes, which should give you an idea of just how excited everyone is about Beyoncé and Jay Z's babies.
News outlets began reporting that she had given birth late Saturday night — and immediately, many celebrities took to Twitter to express their happiness for the Lemonade singer. Considering who has been offering their congrats, I think we already have proof that Beyoncé's twins will have the coolest, most star-studded birthday parties known to humankind.
Best Coast pointed out an appropriate coincidence: The twins were born under the Gemini zodiac sign.
YouTube star Anthony Quintal echoed those sentiments, adding that he wants to read the twins' full astrological chart.
It's also worth noting that Beyoncé's father, Mathew Knowles, jumped the gun a bit, tweeting about the twins' birth late Sunday morning. (The singer's fans were less than impressed.)
But it looks like Bey's mom Tina Knowles approved of the post on Instagram.
Swedish singer-songwriter Zara Larsson reacted with some skepticism to the news, tweeting that she'll believe it when it's confirmed by Bey herself.
Irish radio DJ Will Leahy tweeted that Bey's twins may have a similar nickname to a music group.
Writer and author Matt Bellassai tweeted out a special Father's Day wish, but directed it to only one person.
UK author Tess Holliday tweeted that she's wondering about the twins' names.
The psychic Jamison Twins also tweeted their well-wishes to Beyoncé and Jay Z.
More coming...