Women Dominated The 2017 Emmys In A Way That Was Even More Crucial Than You Might Think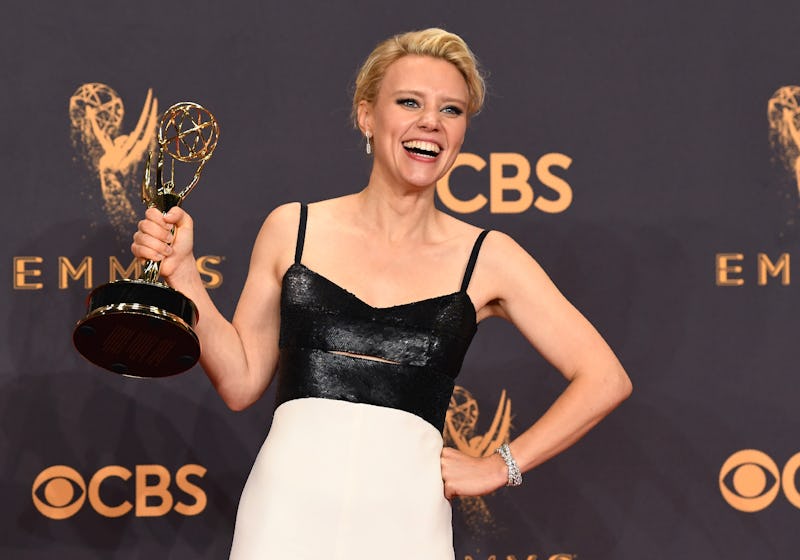 MARK RALSTON/AFP/Getty Images
It's pretty much tradition that most awards shows will leave you fuming over some major snubs or lamenting some questionable winners, but this year's Emmy Awards decided to throw things for a loop. Instead of causing anger and frustration with its honorees, the 2017 Emmys did things mostly right. And that's especially true when it came to the ladies. Women totally dominated Sunday night's show, both in the acting categories and the behind-the-scenes races like writing and directing. And while that fact would obviously be worth celebrating no matter what, it's especially huge considering that the majority of the Emmys' female winners came from female-led shows.
In most film- and TV-centric award shows, unfortunately, it's very rare to see women take over the night; more often than not, men make up not only most of the nominees, but the winners, too. Just take the 2017 Oscars, for instance, which saw men coming out on top in categories ranging from Visual Effects to Film Editing to Cinematography to Original Score, just to name a few. And the few women that did win that year largely represented not female-driven material, but male-led movies like Fantastic Beasts, Fences, and O.J. Made in America, where they (as actors) either played supporting parts or (as behind-the-scenes artists) helped make male-led stories a reality. And the TV world hasn't always fared much better; a 2013 study by TV.com found that in a category like Comedy Writing, for instance, women made up just 15 percent of all nominees from 1980-2012, so you can expect the winners over the years to reflect that inequality, too.
Thankfully, the 2017 Emmys proved to be a completely different story. This year's show honored more women than usual, with ladies picking up trophies in usually male-dominated categories like Writing for a Comedy Series (Lena Waithe, for Master of None) and Directing for a Drama Series (Reed Morano, for The Handmaid's Tale). These wins were fantastic to witness, and couldn't be more deserved, considering the quality of the material for which the artists won their Emmys.
And to make matters even better, the women who won for acting categories did so with complicated, feminist, female-led material. Julia Louis-Dreyfus won for her nuanced performance as Selina Meyer on Veep, a character easy to hate but also a real, flawed human; Ann Dowd and Elisabeth Moss won for their work on the excellent, women's rights-centric The Handmaid's Tale; Kate McKinnon won for her perfectly spot-on portrayal as Hillary Clinton on Saturday Night Live; and Laura Dern and Nicole Kidman won for their unforgettable performances on the acclaimed Big Little Lies. All of these shows not only feature stellar performances by women, but have multiple female roles, and address topics like reproductive rights, female friendship, domestic abuse, sexism in politics, and more.
It's always exciting when women take home trophies at awards shows, considering how underrepresented ladies are in, well, pretty much all entertainment-related categories (acting, directing, writing... you name it). But it's a whole other thing when the women that win are earning those prizes for content that's truly feminist and female-driven, rather than work that's nearly entirely male-led, minus that one, award-winning female contribution. Big Little Lies and The Handmaid's Tale, for instance, are such important shows, not only for the quality of their content but for the work they provide for female actors, directors, writers, editors, cinematographers, and more. Seeing women involved with these series take home Emmys is an absolute joy, and incredibly satisfying.
In an ideal world, the wins by women at Sunday's Emmys will encourage more studios and producers to develop female-driven content, since there's undeniable proof that audiences and critics are responding positively. Award show wins are not the only way progress in Hollywood gets made, of course, but they do matter, and a studio executive hesitant on greenlighting a female-driven show might perhaps change his or her mind after seeing so many series starring women pick up trophies and catch attention.
Still, there's no knowing, of course, if this year's Emmys is something of an anomaly. It's totally possible that upcoming ceremonies like the Oscars, SAG Awards, and Golden Globes will follow their old habits by honoring far more male-led work than female-led. But even if that's the case, it's truly special to see that the 2017 Emmys, at least, bucked tradition by giving awards not only to talented women, but to talented women representing important, necessary, and seriously feminist shows.