Nicole Kidman & Reese Witherspoon's Emmys Speech Will Make Every Ambitious Woman Cry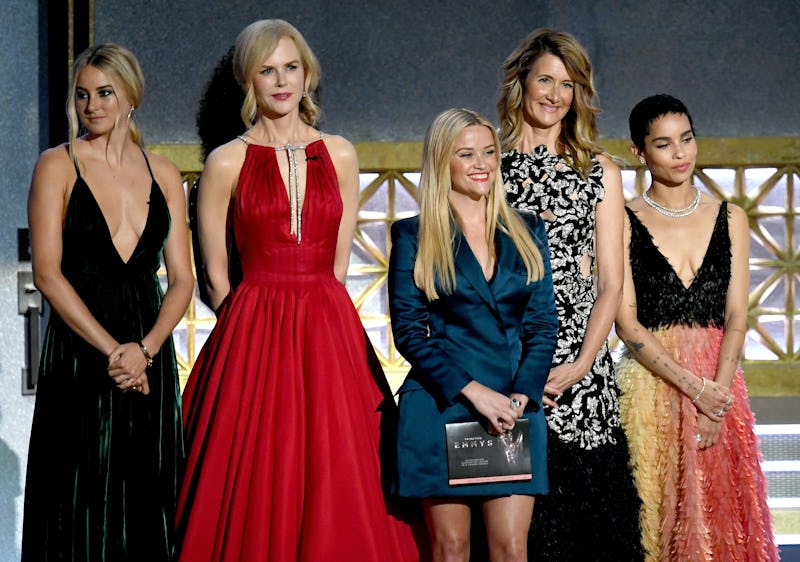 Kevin Winter/Getty Images Entertainment/Getty Images
When it came to the Outstanding Limited Series category, the stakes were high. Nominees ranged from The Night Of to FEUD: Bette and Joan to Big Little Lies. The competition was as fierce as the moms of Monterey. But when Big Little Lies won the trophy, Nicole Kidman and Reese Witherspoon's Emmys speech proved they have each other's backs IRL. Honestly, Kidman and Witherspoon's beautiful speech may bring a tear to your eye.
Surrounded by her talented costars, Kidman told the crowd,
"To the people that embraced this, the power of television. It has astounded us that we have entered into your living rooms and people talked about it. And as much as the show had the entrainment value, it was also about issues."
And Kidman couldn't be more right; the show shined a spotlight on domestic violence, among other serious topics. Following that up by emphasizing the power of women — on television and beyond — Witherspoon took the mic to shoutout her fellow female creatives and why their stories matter. She said,
"It's been an incredible year for women in television, can I just say? Bringing women to the front of their own stories and making them the hero of their own stories, and thank you for that opportunity and for audiences to wrap their arms around us."
Honestly, for as much as the characters on Big Little Lies may have feuded on-screen, at the end of the series, they all came together — and the same can be said of the real-life cast's bond. It was even seen when Kidman won Outstanding Lead Actress in a Limited Series and said she shared the trophy with Witherspoon. If only they could've pulled a Mean Girls and split the Outstanding Actress trophy in multiple pieces for each of the cast's leading ladies — including Shailene Woodley and Zoe Kravitz. (Laura Dern earned an Emmy earlier in the night.)
But hold on, the Big Little Lies cast's Outstanding Limited Series speech didn't end there. Kidman also told the audience,
"And this is a friendship that then created opportunities. It created opportunities out of a frustration because we weren't getting offered great roles. So, now, more great roles for women, please. Thank you."
The fact that these talented women are emphasizing the importance of creating more roles for other talented women is the kind of pay-it-forward attitude that Hollywood (and society, in general) needs more of. Instead of fighting one another for a part, they're teaming up and proving the power of an ensemble. Essentially, there's room for all of them to succeed.
If you were getting emotional over the beautiful speech, you're not the only one. Twitter was equally in awe of the BLL crew.
This Is The Best Advice
Have you ever heard truer words of wisdom?
One Of The Key Parts Of The Speech
Telling women's stories — and letting women tell those stories — is invaluable.
More, Please
Again, powerful female characters are always a necessity.
Somebody Frame This, Stat
Who wouldn't want this as a giant inspirational poster on their wall?
A Somewhat Apt Comparison
Witherspoon and her memorable character, Elle Woods, do share a few significant similarities — namely that they don't take other people's B.S., stand up for themselves, and chase their dreams.
This May Hurt Your Heart
A bittersweet reminder of the power of a solid speech.
Chills Were Inevitable
Because, of course.
Pass That Mic
She can give all the speeches from now on.
Tides Are Turning
While things aren't perfect, change is being made and it's wins like this that prove it.
#FriendshipGoals
They're practically the collective internet's BFF at this point.
The Big Little Lies cast couldn't be more deserving of their win, and their epic acceptance speech only further proves that.