Fergie's Royal Wedding Hat Legit Looks Like Harry Potter's Golden Snitch & Twitter Is All About It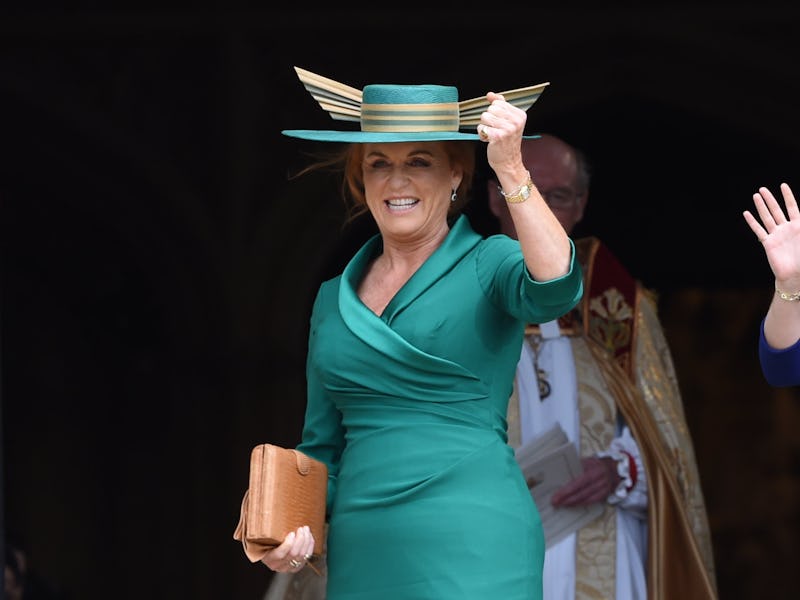 WPA Pool/Getty Images Entertainment/Getty Images
One unspoken, unwritten, and universal rule of wedding attire is that you never upstage the bride. The bride and her dress are always paramount. However, at Princess Eugenie's royal wedding on Friday, Oct. 12, mother-of-the-bride Sarah Ferguson grabbed almost as much attention as her daughter. Fergie's royal wedding hat looked exactly like a Golden Snitch from Harry Potter. Fergie wore a green dress and a wide-brimmed hat with golden wings. While it was refreshing to see the former royal who was always considered a rebel eschew a traditional fascinator in favor of this topper, it was quite the unusual sartorial selection. It also had Twitter worked up into one heck of a tizzy.
Of course Eugenie was absolutely stunning in her Peter Pilotto gown with a portrait neckline and her protocol-breaking messy bun. But there has been copious chatter regarding her mother's choice of accessory.
Fergie's emerald dress was by Emma Louise Design while her winged hat was crafted by milliner Jess Collett. The green hue is supposedly considered unlucky, according to The Sun. Superstition aside, it was an excellent complement to her flame-hued hair.
That hat, though. It has become a "hit" online, with tons of users weighing in about its similarity to the Harry Potter Quidditch ball that is difficult to catch because it's so freaking fast, elusive, and hard to see.
A tip of the cap. From this angle, it doesn't seem quite so Golden Snitch-like.
Ah, there it is. The Golden Snitch comparison is now super obvious.
‌This is what the Golden Snitch looked like when H. Potter caught it. See the feathery, winged resemblance?
The dress in and of itself was actually a chic sheath. Princess Beatrice also looked quite lovely in her royal blue two-piece dress, grey heels, and fascinator. Eugenie's mom and sis opted to bring the pops of color to her wedding.
Clearly, Fergie and her hat were battling the wind.
Here are some of the most entertaining Twitter reactions to Fergie's Golden Snitch-like hat.
No, it's certainly not just you who thinks this.
Because it's her daughter's wedding and she'll dress as she pleases?
Appreciated indeed.
This meme is a true LOL moment at the royal nups.
She did the impossible and actually got hold of a Golden Snitch. That's the real story here, right? We thought only Harry Potter could capture it.
Like so.
Not literally, no. But figuratively? Pretty much.
While many reactions were rhetorical questions regarding Fergie's hat, this user expressed love for the look.
When was the last time a hat spawned so many theories?
It is quite possible that Fergie is a secret, diehard Harry Potter fan.
OK, fine, it did.
The Twitterverse didn't simply speculate about the Snitch-ness of Fergie's hat. Some users loved how it completed her look.
This user was all about Fergie's fashion vibe and her "boater" aka her hat.
So was this one.
Fergie took a fashion chance.
When you have wings, you don't always need to use them to fly.
The front-facing view certainly had Snitch-like qualities. Regardless, Fergie looked, well, fly and was no doubt a proud mama as her younger daughter swapped vows.