Princess Eugenie's Wedding Hair Broke Royal Protocol & It Was SO Gorgeous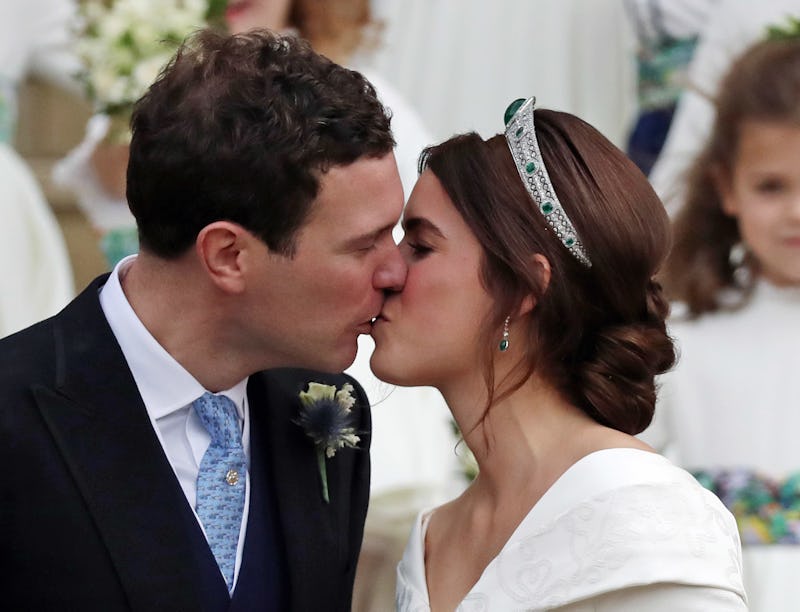 WPA Pool/Getty Images Entertainment/Getty Images
Princess Eugenie and Meghan Markle are kindred spirits when it comes to their wedding hair. Princes Eugenie wore a messy bun for her wedding to Jack Brooksbank on Friday, Oct. 12 in the UK. It was a glorious updo with a slightly undone feel courtesy of the two face-framing pieces — and it felt like it broke with royal hair protocol. Princess Eugenie's coif will transport you back to May 19 when Markle walked down the aisle to meet her prince in a Givenchy gown and with her signature undone updo.
Eugenie's shiny, reddish brown locks were fastened in a low chignon with a center part and two loose pieces on the sides. The style is chic and classic — but like Markle, the princess gave it a fun, modern, and edgy update by leaving a few pieces out. Her hair was purposefully and slightly disheveled in the best way. It was fresh and anything but stodgy or staid.
If you're going to break with royal protocol, which has very specific and particular rules about keeping hair polished and in place, how you can sit in public, and what color nail polish you can and can't wear while out and about, this is how to do it.
Since Prince Eugenie opted to forgo a veil in favor of an emerald-studded tiara, her hairstyle was even further on display.
Here's a side view of the 'do and the gorgeous, long-sleeved, pristine white dress.
This view from the front shows just how wonderfully her hair complemented her structured and stunning frock. The tips of the loose pieces grazed her collar bone and it was lovely.
The updo spotlighted both the portrait neckline...
... and the open back of Eugenie's Peter Pilotto gown.
Princess Eugenie's loose bun was absolutely magnificent and it worked with all of the other elements of her wedding look. Let's take a moment to marvel at her stunning wedding makeup, too. She opted for statement, curled lashes, flushed peach cheeks, and glossy, pink lips. Overall, her presentation was incredibly sweet — and appears easy to replicate.
Her dress also had quite an epic train. The gown was deceptively simply. It might have appeared low-key but it had so many statement elements.
Given the open and intricate back of the dress, Princess Eugenie simply had to opt for a bun or an updo in order to show off all that elegant detail.
There's an important distinction to note regarding "the messy bun." Like Markle, Princess Eugenie opted to go with a loose updo. Both styles were anything but sloppy or thrown together like an afterthought — hardly. These types of buns are current and a reflect the style of the day and the times. Each bride put her own, personal spin on it.
While Princess Eugenie and Meghan Markle may be eschewing the royal tradition and the accepted protocol of sleek, perfectly styled hair, they are not doing it in a disrespectful way.
They are merely doing them and that what makes them royal rebels.
Oh, and BTW, Markle wore a messy bun and a structured, navy blue coat dress to the nuptials.
Kindred coif spirits, indeed.