Fifth Harmony Will Perform As Quartet At PCAs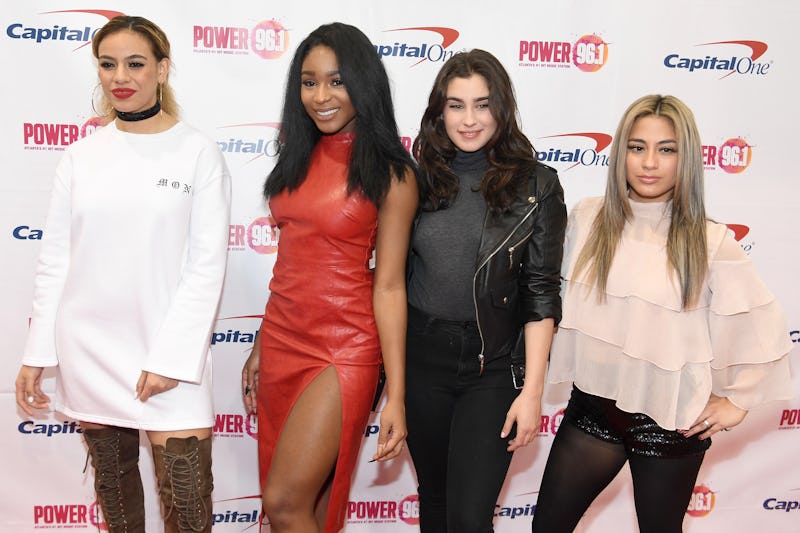 Paras Griffin/Getty Images Entertainment/Getty Images
Put your fives high, Harmonizers, because Fifth Harmony will perform at the People's Choice Awards next Wednesday. Without Camila Cabello. For the first time. This is not a drill. Or a cement mixer. Or a blowtorch. Or a tool belt. Or any of the other props in the "Work From Home" music video.
Back in December, the X Factor alumni broke the news that original member Cabello was no longer a part of the group. However, before any pop music history buff could say, "We know this song and dance all too well," the remaining members were quick to assure fans that they would continue as a quartet. And then, they promised new music in 2017. And then, they took some new photos. And then, they announced they have something up their sleeves for the People's Choice Awards. Ally Brooke Hernandez, Normani Kordei, Dinah Jane Hansen, and Lauren Jauregui keep on keepin' on.
A important Qs for 5H's forthcoming PCA set: What will they be like as a four-piece? What will they sing at the PCAs? If they win the PCA for Favorite Group, will they say anything about Cabello in their acceptance speech? Will I love this PCA performance, or will I love this PCA performance?
We may not know what 5H has in store for next week's show, but we do know that the four pop stars are excited about it. In a statement via Entertainment Weekly, Kordei said, "We have such a special performance for our fans. I'm stoked – it's lit!"
…You guys. Could "such a special performance" mean what I think it might mean? What if Fifth Harmony debuts a brand new song at the PCAs? That's not too far-fetched a prediction, right? They've been working on that third album, right? There's a chance they have a new song ready to go, right? I'm not getting ahead of myself, right?
Honestly, if 5H kicks off this new chapter with a surprise song drop, I hope I'm wearing a "Work From Home" hardhat. Otherwise, the future hit might knock me right out.