Fifth Harmony's Third Album Is Happening, You Guys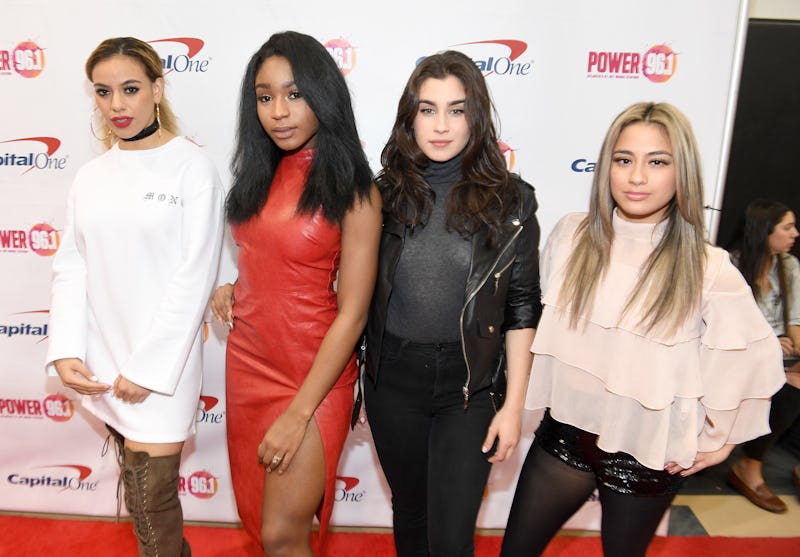 Paras Griffin/Getty Images Entertainment/Getty Images
If you've been a little uncertain about the future of your favorite girl group ever since December 2016 when Camilla Cabello announced she was leaving Fifth Harmony to pursue a solo career, then prepare to feel a ton more positive about it all. Billboard is exclusively reporting that Fifth Harmony's third album has been confirmed thanks to a new deal with their record company, and it will be released at some point in 2017. So, please, take this moment to enjoy a celebratory dance. It's what the ladies would want.
According to Billboard, a representative for the group confirmed that Fifth Harmony's record label had "exercised their deal option" with the group, but wouldn't comment beyond that. Following Cabello's shocking departure, remaining members Ally Brooke, Normani Kordei, Dinah Jane, and Lauren Jauregui announced in a touching joint statement via Twitter in December that Fifth Harmony would continue without Cabello. The note described them as "four strong, committed women," who would continue to move forward with the band, as well as their own "solo endeavors."
This confirmation of Fifth Harmony's first album as a foursome isn't just proof of that strength and commitment (as individuals as well as a group), but also of the fact that they're still just as powerful as a foursome as they were with Cabello in the band.
Because, for one thing, let's all take a moment to appreciate just how quickly this announcement has been made following Cabello's departure. That isn't just a spectacular move to make in order to provide fans with peace of mind and clear proof of the band moving forward, but also it shows Fifth Harmony embracing the sudden change of their group dynamic and actively working with it.
On top of that, the complete lack of hesitation in moving forward with a new album is, frankly, a little inspiring in how totally forthright it is. It shows a sense of confidence on behalf of the remaining four members of Fifth Harmony and an eagerness to simply get back out there and prove that they're just as awesome as they always have been.
It also shows an absolute confidence in the new dynamic of Fifth Harmony on behalf of their record label. Signed to Epic Records via Simon Cowell's Syco Music, Fifth Harmony have managed to amass an already colossal following since they were first signed in 2013. The decision, then, to waste no time in getting the band back out there, doing what they do so well, is a positive affirmation of the collective capabilities that the foursome can still offer. Clearly, their label still believes in them. And rightly so.
Though Cabello was obviously an important part of the group, and one who was often positioned almost as its leader, the fact that Fifth Harmony are happily and confidently moving on without her is proof of how equally important each member was and is within the group. That's an important dynamic for any group to utilize, but, for Fifth Harmony, it's particularly pertinent to their brand.
Musically, and personality wise, Fifth Harmony have always appeared to portray a group of young women who are smart, strong and supportive of who they are as individuals as well as each other. Whether within their song lyrics or in the statements they make personally, fans have also enjoyed their fair share of feminist moments from Fifth Harmony.
This is their brand, and we love them for it. This latest news concerning their future isn't just confirmation of a new album; it's also confirmation of the strength of that brand, a brand that continues to celebrate them as being strong, forthright, intelligent, and powerfully successful young women.
They're still the same group that they were with Cabello, and her absence, though it will be felt, won't weaken them. Instead, the opportunity for a new album shows Fifth Harmony doing what all powerful, progressive women do: looking to the future, working with change, and being absolute bosses in the process. I never doubted you for a second, ladies. Bring on 5H's third album.