This Is How Fighting With Your Partner Can Impact Your Physical Health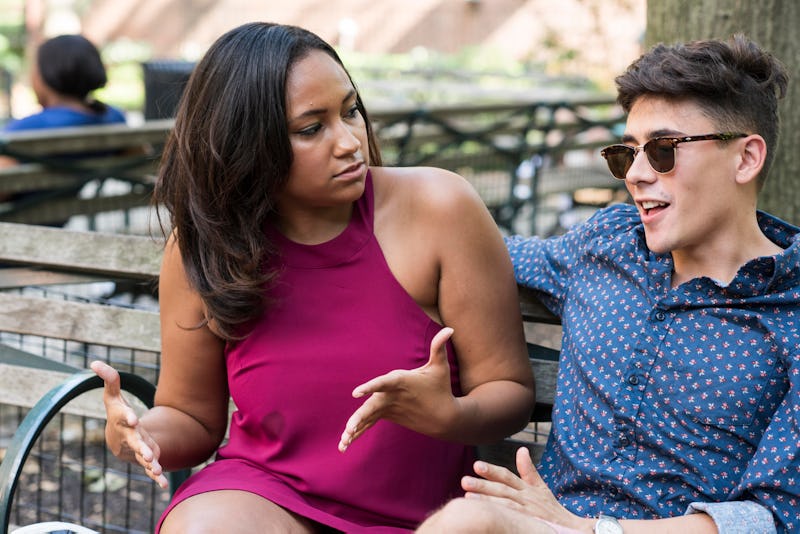 BDG Media, Inc.
Scientists have long had theories about how marriage can affect our mental health, as well as theories about how mental health and physical health are connected. And now a new study from Pennsylvania State University has found evidence that sews these two theories together. According to a press release, researchers working on the project found that fighting with your partner may be able to cause "physical repercussions" in people who have chronic conditions.
The study, which was recently published in the journal Annals of Behavioral Medicine, looked at two groups of older folks, one group comprised of 145 people who had arthritis and the other group comprised of 129 people with type 2 diabetes, and found that "patients who felt more tension with their spouse also reported worse symptoms on those days," according to the study report.
To track how patients were feeling about their spousal relationships, researchers had participants keep daily diaries for 22 and 24 days, respectively, "about their mood, how severe their symptoms were, and whether their interactions with their spouse were positive or negative," the study report said. From those diaries, researchers saw that "patients were in a worse mood on days when they felt more tension than usual with their spouse, which in turn led to greater pain or severity of symptoms."
Lynn Martire, a professor of human development and family studies at Penn State Center for Health Aging, said in the press release, "It was exciting that we were able to see this association in two different data sets—two groups of people with two different diseases." She added, "The findings gave us insight into how marriage might affect health, which is important for people dealing with chronic conditions like arthritis or diabetes."
The Centers for Disease Control and Prevention estimates that half of all adult Americans have one or more chronic health issues, with some of the most common being heart disease, stroke, cancer, diabetes, and arthritis. With around 117 million people affected, knowing how unhealthy or unhappy spousal relationships can impact chronic disease symptoms can be vital to helping folks have a leg up on dealing with them.
Martire explained that it's especially important to understand "how and why symptoms of chronic disease worsen," because these issues can increase over time and cause comorbid conditions. For example, "People with osteoarthritis in their knees who experience greater pain become disabled quicker, and people with diabetes that isn't controlled have a greater risk for developing complications," according to the study report. And of course, it stands to reason that when you're in a long-term, committed relationship that may be negatively affecting these chronic conditions, you could be at risk for even more co-morbid conditions.
Part of this study involved looking at how chronic disease patients manage their everyday lives. Researchers indicated in the study report that "while previous research has shown a connection between satisfying marriages and better health, both physically and psychologically, there's been a lack of research into how day-to-day experiences impact those with chronic illness."
Martire explained, "We study chronic illnesses, which usually involve daily symptoms or fluctuations in symptoms. Other studies have looked at the quality of someone's marriage right now. But we wanted to drill down and examine how positive or negative interactions with your spouse affect your health from day to day."
In this study, researchers found that folks with arthritis could fall into a tension-pain-tension-pain cycle, where "the severity of the patient's pain also had an effect on tensions with their spouse the following day. When they had greater pain, they were in a worse mood and had greater tension with their partner the following day." Martire said in the press release that differences between how arthritis and how diabetes affect people's bodies may account for the fact that the cycle was not seen in the group of people with type 2 diabetes — only those with arthritis, which commonly causes pain.
More research is required to dig into how exactly marriage tensions worsen physiological symptoms, but as for the research from this study, Martire hopes it "could potentially help create interventions targeted at helping couples with chronic diseases." She said, "We usually focus on illness-specific communications, but looking at tension in a marriage isn't tied to the disease, it's not a symptom of the disease itself. [...] It suggests to me that looking beyond the illness, to improve the overall quality of the relationship might have some impact on health."
While there are plenty of bad (and sexist) jokes about marriage being a ball-and-chain, evidence from this study shows that if in fact you are in a marriage where you and your spouse aren't being as good for one another as you could be, the tensions from that relationship may actually be its own sort of ball-and-chain, weighing on your physical health.