Film Criticism Is Lacking Diversity — I'm Trying To Find A Fix Within Myself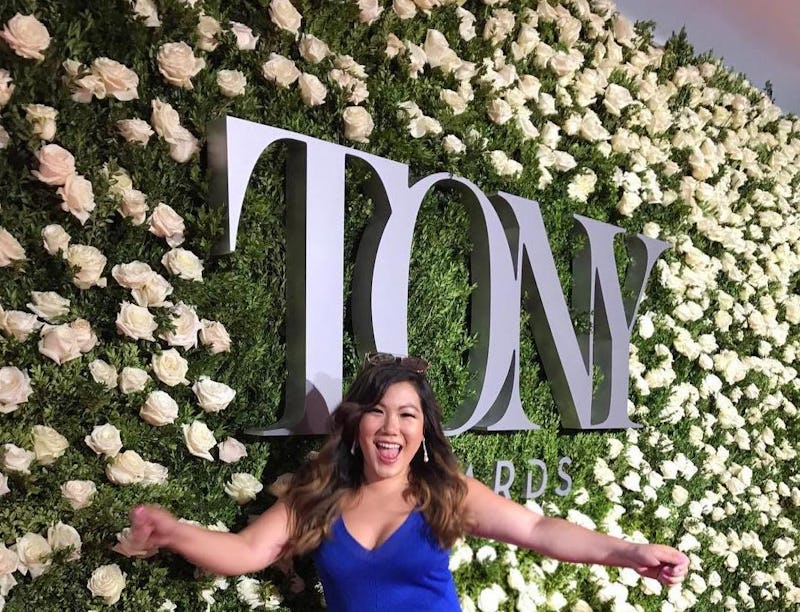 This year, Bustle is celebrating Rule Breakers — the women and non-binary individuals among us who dare to be themselves no matter what. In the lead-up to our list of Bustle's Rule Breakers of 2018 going live in late August, we are featuring stories from an array of individuals about critical moments when they didn't do as they were told. In a world that encourages us to conform unquestioningly, they refused to look or act the part, and we're all better for it. Click here to buy tickets for the event.
"It really sucks that reviews matter, but reviews matter," said Brie Larson in her recent reflection on the upsetting state of representation in film criticism. Reviews are a major determinant of a film's fate — if it will get any awards buzz, how much money it makes in theaters, whether or not it even makes it there at all — but the demographics of those who generate them remain frustratingly lopsided: 64 percent of the reviews of last year's top-grossing movies were written by white men. And while Hollywood has finally begun to prioritize diversity onscreen and behind-the-scenes, the plight for such inclusion within the industry gets bottlenecked by people who can fuel or flatten a film's trajectory with just a few hundred words.
"I want to know what my work means to the world, not a narrow view ... A good review can change your life — it changed mine." - Brie Larson
Larson's headline-making speech spurred a slew of think-pieces and features, each highlighting a way in which the field of criticism is much more complicated than it might seem. As a seasoned reporter and fledgling critic, I too responded accordingly: I log off Twitter, pack my bags and go 3,000 miles outside my comfort zone — to summer camp.
A little bit about me: I just wrapped five years as a reporter at an entertainment magazine, where I covered the film and theater beats. It was a fun but demanding job that required attendance at multiple movie screenings and press performances per week, all as part of general research and feature consideration. Year after year, my calendar filled up with films and shows I swore I had already seen, projects telling familiar straight white cis-male stories that were so anticipated due to its share of strong reviews. Offscreen, the scene wasn't much better. I'd pitch features to my editors about filmmakers who are female or of color or both, and found myself nodding in agreement when they said, "Didn't we just talk to a director of color last week?" and "Let's save that story for our annual issue on women in entertainment." And too often, I'd look around the room at some industry function and realize, wow, I'm the only person here who looks like me.
It's true: people like to see themselves in things. Though the plots are fictional, representation in visual mediums can set precedence for how they're seen in the world, by others and by themselves. It's why the box-office successes of Black Panther, Wonder Woman, and Love, Simon were so important, and why the Oscar wins of each of the "Three Amigos" — directors Guillermo del Toro, Alejandro Gonzalez Iñarritu, and Alfonso Cuarón — were of major note. When anything is a hit in Hollywood, it leads to more that look just like it.
I was done with talking about what others deemed worthy of discussing, and wanted to become someone who steers those conversations.
But activism aside, I really just think entertainment should still be, at the end of the day, entertaining. That definition gets inherently narrowed when the people who decide what qualifies as entertaining mostly just look like each other. As a female of color, attempting to make a difference in media is an uphill battle; I was already losing so often, even as a features reporter on staff at a prestigious magazine. I was done with talking about what others deemed worthy of discussing, and wanted to become someone who steers those conversations. And if I were to try to truly make an impact, I had to learn how to properly critique the arts, and become more confident in my opinions and writing abilities.
This led me to the Eugene O'Neill Theater Center, an unassuming area of 19th-century buildings and grassy expanses in the seaside town of Waterford, Connecticut that aims to cultivate the emerging voices of American theatre. Every summer, thousands of plays and musicals are submitted to the O'Neill to be developed for their debut runs (Lin-Manuel Miranda's In the Heights and August Wilson's Fences are among the many shows that were first produced here).
These shows are also reviewed by the fellows of the National Critics Institute, a two-week boot camp dissecting the do's and don'ts of critiquing the arts — specifically, theater, film, dance, and food. I was one of its 14 early-to-mid career writers — all of whom varied widely in age, race and sexual orientation — accepted after a tedious application process of writing samples and recommendation letters. Though I was initially intimidated by the boot camp's workload — afternoon lectures in a lush garden, evening shows staged under a massive beech tree, and morning deadlines that made sleep a luxury — I looked around, comforted that so many people of different backgrounds — our group had only one straight white male! — who are also trying to change criticism's current status quo.
"This is a job that inherently puts you in contention with other people — you can't please everyone, you can't like everything," said Chicago Tribune theatre critic and arts columnist Chris Jones, the self-professed "defensive dinosaur" who has headed the program for the last five of its 50 years. He clarifies that the role of a critic is not to be right, but to be curious and consistent and clear about a particular piece of work, while also being entertaining within your own writing.
He warns us that most pieces of art aren't simply "good" or "bad," but usually "good pieces with bad moments," or "bad pieces with good moments." The key is to accurately attribute praise and blame. For example, a play could be bad because of its disconnected director, long-winded playwright, and/or a miscast or under-rehearsed actor, among other things. And if a play is good, a critic must be able to look past their blinding love for the piece and precisely pinpoint why that something is good. "Anyone can say they loved or hated something," said Chicago Tribune film critic Michael Phillips, one of the boot camp's guest lecturers. "But as a professional critic, you have to be specific. If you're a lawyer arguing a case, you can't go into court and say, 'My client is innocent and I won't tell you why.'"
Going to a camp that trains critics isn't just sitting around for hours and, well, critiquing things. We got granular about grammar, and participated in spontaneous debates about diction and descriptions and this and that — hours-long conversations that most writers and editors, especially in the media industry's current state, just cannot afford to have. No clickbait phrasing or extra em dash went unpunished. We learned to cut industry language that ostracized general readers and insecure adjectives that undermined our authority; we double-checked if our hyperbolic verbs were accurately calibrated to our opinions. We made sure we didn't actually hate things because we were hungry or tired or jaded from seeing so many shows in a week. And finally, we made sure we actually agreed with what we wrote. This last point might seem obvious, but given critics' real-life deluge of deadlines, it often goes unchecked.
Nearly a week into the program, my morale was running low — probably because I was extremely sleep-deprived and frustrated with the spotty WiFi, or simply sick of sweating in this humidity and collecting countless bug bites. Plus, every session seemed to spur a discouraging amount of new questions that even our renowned guest lecturers couldn't definitively answer: Should reviews advise readers on whether the work is worth consuming? Does escapist entertainment have more value in times of political unrest? Should pieces by artists of color only be reviewed by critics of color, or pieces featuring LGBT characters only be reviewed by LGBT critics? When does a "fanboy" stance cross over from encyclopedic genre knowledge to comprising personal connection? How can something made specifically for a franchise's fans be truly reviewed? Can immovable critics indefinitely renounce reviews of any particular artist? Are the bodies of actors, especially those who are female, fair game in critiques? We began to train ourselves to consider these questions anyway, keeping them in the back of our minds as we type up our nightly reviews. It is this self-aware mindfulness to monitor our biases that might help critics get as close to fairness and truth as possible.
The opportunity to write honestly about anyone's artistic work is a privileged position that should not be flippantly dismissed, and diversifying the demographics of the people with platforms to do so is overdue and necessary.
With all of these questions running through my head, I found solace in a strong cocktail from Blue Gene's Pub, the campus' only bar where actors, playwrights, directors, musicians, stage managers, dramaturges, and critics all get drunk on the same affordable alcohol and dance to the same songs. It's a rare cross-section of critics and creators, groups of people who intermingle more often on the page than in person. We sang along to Beyoncé at the top of our lungs; we ate burgers after midnight side-by-side. All of us, with our variety of backgrounds and preferences and perspectives of the world, decided to be there at that very moment, because we care so much about the same art form, and we all want to make it better for audiences everywhere — really though, everywhere. The opportunity to write honestly about anyone's artistic work is a privileged position that should not be flippantly dismissed, and diversifying the demographics of the people with platforms to do so is overdue and necessary.
Everything I was thinking about during my time at NCI hit me hard as I watched the first reading of a play by Benjamin Benne, which peers inside the one-bedroom apartment of an undocumented immigrant mother and her Mexican-American daughter. Onstage, the actresses didn't let the scripts in their hands hold them back; they switched between shouting insults and sharing hugs to authentically recreate the mother-daughter dynamic that's further complicated in any bilingual household. These interactions are repeatedly interrupted by a TV blaring Trump, his distinct voice becoming inescapable as it gets louder and louder within the intimate theater. Though it runs only 75 minutes, it specifically captures the overwhelming, claustrophobic experience of being Mexican in America under Trump.
The play was timely and urgent, and I wrote at length in my overnight review, assuming the rest of the campers would agree in our workshop the following morning. But one-by-one, the other fellows — who are diverse in many ways, but not of Latinx descent — shrugged off the show for one reason or another, and some even wondered why this story was being told at all. I, a straight Asian-American female from L.A., found myself fuming alongside a gay white male New York City transplant from London, and we defended our perspectives and highlighted the play's potential. If this play were to actually debut to a slew of unenthusiastic reviews like the people who sat with me that day, people who didn't connect with and therefore champion its particular take, it might then have trouble finding its audience and selling tickets, eventually closing and ultimately getting shelved.
I'm more proud of the unpublished pieces I've written over these 14 days than an embarrassing majority of my published work over the past 10 years.
This isn't a new concept, but it's not necessarily top of mind when a critic is giving something a bad review. That's because, honestly, reviews that unabashedly slam a bad project are immensely fun to write — smart jokes! fun puns! witty wordplay! — and they draw exponentially more online traffic than good reviews. But their real-life consequences also include closed shows, lost jobs and disappearing careers. How many pieces about people of color have been permanently parked due to confused reviews? How many female directors get passed over for jobs because male critics didn't favor their films? How many more underrepresented stories are being under appreciated by existing critics and therefore going largely untold?
On the last day of camp, each writer received a unique packet — a hard copy of everything we'd each written over the past two weeks. It's hard to believe that so much can happen in such a short time, but I'm more proud of the unpublished pieces I've written over these 14 days than an embarrassing majority of my published work over the past 10 years. It's not that I was a bad writer then, or that I think I'm suddenly a good writer now. But I believe that I was previously a writer who never took the time and effort to get better, who never gave myself permission to even try to improve. Yet I know now, more than ever, that I'm worth that time and effort, my worldview is valuable and my words can make a difference. And after putting everything else aside for just two weeks to truly zoom in on myself, my abilities and my potential — something we might think we do often but actually may not have done for years — I don't think I can ever look away.
I'm sick of simply complaining about the diversity problem in film criticism, and though it's going to take years of work to possibly be part of the solution, I'm ready to at least try. I found my voice while critiquing that play, and learned just how loud and vital that voice can truly be. It's like Larson said, reviews matter, and a good review can change your life. It really did change mine.