Six Women Have Accused Filmmaker Brett Ratner Of Sexual Harassment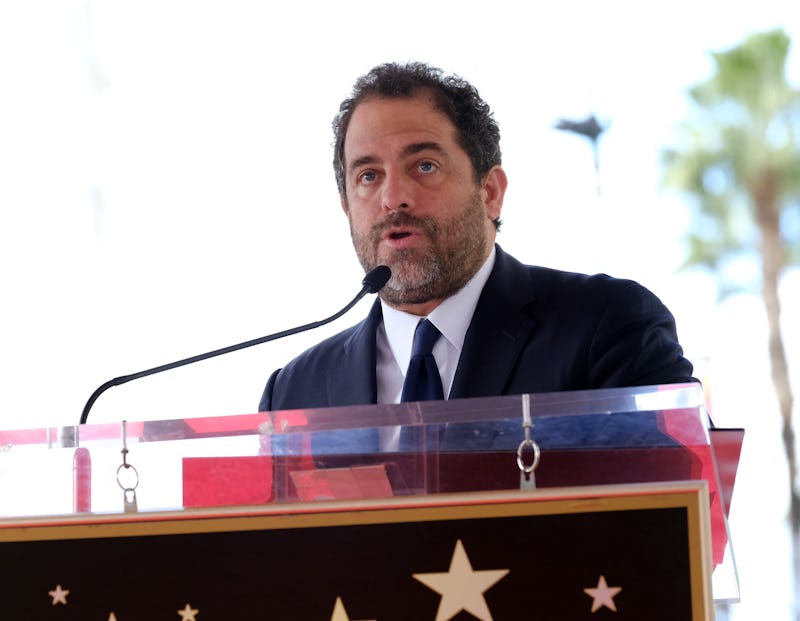 CHRIS DELMAS/AFP/Getty Images
Following the news of allegations against Harvey Weinstein, Kevin Spacey, and other men in Hollywood, filmmaker Brett Ratner has been accused of alleged sexual misconduct by six women, making him one of the most recent to come under fire. In a story published Nov. 1, The Los Angeles Times details the accusations against Ratner, which include allegations of forced oral sex by Canadian actor Natasha Henstridge and claims from Olivia Munn that Ratner allegedly masturbated in front of her. (Bustle reached out to Ratner's reps, but did not receive an immediate response.)
UPDATE: On Wednesday night, Deadline reported that Ratner is stepping away from Warner Bros. amid the allegations, and he released the following statement:
"In light of the allegations being made, I am choosing to personally step away from all Warner Bros.- related activities. I don't want to have any possible negative impact to the studio until these personal issues are resolved."
EARLIER: Ratner has retained an attorney, Martin Singer, who disputes these and every other account in the Times article via a 10-page letter which states, in part:
"I have represented Mr. Ratner for two decades, and no woman has ever made a claim against him for sexual misconduct or sexual harassment. Furthermore, no woman has ever requested or received any financial settlement from my client."
These revelations come on the heels of many other accusations against prominent men in Hollywood. And indeed, Henstridge reportedly told the Times that the women who have come forward about their experiences with men like Harvey Weinstein and James Toback were a large part of her inspiration in speaking out now.
Henstridge said that she and Ratner ran in the same circles at the beginning of their careers, his in film and hers in fashion. One night, in the early 1990s, Henstridge claims that she and a group of friends were watching a movie at Ratner's house when she fell asleep on his couch. By the time she awoke, Henstridge claims the two were alone, and Ratner allegedly wouldn't allow the 19-year-old model to leave until she had performed oral sex on him. "He strong-armed me in a real way," she alleged to the Times. "He physically forced himself on me. At some point, I gave in and he did his thing."
It's a story that bears similarities to the one Olivia Munn has been telling for years now. The 37-year-old claims that on the set of Ratner's film After the Sunset in 2004, she was tasked with delivering a meal to the director's trailer. Munn claims she was told the director would be out, so she entered the trailer, placed the food on the table, and turned to go, before reportedly spotting Ratner, who asked her not to leave. She claimed,
"He walked out … with his belly sticking out, no pants on, shrimp cocktail in one hand and he was furiously masturbating in the other. And before I literally could even figure out where to escape or where to look, he ejaculated."
These allegations have informed Munn's "specific, conscientious choices not to work with Brett Ratner" moving forward, in her own words. In a statement to the Times, Singer stated on Ratner's behalf that his client "vehemently disputes" these claims. He also alleges that Munn and Ratner had "an intimate relationship," a claim that Ratner has made and retracted before.
In 2011, on Attack of the Show, Ratner claimed, "I used to date Olivia Munn… I banged her a few times… but I forgot her." But he later reversed himself in a conversation with Howard Stern, saying that he "felt horrible" for lying, and that he had "made her look like a wh*re." In regards to Singer's current claim that Munn and Ratner were ever romantic, Munn called that story "a complete lie."
The other women quoted in the Times piece tell a variety of stories, but their allegations all paint similar pictures. Actor Katharine Towne claimed that Ratner followed her into a bathroom at a party and allegedly made unwanted advances. (Singer referred to this retelling as "absurd," and questioned whether it was even "wrongful conduct.") Actor Jaime Ray Newman claims that she encountered Ratner on an airplane, where he allegedly showed her nude photos of his girlfriend and fantasized aloud about being with Newman. "He was graphically describing giving me oral sex and how he was addicted to it," she said. (Singer calls this "a ridiculous claim.")
The Times also spoke to multiple women on the set of Rush Hour 2 who were reportedly made to feel uncomfortable in Ratner's presence, allegedly asked to reveal their breasts or touch his penis, or allegedly offered increased visibility in the movie for sexual favors. (Singer dismissed these claims as "nonsensical" and included a statement from a Rush Hour 2 assistant director who claims that no complaints of sexual harassment reached him on that set.)
Like many of the claims being brought forward in recent weeks, these allegations may be years and even decades old, but it's important to keep listening.
If you or someone you know has been sexually assaulted, call the National Sexual Assault Telephone Hotline at 800-656-HOPE (4673) or visit online.rainn.org.