Finn Wolfhard Defends His 'Stranger Things' Co-Stars With A Tweet That's Worth A Read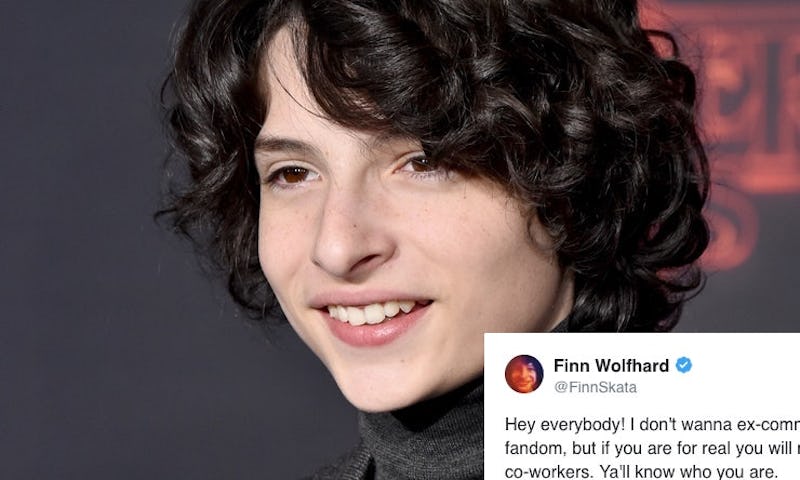 Frazer Harrison/Getty Images Entertainment/Getty Images ; Finn Wolfhard/Twitter
With a show as popular as Stranger Things, it makes sense that the fanbase cares about the Netflix cast. However, there's definitely a line between fandom and invasion of privacy. On Wednesday, Nov. 8, Finn Wolfhard defended himself and his Stranger Things co-stars in a series of tweets, asking people to not harass those close to him. It's an important reminder to respect stars off-screen. Just because someone appears on your TV, it doesn't mean you should have access to every aspect of their lives, and harassment of any sort is unacceptable. While that may seem like a no-brainer, Wolfhard's tweets clearly were posted for a reason, which means someone out there needed the reminder.
In his first tweet, Wolfhard wrote,
"Hey everybody! I don't wanna ex-communicate anyone from this fandom, but if you are for real you will not harass my friends, or co-workers. Ya'll know who you are."
He then added, "Why I even have to tweet that, I don't know. Anyone who calls themselves a 'fan' and actively goes after someone for literally acting and doing their job is ridiculous. Think b4 ya type boiiii." Bustle reached out to Wolfhard's reps for additional comment, but did not receive an immediate response.
Though his tweet was vague enough (especially with that "Ya'll know who you are"), Wolfhard's message comes soon after he received scrutiny from some fans for not stopping to pose for a photo on his way into a hotel. Keep in mind that Wolfhard is 14 years old; he's still a kid, and under no obligation to stop and talk to people, especially ones who yell at him. And luckily, his co-star Shannon Purser, who plays Barb on the show, made that more than clear. She came to his defense in a series of tweets, reminding people to get off his back.
Purser also added, "don't you DARE make young actors feel guilty or indebted to you because they couldn't say hi." Not only was Barb there for him, but Noah Schnapp (who plays Will on the show) posted the following tweet:
Game of Thrones star Sophie Turner also defended Wolfhard on Twitter, regarding the fan video that has since been deleted.
While Wolfhard's recent tweet may not be directly related to this recent criticism, it's a fitting sentiment nevertheless. It's definitely sweet to see just how much the cast has one another's back; whether in Schnapp and Purser's messages or Wolfhard's own.
Another possible explanation for Wolfhard's tweet lies in the fact that he wrote, "Anyone who calls themselves a 'fan' and actively goes after someone for literally acting and doing their job is ridiculous." This could be a nod to the backlash surrounding Sadie Sink and Caleb McLaughlin's kiss in Season 2. Some fans were upset, believing that Sink (aka Max) was forced to kiss McLaughlin (Lucas). This came after a conversation on the aftershow, Beyond Stranger Things, where the Duffer Brothers mentioned Sink being "freaked out" about the kiss.
Sink has since responded, telling TheWrap she was not forced into anything and that it made sense for the show. (Netflix declined to comment when Bustle reached out.) Still, it's possible that Wolfhard's remarks were directed toward people criticizing Sink and McLaughlin for that scene.
It's also possible that Wolfhard could be responding to people seemingly sexualizing the Stranger Things cast, despite the fact that many of them are minors. Regardless of what sparked his recent tweets, Wolfhard's point is fair. Anyone who's attacking the show and its cast may fail to realize that A. they're kids, and B. they're doing a job. At least Wolfhard didn't hold back in speaking his mind, and hopefully those that his message was intended for get the point.