Florida Lawmakers Just Passed Its First Gun Safety Bill After The Parkland Shooting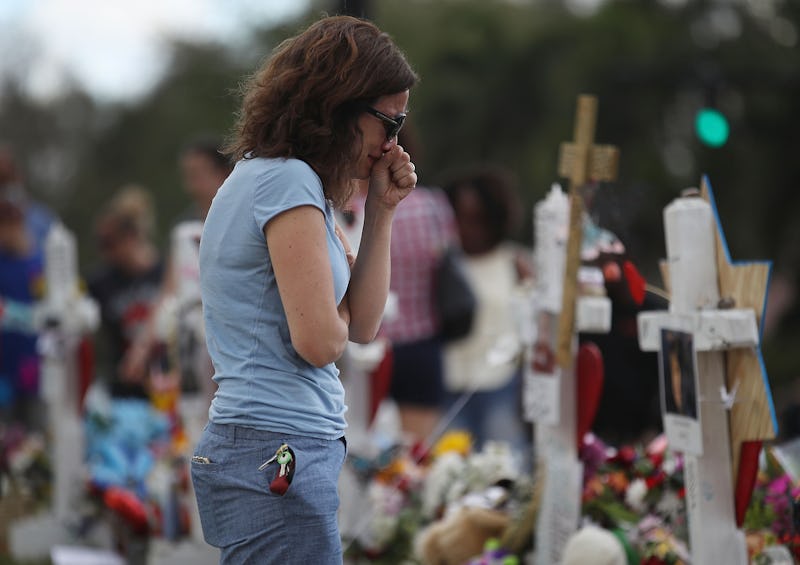 Joe Raedle/Getty Images News/Getty Images
On Wednesday evening, the Florida House approved a gun safety bill that was introduced after the Parkland school shooting that killed 17 people. The bill, which would put in place several measures aimed at curbing similar shootings, was passed in a 67-50 vote.
The Public Safety bill, also known as SB 7026, now heads to Gov. Rick Scott's table. If he signs the bill into law, at least three things are expected to happen. First of all, the bill would change the current age for purchasing a rifle from 18 to 21. Secondly, it would enact a waiting window of three days on bump stocks. The third and perhaps the most controversial aspect of the bill is the provision that would permit trained school staff to carry firearms within school premises. The bill would also set aside millions to enhance campus security, as well as train school staff to use firearms. The bill would also set aside millions to enhance campus security, as well as train school staff to use firearms.
Both Democratic and Republican lawmakers in Florida have opposed the provision to arm school staff, which was also present a previous version of the bill. In the hours before the House vote, several amendments Democrats put forward to remove the provision were voted down. On Twitter, the hashtag #SB7026 garnered mixed reactions from observers, while some simply criticized it for its armed school workers provision.
That provision to arm school staff will not apply to teachers and aides. Rather, it would allow local sheriffs to establish a program to "appoint certain volunteer school employees as school guardians." The program, named after one of the Parkland victims, athletic director Aaron Feis, would permit school personnel to be armed on campuses. The program comes with a caveat: most people who exclusively work in classrooms would not be armed, reporter Russell Colburn explained on Twitter.
Those in favor of arming campus staff say that it could deter a gunman from opening fire on students. But critics have expressed concern that students of color, who already face racial discrimination in schools, could face fatal consequences in the presence of armed school staff.
Although Democrats were not particularly enthusiastic about the armed school staff provision in the bill, NPR reported that some Republicans had their qualms, too. When it came to placing a waiting period on bump stocks, Republicans showed reluctance to support SB 7026.
For now, it's not clear whether Gov. Scott will say yes or no to the bill, although he has said that he opposes the idea of arming teachers. He did, however, indicate that he intended to take the bill into serious consideration. "I am going to read the bill, and I am going to talk to parents," Scott told reporters, according to The Washington Post. "My goal is that this never happens again to a parent in our state."
Perhaps pressure from the family members might change Scott's mind. In a letter sent on Mar. 6, grieving families of the victims of Parkland urged Florida House of Representatives members to approve SB 7026. Titled "This Time Must Be Different," the letter laid out the families' plea for lawmakers to pass the bill.
"You must act to prevent mass murder from ever occurring again at any school. This issue cannot wait. The moment to pass this bill is now," the letter read. "We must be the last families to suffer the loss of a loved one due to a mass shooting at a school."