Here's What The Hand Recount Order In Florida Means For Its Heated Senate Race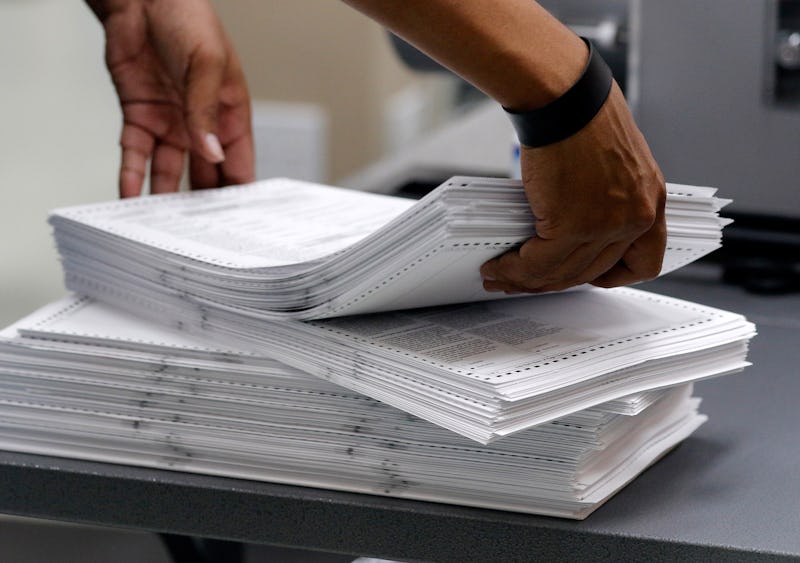 Joe Skipper/Getty Images News/Getty Images
While the race for Florida's next governor seems pretty much decided on Republican Ron DeSantis, the state's senate election just entered an unprecedented phase — the manual recount. But with a deadline set for this weekend, Florida's hand recount of ballots means its next senator could potentially be decided by Sunday.
The counting and recounting processes for both races have been messy since polling ended last Tuesday night. A couple days after Election Day, the Republican candidate, and Florida's current governor, Rick Scott, held a lead of just 12,500 votes over his Democratic opponent Bill Nelson. Since that margin was under 0.5 percent, state law mandated an automatic machine recount — feeding ballots back through counting machines — which began last weekend.
The machine recount ended on Thursday afternoon, though three counties — Broward, Palm Beach, and Hillsborough — did not submit results before the 3 p.m. deadline. According to The Washington Post, the Palm Beach election supervisor announced an hour before the deadline that they would not be done in time, and opted instead to move on to the manual recount at 4 p.m. Hillsborough County said that their margins were basically the same post-recount, and since Broward submitted late (at 3:02 p.m) its results were rejected. In the three exception counties the secretary of state opted to use the original vote tallies from before the machine recount.
According to the latest tabulations, Scott has pulled slightly ahead to a lead of 12,600 votes. That's still just a 0.15 percent lead, though, and according to state law, if the machine recount margin comes in at under 0.25 percent, the process moves on to a manual recount.
In a manual recount, it's actual human beings that do the counting. But they're not checking every single ballot, only ones that were rejected by machines. These are typically ballots that fall into the categories of an "undervote" (ballots where the machine did not detect a choice for a senate candidate at all) or an "overvote" (ballots where the voter picked multiple candidates). According to The Miami Herald, Secretary of State Ken Detzner gave canvassing boards in all 67 counties of Florida three days to do a hand recount. The boards work with volunteers using state guidelines to parse out what voters intended on their ballots.
There have already been significant issues with the counting process in the Florida races, particularly in Palm Beach County, where faulty voting machines have impeded the recount and thrown into question the validity of results. Thursday afternoon, when Palm Beach missed the machine recount deadline, Nelson's campaign lawyers announced that they would be taking legal action to remedy the situation. "We have sued Palm Beach County and the Florida Sec of State to require a hand count of all ballots in the county due to systematic machine failure during the machine recount," Democratic lawyer Marc Elias tweeted about an hour after the deadline.
None of the counting mayhem seemed to stop Scott — who has made frequent unsubstantiated claims of voter fraud in the election — from declaring his win in the race. "Last week, Florida voters elected me as their next U.S. Senator and now the ballots have been counted twice," he said according to The Miami Herald, adding that it was time for Florida to "move on," with him as its federal representative.
Despite Scott's calls for him to concede, Nelson remains committed to fighting for the race to continue. Elias told The Washington Post in an email, "We look forward to ensuring that those voters who cast lawful ballots have them counted."