Why Every Kid Needs To Read 'Flying Lessons'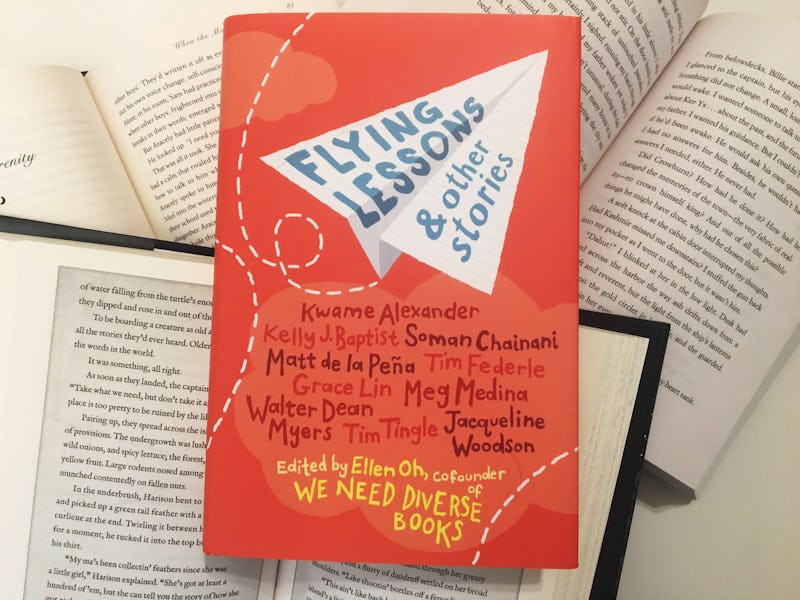 In the 10 days following Donald Trump's election to the presidency, a staggering 867 cases of harmful harassment were recorded in the United States. For We Need Diverse Books' CEO & President Ellen Oh, hate crimes and harassment are more than just numbers on a page; they are very real daily reminders that the United States still has a long way to go in pursuit of its mission of equality for all.
"Racism was really bad for me when I was growing up, but I was so sure that it would be better by the time I had kids. Finding out how wrong I was has devastated me," she tells Bustle. "I've currently been in the midst of my own personal family emergency directly tied to the rise of hate and bullying and racism in our public schools. I can assure you that I have firsthand experience now of the rise of hate and intolerance since Trump's campaign. "
Eliminating that hate and promoting empathy is precisely the mission of Ellen Oh's latest project: a middle grade story anthology titled Flying Lessons & Other Stories. Books, she believes, have the power to change hearts, change minds, and change the outcomes of elections.
Flying Lessons and Other Stories by Ellen Oh, $11.30, Amazon
Oh tells Bustle: "You see, I can't help but wonder, would we have come to this point if there had been more books with authentic representation available in the past? And if these books, instead of being pigeonholed into categories that make it seem like they are only for marginalized readers, had been widely available to all to read, would we be where we are now? I truly believe that the answer is no."
That hope first led to the creation of We Need Diverse Books in 2014. The grassroots nonprofit promotes diversity in children's literature by advocating for essential changes in publishing and promoting literature written by authors from marginalized communities. In other words, We Need Diverse Books wants publishers to hire more people from diverse experiences to acquire, edit, market, publicize, sell, and write children's literature. The organization — which has flourished on social media, thanks to the hashtag #WeNeedDiverseBooks — is now taking its next step with the publication Flying Lessons, the first of two anthologies the organization is releasing with Penguin Random House.
The idea for Flying Lessons was inspired by a conversation Ellen Oh shared with author Soman Chainini, who penned the titular short story, and editor Phoebe Yeh, who acquired and published the book.
"Soman was telling me all these amazing stories about his grandmother and how larger than life she was," Oh says. "He called her his fabulous Indian Auntie Mame and I remember nagging him about how I wanted more stories — a whole book of stories. That idea stayed in my head for months."
Nearly a year later, Oh revisited the idea and asked Chainini if he would write his story for a collection. He said yes, writing a story about a free-spirited grandmother who abandons her grandson on a nude beach and teaches him a lesson about living his most adventurous life. Ellen Oh didn't have too much trouble recruiting other authors after that: Newbery medalists Kwame Alexander and Matt de la Peña quickly said yes; so did National Book Award winner Jacqueline Woodson. The final story in the collection, "Sometimes a Dream Needs a Push," was submitted by the estate of beloved children's books author Walter Dean Myers, who passed away in 2014. "[The authors] are all so committed to supporting WNDB and understand just how important it is for our books to reflect the world around us," Oh says.
Within the pages of Flying Lessons are stories by people of all different backgrounds, races, sexualities, ethnicities, genders, religions. But the stories aren't exclusively stories of discrimination or racism or prejudice. They're stories of life and laughter and basketball and first crushes and beaches and family and monsters. They're stories all children will love reading. Stories all children will see themselves in. But more importantly, stories that will allow children from diverse backgrounds to see themselves as heroes, as "normal," as just as American as anyone else. It's vital, Oh says, for the stories of these children to be told by the authors from those communities — not by white writers.
"Empathizing with the white experience is a given for non-whites because that is all that we've ever been exposed to," Oh says. "But empathy for the non-white experience has never been the same. There are never enough books that are representative of other races and cultures, and when there are, many of them are portrayed through the filter of a white lens. So the empathy, in many cases, comes from a place of white superiority, as unintentional as it might be. This is how the marginalization continues. That is why appropriate representation in children's books is so deeply important. One problematic book about a non-white culture has more impact because of the scarcity of diverse books in general."
Donald Trump's election has undoubtedly made the mission of We Need Diverse Books much more urgent, but Oh is up to the challenge. ("Now more than ever, am I right?" she says.) In 2018, Penguin Random House will release a second We Need Diverse Books anthology — Lift Off, and later this year, the organization will officially launch a smartphone app.
"My own personal situation makes it so much more important to keep WNDB going. And I don't think I'll see an end to our work in my lifetime, unfortunately," she says. "The hate and anger I see out there is ugly and deep. But I can only hope that future generations will see such a growth and wealth of diversity in children's literature."
A portion of profits from Flying Lessons will be donated to We Need Diverse Books. Order it at Penguin Random House, and donate to We Need Diverse Books at their website.