Follow Alexandra Castro's Insta Feed For A Daily Dose Of Body Positivity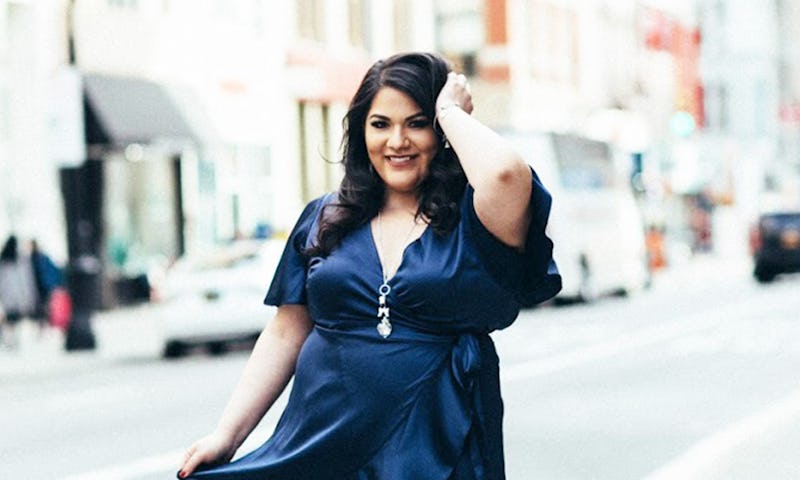 Photo Credit: Lydia Hudgens
Alexandra Castro is determined to see her name in lights one day — and she'll see them by being unequivocally true to herself. The model, actor, and dancer uses her social media platform to spread body positivity, and to remind us to think differently about who's "allowed" to wear what. That's why she's included in this special edition of Bustle's Must Follow, in which we highlight the incredible Latinx voices you need to follow on Instagram and Twitter.
Describe yourself in one line, including how you identify and what you do.
"I'm a Mexican-American cis-woman and I'm an actor, model, and dancer."
What do you hope people take away from following you on social media?
"When people follow me, I hope they can take away some sort of inspiration to get out and be seen or heard in their own respective field. Also, notes on body positivity, how representation matters, and some humor."
When did you first feel that you were a voice for the Latinx community?
"Probably within the last year. Folks would DM me with praise and gratitude for putting myself out there in modeling, acting, [and] dance, and how they appreciate that I'm stressing the importance of representing Latinx people in my fields."
Who's another Latinx person you would recommend to follow on social media?
"I love following Colombian queen, Nikki G (@itsnikki.g). Her posts are inspirational, funny, and full of body positivity."
Follow Alexandra Castro on Instagram, @missalexandracastro.