Jennifer Aniston & Courteney Cox's 'Friends'-Themed Tribute To George Clooney Will Make You LOL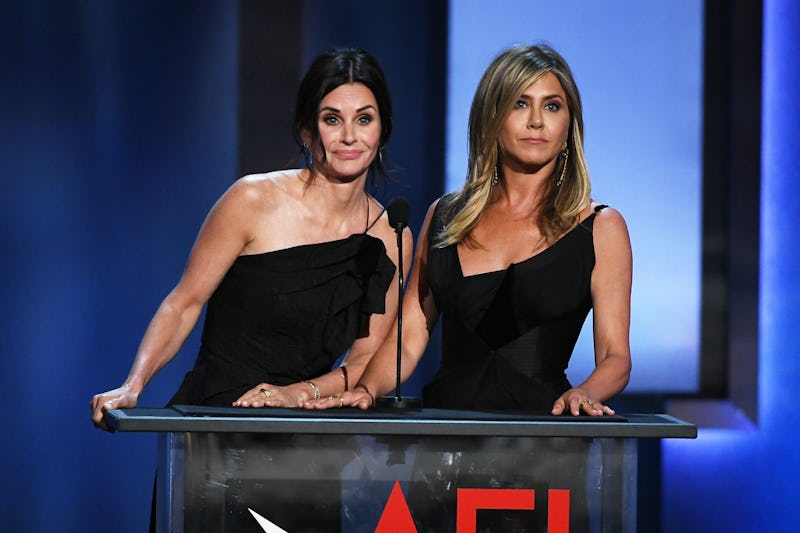 Kevin Winter/Getty Images Entertainment/Getty Images
On June 7, George Clooney received the 46th Annual Lifetime Achievement Award from the American Film Institute (AFI). Throughout the evening, an impressive roster of Hollywood A-Listers gave speeches to honor the 57-year-old actor, including former Friends stars Courteney Cox and Jennifer Aniston — who honored Clooney with a few jokes, some kind words, and a rousing rendition of the Friends theme song, according to Entertainment Weekly.
Yes, you read that correctly. Former Friends co-stars Cox and Aniston sang The Rembrandt's "I'll Be There For You" on-stage, to Clooney. Well, technically, they only sang part of it — and no, neither one of them were wearing sunglasses, and Aniston didn't play the tambourine, nor did Cox jam out on the drums (as per the song's official music video, which is a gem worth revisiting) —  but still.
In leading up to their musical tribute, Cox and Aniston recalled Clooney's days as Dr. Doug Ross on ER. "The success of [ER] can be explained in two words," Aniston opened. "George Clooney," Cox offered, but Aniston was quick to correct her: "Lead-in!"
This, of course, was in reference to NBC's "Must-See TV" Thursday night line-up back in the 1990s. In 1995, Friends assumed the 9:30pm comedy slot, according to Vulture, and ER was scheduled to follow at 10:00 p.m.
"Let's just admit it right here and now," Cox continued. "There were millions of people watching Friends that happened to stay there — too lazy to turn the channel. Without us, you're Chicago Hope, buddy," she joked. (Chicago Hope, by the way, was another medical drama on CBS at the time, and ultimately lost out to ER in the ratings battle, Vulture noted.)
"Lucky for you, George, we remained on the air on Thursday nights, pretty much paving the way for I'd say every success that you've had since then," Aniston chimed back in. Moments later, she and Cox gave the performance of a lifetime by riffing off the Friends theme song while honoring Clooney at the same time.
"I mean this, in all seriousness, from the bottom of the both of our hearts," Aniston started. "I'm going to be there for you." Cox then added, "When the rain starts to pour." Aniston: "I'm going to be there for you, buddy." Cox: "Like I've been there before." The nostalgia of it all is almost too much to handle.
According to Variety, "in 1994 and 1995, an average of 75 million Americans tuned in every Thursday night to NBC," and that's exactly when both Friends and ER blew up. Clooney — along with his ER co-star, Noah Wyle, who played Dr. John Kyle on the medical drama — even guest-starred in an episode of Friends at the very same time the two shows were airing on Thursday nights.
In "The One With Two Parts: Part 2," Clooney and Wyle appeared as — yep, you guessed it — handsome doctors who worked in an ER. The plot of the episode revolved around Rachel Green (Aniston), who, after hurting her ankle, momentarily switched names with Monica Gellar (Cox) in order to use Gellar's health insurance. While at the hospital, the two friends meet Dr. Michael Mitchell (Clooney) and Dr. Jeffrey Rosen (Wyle), and hilarious hijinks ensue.
So, yeah. Aniston, Cox, and Clooney all go pretty far back. Fans will have to wait a little while to see Aniston and Cox's speech/performance for themselves, though. The AFI Life Achievement Award: A Tribute to George Clooney won't air until Thursday, June 21 at 10 p.m. ET on TNT. If you're a fan of Friends, a fan of Clooney's, or just a fan of comedy in general, it's definitely a moment you won't want to miss.