MSU's Former President Was Just Charged With Lying To Police About Larry Nassar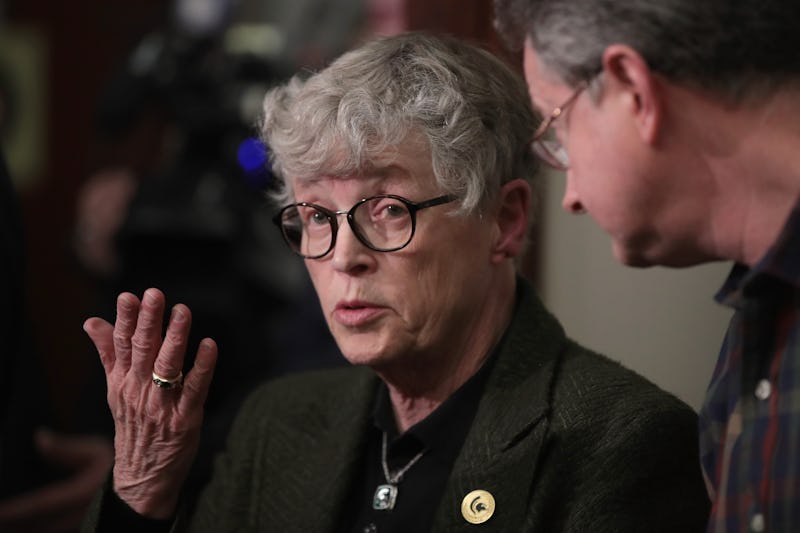 Scott Olson/Getty Images News/Getty Images
The Lansing State Journal reported Tuesday that former Michigan State University President Lou Anna Simon has been charged with lying to police during its investigation into disgraced Olympics coach Larry Nassar. Simon was charged with two felony and two misdemeanor counts, and faces up to four years in prison if convicted.
Nassar is serving an effective life sentence after pleading guilty to criminal sexual conduct with minors, possession of child pornography and several other related charges. He has been accused of molesting hundreds of women and girls in his position has an Olympics gymnastics coach.
Aside from Nassar, Simon is the third former MSU official to be charged in connection with Nassar's crimes. William Strampel, formerly the dean of osteopathic medicine at the school and one of Nassar's bosses, was hit with two misdemeanor charges in March regarding a 2014 Title IX investigation of Nassar, while former MSU gymnastics coach Kathie Klages faces a felony and misdemeanor charge for allegedly lying to police regarding sexual assault complaints made against Nassar before 2016.
Simon resigned in January, just hours after Nassar was sentenced, after serving 15 years as MSU's president, two of them on an interim basis. In January, she acknowledged that she'd received a Title IX complaint against an unnamed physician at the school in 2014 — two before Nassar was fired from the university — but said she didn't know who the physician was.
But the Michigan County Attorney General's office says that Simon knew all along that Nassar was the accused physician, according to the Lansing State Journal. More to the point, prosecutors say that she lied to police about this when they were investigating Nassar, and also falsely claimed that she didn't know the exact nature of the allegations.
MSU has faced heavy criticism for its handling of the Nassar accusations. According to the Detroit News, no fewer than 14 officials at the university knew that Nassar had been accused of sexual in the two decades leading up to his firing and arrest, including athletic trainers, assistant coaches, and a university police officer. In a new lawsuit, one former athletic director was accused in September of suppressing video evidence of Nassar assaulting a 17-year-old.
Advocates for reform at MSU reacted positively to news of Simon's arrest.
"I think this is the first step in a long process of holding people at the institution accountable for what happened here," Natalie Rogers of Reclaim MSU told the Lansing State Journal on Tuesday.
John Engler, MSU's interim president, said in a statement Tuesday that the university is "aware of the charges brought today against former President Simon" and that Simon is taking "an immediate leave of absence, without pay, to focus on her legal situation." Simon is tenured, and prior to Engler's announcement, she was being paid $750,000 by he university for a full year of "research leave," Deadspin reports.
A spokesperson for MSU told the Lansing State Journal that the university will pay for Simon's legal fees, as it is in Klages' and Strampel's lawsuits.