Frances McDormand's Oscars Win Turned Into A Feminist Moment That Will Bring You To Tears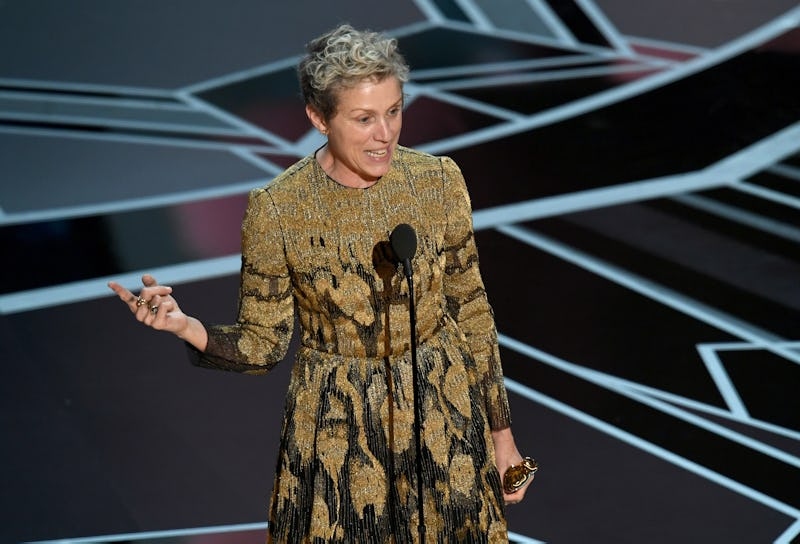 Kevin Winter/Getty Images Entertainment/Getty Images
Based on how the rest of the 2018 awards season went down, it wasn't much of a surprise to watch Frances McDormand win the Best Actress Oscar for her performance as Mildred Hayes in the film Three Billboards Outside Ebbing, Missouri. Jodie Foster and Jennifer Lawrence announced that the actor had won the trophy, coming from a stacked field that also included Sally Hawkins in The Shape Of Water, Meryl Streep in The Post, Margot Robbie in I, Tonya, and Saoirse Ronan in Lady Bird. McDormand has a knack for giving raw, off-the-cuff speeches, and this one was no different. After doing her requisite thanks, the actor did something that stunned the room and everyone watching at home.
At the end of her acceptance speech, McDormand invited every single nominated woman in the room to stand. Actors, writers, directors, and other filmmakers were visibly emotional, wiping tears, cheering, and hugging in the audience.
Her full speech is quite a ride, so it's worth it to give the whole thing another read:
"OK, so I'm hyperventilating a little bit if I fall over pick me up cause I've got some things to say. I think this is what Chloe Kim must have felt like after doing back to back to back 1080s in the Olympic half pipe, did you see that? What's what it felt like. I want to thank Martin McDonagh, look what you did. We are a bunch of hooligans and anarchists, but we do clean up nice. I want to thank every single person in this building and my sister Dorothy, I love you Dot. And I especially want to thank my clan. Joel and Pedro McCoen, these two stalwart individuals were well-raised by their feminist mothers. They value themselves, each other, and those around them. I know you are proud of me and that fills me with everlasting joy.
"And now I want to get some perspective. If I may be so honored as to have all the female nominees in every category stand with me in this room tonight, the actors — Meryl, if you do it everybody else will, come on — the filmmakers, the producers, the directors, the writers, the cinematographer, the composers, the songwriters, the designers, come on! OK, look around everybody, look around ladies and gentlemen. Because we all have stories to tell and projects that need financed. Don't talk to us about it at the parties tonight. Invite us into your office in a couple days or you can come to ours, whichever suits you best. And we'll tell you all about them. I have two words to leave with you tonight. Ladies and gentlemen: inclusion rider."
An inclusion rider, The Hollywood Reporter explained, is a contract stipulation that would require sets to be inclusive and diverse. McDormand was encouraging people in the room to push for those and create real change.
Here's a video of the iconic moment where McDormand used her platform to advocate for funding and support for women's stories. You can practically feel the electricity through your computer or your phone. And it's true: once Meryl Streep stood up, everyone else followed.
This win gives McDormand her second Oscar. She also won in this category in 1997 for her role as a heroic, small-town police officer the film Fargo, co-directed by her husband, Joel Coen. She was nominated three other times, all for Supporting Actress: in 1989 for Mississippi Burning; in 2001 for Almost Famous; and in 2006 in North Country.
And the 60-year-old basically ran the table this year, with critics and voters responding to her work as the rage-fueled mother of a murdered young woman who publicly shames law enforcement in her town for not doing enough to avenge her daughter. McDormand picked up accolade after accolade for Three Billboards, including the Golden Globe, the Screen Actors Guild Award, the Critics Choice, and many national and regional critics' groups designations.
At the Golden Globes, McDormand started off her speech by offering post-show tequilas to all her fellow nominees. And after thanking her co-stars and collaborators, she put her support behind the #TimesUp movement that made its awards season debut at that event. "Trust me," she said. "The women in this room tonight are not here for the food. We are here for the work."
And as she accepted her SAG Awards, the actor put out the call for awards bodies to start paying more attention to the next generation, which could certainly be read as a plea for someone to just reward Ronan's Lady Bird performance already. "There's a lot of young ones coming up and they need doorstops too," McDormand said, "let's think about that."
But the Academy was determined to recognize the performances in Three Billboards, giving the Supporting Actor statue to McDormand's co-star Sam Rockwell. But McDormand took advantage of the opportunity to life other women in the room up, and not just the four other nominees in her category. And if the decision makers and money people were listening, those standing women should all be busy with meetings come Monday morning. Who could ever say no to Frances McDormand?