Frank Ocean Clapped Back At Grammy Higher Ups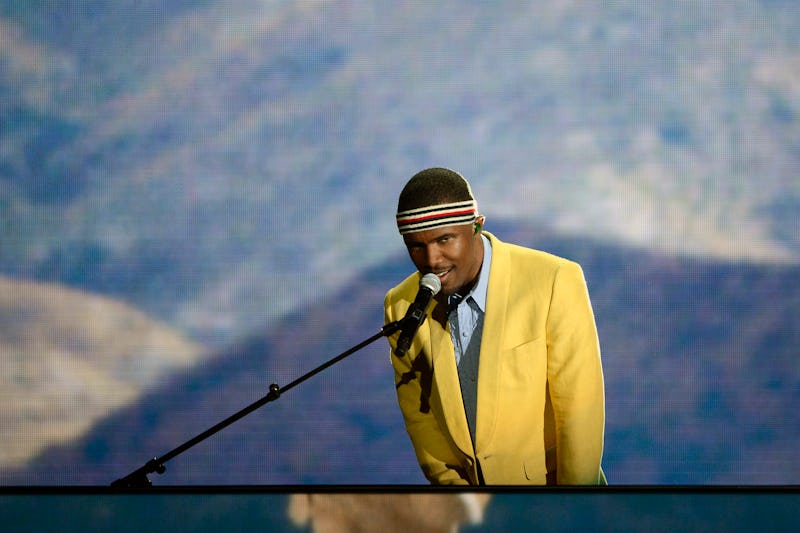 Kevork Djansezian/Getty Images Entertainment/Getty Images
I for one never want want to anger Frank Ocean. On Grammy Day, Sunday, Feb. 12, the artist behind Blonde shared a scathing attack against the Grammys executive producer Ken Ehrlich and writer David Wild where he criticized them for everything from bringing up old drama (his 2013 Grammy performance) to Taylor Swift's 1989 winning Album of the Year over Kendrick Lamar's iconic To Pimp A Butterfly. The post shared to Ocean's Tumblr comes after an interview with Ehrlich and Wild on the podcast, Rolling Stone Music Now, in which they shared details of Ocean's low-key awkward 2013 performance of "Forrest Gump" which Ehrlich described as, "not great TV."
In their interview, Ehrlich and Wild were responding to Ocean's decision to not participate in the Grammys at all. (He refused to submit his much-anticipated album, Blonde, for consideration because he found the process behind the award show "dated.") The rapper and singer described it as such in a November 2016 interview with the New York Times and claimed, "I'd rather this be my Colin Kaepernick moment for the Grammys than sit there in the audience."
However, Ehrlich and Wild disagree with Ocean's declaration and argued that the reason behind the artist's protest was his 2013 Grammy performance, which they "tried to tell him... tried to tell his management... tried to tell the record label" would not work as a performance. As Ehrlich explained, "So, his feelings about the Grammys right now, I would imagine, probably go back to that in one way. But honestly, it wasn't us."
In his Tumblr post, Ocean was having none of the Ehrlich-Wild argument. He pointed out that if he actually wanted to "redeem" his performance, he would try to wow with another attempt at the 2017 Grammys. He admitted,
In reality, I actually wanted to participate in honoring Prince on the show, but then I figured my best tribute to that man's legacy would be to continue to be myself out here and to be successful. Winning a TV award doesn't christen me successful.
For Ocean, the Grammy fight isn't just about him and his personal dealings with the award show. It's about a larger issue — to him the Grammys tend to not represent, as he put it in his NYT article, "people who come from where I come from, and hold down what I hold down."
Ocean specifically called out the 58th Grammy Awards in light of this concept of cultural bias. He pointed out that it was "not 'great TV" when Swift's pop album 1989 won over Lamar's politically charged hip hop album, To Pimp A Butterfly, calling it "hands down one of the most 'faulty' TV moments I've seen."
Ocean isn't the first to call out the Grammys for a tendency for color-blindness (by a long shot), and unfortunately he probably won't be the last. One great example is a Rolling Stone article from 2015 which pointed out that every single Best New Artist and Album of the Year nominee for the 57th Annual Grammy Awards was white. As writer Raquel Cepeda bitingly phrased it, "this year the Grammy Awards promise to be a throwback to that time when Shirley Temple got down in blackface — dumb-stoopid-affected accents and all." And while things have changed since then, it often feels like they have stayed the same in many ways.
Maybe you don't like how Frank Ocean is handling his beef with the Grammys. Maybe you're upset that he called out the constantly victimized Taylor Swift. But it's clear and important that Ocean is making a statement that should be a part of the conversation around awards shows. Ocean ended his post with a beyond-sassy call for such a conversation (the written version of a mic drop) saying: "If you're up for a discussion about the cultural bias and general nerve damage the show you produce suffers from then I'm all for it. Have a good night."
Wow. If you'll excuse me, I'll be over here in the corner fanning myself because Frank Ocean really knows how to write an intimidating open letter. I'm going to be getting the chills every time I think of his line, "use the old gramophone to actually listen bro, I'm one of the best alive."