Free Slurpee Day Is Coming Up & 7-Eleven Is Celebrating With A TON Of Other Food Deals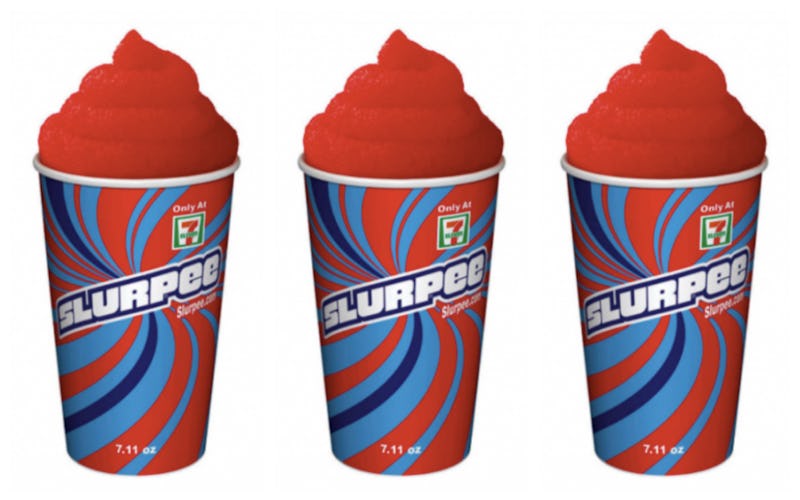 7-Eleven/Remixed by Bustle
Now that the Fourth of July is over, it's time to acknowledge the second biggest holiday of the summer: Free Slurpee Day at 7-Eleven. In celebration of the chain's 91st birthday, customers around the world will be able to cool off with a complimentary Slurpee on Wednesday, July 11. Cash in on the annual opportunity by popping into your local 7-Eleven — on 7/11 — between 11 AM and 7 PM (okay, that was a mouthful) for a free small Slurpee in the flavor of your choice.
You can fill up your cup with the classic Coke, Wild Cherry, Blue Raspberry, or Mountain Dew flavors of the iconic drink — or if you're looking to shake things up a little bit this year, try 7-Eleven's all new Cap'n Crunch flavored Slurpee. The (delicious-looking) teal colored drink combines the classic childhood cereal with a rush of refreshing, fruity flavors. It'll only be around for a limited time, though, so glug it down while you can. I promise, the brain freeze will be a small price to pay.
Depending on where you live, specialty local flavors can get even more adventurous. We're talking dragon fruit and watermelon, people. In Canada, there's even fruity gummy bear and iced-tea-blueberry-lemonade flavored Slurpees (um, woah, I think it's time for a trip).
Why not get a little creative? After all, the Slurpee itself was invented by accident. According to CNN, in 1959, Omar Knedlik, owner of a Dairy Queen franchise, found himself in a bit of trouble: his shop didn't have a soda fountain. Instead, he decided to keep the beverages in a freezer and got them out for customers as they purchased them. As a result, the drinks were served semi-frozen. Naturally, his customers began to rave over his tasty accidental creation. Knedlik, as the innovator he was, started using a car's air conditioner to try to prepare the frozen drinks faster — and got the process down to a science within a few years (with a brand new machine that could easily produce the treat). Thus, the Slurpee was born. The more you know, the better. Now you can raise your cold, overflowing cups to Omar Knedlik this 7/11.
Be prepared for your local store to get a little crowded on Free Slurpee Day — the company gives away roughly nine million cups of the slushy treat away every year during the celebration, so you might find yourself in line behind other eager Slurpee fans. Hey, good things come to those who wait, and we can all agree that Slurpees are worth waiting for.
If you're like me, you find yourself frequenting trips to 7-Eleven even after your Slurpee cravings have been (temporarily) satisfied. Whether you're after late night snacks, an AUX cord because yours has broken 100 times, or a hot slice of pizza, they have it all. So, why not cash into some deals when you visit? This week, 7-Eleven's 7Rewards app is making sure that customers can do just that: from July 12 to July 18, the company's seven days of deals promotion will allow you to save on a ton of different items (Coca-Cola, sports drinks, chips, candy, and more). If you're looking to get in on these discounts and buy-one-get-one-free deals, simply download the 7Rewards app or register online. Then, just make sure to have the app up on your phone when you check out to enjoy a glorious coupon-filled week.
This is arguably 7-Eleven's biggest week of the year — don't miss out on Free Slurpee Day and all of the deals that will happily follow suit throughout the next week. Happy early 91st birthday, 7-Eleven! You don't look a day over 70.