Rotten Tomatoes Ranked Freeform's 25 Days Of Christmas Movies & The Results Are Shocking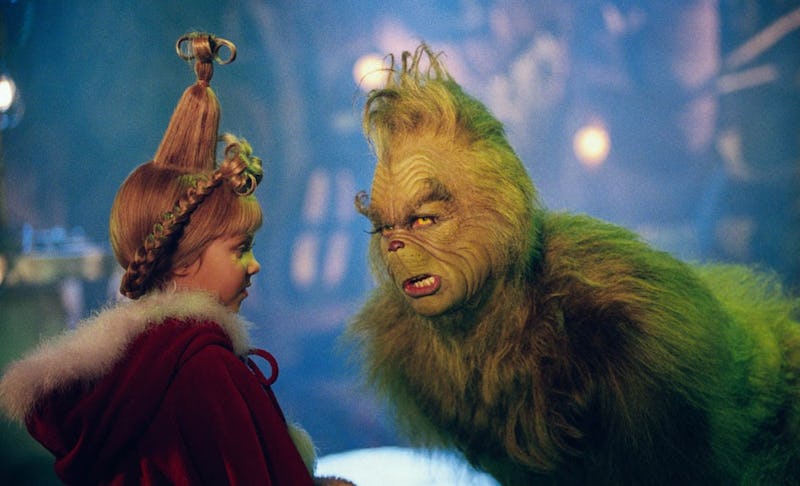 Universal
Watching an endless array of Christmas movies is a key part of the holiday season. However, given the vast selection at our disposal, going about choosing a movie can sometimes feel a bit overwhelming. That's why Rotten Tomatoes can serve as a perfect tool to help you and yours figure out what films are actually worth your time. And as luck would have it, Rotten Tomatoes has rated Freeform's 25 Days of Christmas movies, and the scores may end up surprising you, especially when it comes to some beloved classics.
From Tim Allen's The Santa Clause to Dr. Seuss' How the Grinch Stole Christmas, these holiday film standbys have all been given their own individual ratings. Of course, there are a few movies in the lineup that don't really have a Christmas-related theme (looking at you, Toy Story, The Lion King, and Finding Nemo!), but since they're part of the 25 Days of Christmas schedule, they too were given scores as well. (Plus, is there really any wrong time of the year to watch Finding Nemo?) So where do your favorites fall on the percentage chart? Take a look at the rankings below (listed from lowest to highest scores) and see if you agree with how it all panned out.
Christmas With The Kranks (5%)
It seems the Kranks have one more reason to be cranky this year after receiving the lowest score of the bunch.
The Santa Clause 3: The Escape Clause (17%)
As much as Martin Short shines as a devious Jack Frost, the film's rating on Rotten Tomatoes is arguably even chillier than the man himself.
Ice Age: Continental Drift (38%)
Not every animated film can be a hit, and it seems that this installment of the Ice Age franchise failed to melt enough hearts over at Rotten Tomatoes.
Mickey's Once Upon a Christmas (40%)
It's a little surprising that something involving the likes of Mickey wouldn't get a little higher score than this, but he still does fairly well for a 90-year-old mouse.
The Holiday (48%)
What kind of Christmas injustice is this? The film, which centers around Kate Winslet and Cameron Diaz's characters switching houses for the holiday season, is a time-honored classic. Someone call the police because this movie has been robbed!
Dr. Seuss' How the Grinch Stole Christmas (52%)
Not to sound like a total grinch about this or anything, but this film deserves a much higher score than this. Jim Carrey's portrayal of the Christmas-stealing, Who-hating Grinch was equal parts charming and relatable. Much like the Who's Christmas music, this movie is joyful and triumphant and definitely earned a higher ranking than this.
Disney's A Christmas Carol (54%)
Apparently when it comes to miserable old misers, reviewers prefer Carrey as Ebenezer Scrooge over the Grinch. Bah humbug, indeed!
The Santa Clause (74%)
Like many films before it, The Santa Clause is further proof that most times the original is always the best.
Santa Claus Is Comin' to Town (91%)
Because who doesn't love a good origin story, especially when it involves Santa Claus himself.
Disney's The Lion King (93%)
Sure, it's not exactly a Christmas movie in any way, but between the intriguing plot and incredible soundtrack, we can forgive it for horning in on the holiday movie list.
The Nightmare Before Christmas (95%)
Some of you may think this is more of a Halloween movie than a Christmas movie (in fact, there's much debate about that topic), but considering that it has Christmas right in the title, it's a worthy opponent among the other yuletide features.
The Incredibles (97%)
Further proof that the movie is true to its name.
Toy Story 3 (98%)
When it comes to this franchise, it's got a friend in Rotten Tomatoes.
Finding Nemo (99%)
Again, not exactly a Christmas movie, but still worthy of its impressive score. Just keep swimming.
Toy Story & Toy Story 2 (100%)
There's no doubt about it — when Buzz Lightyear and Woody get together, they make comedy gold to infinity and beyond.
In the end, Pixar may have won the day, but quite honestly all of these movies are worth a rewatch or two (or 10) to help keep you merry all year round.
*Movies that are part of the 25 Days of Christmas schedule, but have not received a Rotten Tomatoes score: Life Size, Life Size 2, Pop Up Santa Holiday Special, Disney's Fairy Tale Weddings: Holiday Magic, No Sleep 'Til Christmas, Jingle All the Way, and Mickey's Twice Upon a Christmas.