'Friends' Might Be Leaving Netflix Really Soon, So You Should Start Marathoning It ASAP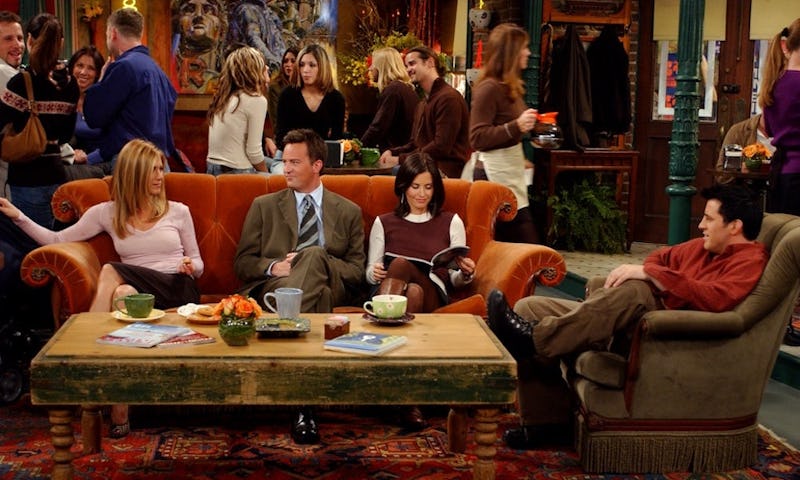 Warner Brothers Television
UPDATE at 6:02pm ET: The official Netflix US Instagram account has announced that Friends would not be leaving the site in 2019. They uploaded a photo of Ross in his Holiday Armadillo costume with the words, "It's the Holiday Armadillo, here to tell you a magical holiday story called FRIENDS IS NOT LEAVING NETFLIX IN 2019." The network added in the caption, "PLEASE STOP CRYING, FRIENDS IS NOT LEAVING NETFLIX US IN 2019."
Netflix US also posted the photo on their official Twitter account, writing, "The Holiday Armadillo has granted your wish: "Friends" will still be there for you in the US throughout 2019.
EARLIER: Netflix is great for many things. From marathon-worthy new shows to great original movies, it has a lot going on. But original content aside, Netflix is also home to some true TV and movie classics, like Friends. Friends is one of those shows that fans just love to rewatch over and over again — it's a big obsession with millennials and anyone else who grew up with it back in the '90s and early 2000s. However, there's some bad news for anyone fond of rewatching the show, because Friends is reportedly leaving Netflix in the US and fans don't know how to contain their grief. (Bustle has reached out to Netflix, but did not receive a response at time of publication.)
UPDATE at 4:54pm: Netflix's chief content officer Ted Sarandos told The Hollywood Reporter that the Friends "departure is a rumor." The availability date, which used to read "Until 1/1/19," has also been removed." However, Netflix has not released any further comment.
EARLIER: When will you have to say goodbye to the beloved show? Well, it's way sooner than audiences would have liked. All episodes of Friends are still currently available to watch, but appear to be leaving the streaming site on Jan. 1, 2019. So, you'll have to start your new year off with a complete lack of Friends on demand, whenever you like.
No official announcement has been made yet, since Netflix only releases a month-by-month breakdown of what's coming and going to the streaming site. (January has yet to be announced.) However, fans noticed an expiration date casually added to the title on Netflix. Under the Details tab, it reads, "Availability: Until 1/1/19." Is this Netflix's way of softening the blow? Or trying to quietly let everyone know their favorite show will soon be gone from their site? Not sure, but fans are losing it.
On Jan. 1, 2015, Netflix released every episode of Friends' 10 seasons onto its site. Collider pegged it as, possibly, the "biggest TV series acquisition thus far" for the site. It reportedly cost the company $118 million to gain the rights to stream all the episodes and they digitally remastered them all too, to make them HD. Now, on the four year anniversary of the popular show being made available on Netflix, it looks like all 236 episodes are being taken away.
As of right now, Netflix US has not commented on the rumor that Friends is leaving its site. But, for US fans, it's time to say goodbye to all the good times you've had with Rachel, Ross, Chandler, Monica, Joey, and Phoebe. "The One Where They Get Kicked Off Netflix" is unfortunately not an episode, so you're going to have to figure out how to deal on your own. However, it seems like if you're in the UK, Friends will still be up for you, as Netflix UK & Ireland's recent tweet would suggest: "The One Where Friends is Going Nowhere, Don't Worry."
And with the removal of Friends from one of the most popular streaming sites, its fans are mourning the loss. Other than reruns on TV — which do happen often — how are fans going to watch all 10 seasons with just a click on their laptop?
At this very moment, fans most definitely are squeaking out, "This is fine!" in true Ross form.
Also, a common theme here, is that 2019 is going to start off on a really sad note. Right when you're finishing up the last days of your vacation, there's no Friends watch for hours on end? Netflix, really?
Fans with DVD players can always invest in buying the complete series for this type of easy viewing. But for those of you who rely on Netflix for all your TV watching needs, it's time for you to get your marathoning pants on, cancel any and all plans for the next three weeks, and stream all 10 seasons of Friends starting now.
Whatever you choose to do, it seems pretty definite that Friends is leaving the service, so say your last goodbyes and take your mind off of it by starting something new.