A Woman Tried To Bring An Emotional Support Squirrel On A Flight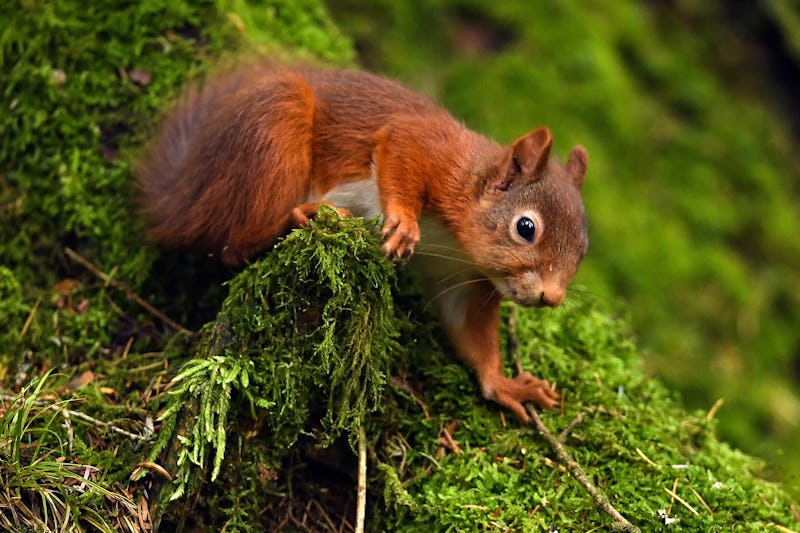 Jeff J Mitchell/Getty Images News/Getty Images
A flight from Orlando, Florida, to Cleveland, Ohio, was delayed a few hours on Oct. 9 as Frontier removed an emotional support squirrel from the plane, ABC News reports. The Orlando Police Department had to remove the woman who brought the little critter on board as well, says ABC News, because she refused to get off the plane even though she was reportedly informed squirrels are not allowed on board per the airline's emotional support animal policy.
"The passenger noted in their reservation that they were bringing an emotional support animal," the airline said in a statement provided to Orlando ABC affiliate WFTV, "but it was not incidated [sic] that it was a squirrel. Rodents, including squirrels, are not allowed on Frontier flights."
According to the Frontier website, the policy for traveling with an emotional support animal before Nov. 1, 2018, states, "We do not accept unusual or exotic animals including but not limited to rodents, reptiles, insects, hedgehogs, rabbits, sugar gliders, non-household birds or improperly cleaned and/or animals with foul odor."
Because the woman refused to deplane, airline officials called the police, who had to remove all the passengers from the airplane, Mashable reports, until the woman agreed to exit.
Twitter user @bnix4 said, "So I'm flying back to Cleveland, and everyone got on the plane, then was asked to exit the plane. Only to later find out a woman brought a squirrel in her carry-on and labeled it as her emotional support pet. Then refuses to get off the plane until the cops come😂😂."
Airlines have been facing an influx of people bringing emotional support animals on flights, with the Airlines for America estimating the number of animals on flights increasing from 481,000 to 751,000 from 2016 to 2017, ABC News reported in July. For some, says ABC News, these animals are a much-needed solution for people with mental illness. But recent reports show this type of companionship has gotten out of control due to the increase of fraudulent emotional support animal credentials online, ABC News reports.
According to BBC News, earlier this year a woman tried to bring an "emotional support peacock" aboard a United Airlines flight out of Newark Airport. The woman had originally purchased the bird as a part of an art installation and ended up adopting him afterward, BBC News reports. United Airlines CEO Oscar Munoz told ABC News that "somebody brought an emotional support animal for their emotional support animal,.
After Nov. 1, 2018, Frontier is updating its emotional support animal policy to only accept dogs and cats on flights. Southwest Airlines also announced that it's restricting its policy to dogs and cats, according to CNBC, and they must travel in a carrier or be leashed. United Airlines requires confirmation the animal can behave in public and signed proof of vaccination from a veterinarian, says ABC News, while JetBlue requires customers to submit advanced notice and documentation that they plan to fly with an emotional support animal.
According to the American Kennel Club, to be legally considered an emotional support animal, a pet needs to be licensed by a mental health professional to a person with a mental illness. It's unfortunate that there are people out there who are taking advantage of a support tool that people legitimately need. Just know that emotional support animals are real and totally OK to use if you need them — even if people making headlines are making them seem like they're not.