John Stamos' 4th Of July Photo Of His Adorable Son Will Make Your Heart Burst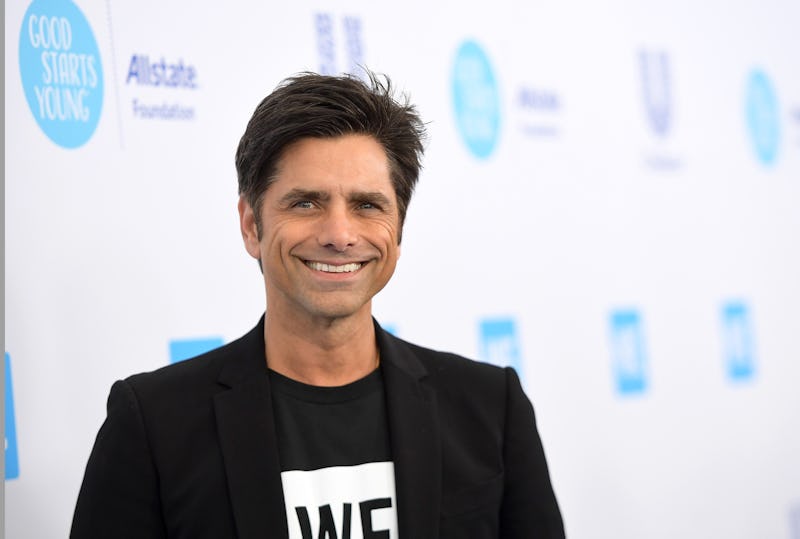 Matt Winkelmeyer/Getty Images Entertainment/Getty Images
By now, most pop-culturally attuned folks know that John Stamos is no stranger to playing somebody's dad on TV. Well, real-life Stamos didn't become a dad until roughly three months ago, when he and Caitlin McHugh welcomed their first child, Billy, into the world. And since then, it seems he's is reveling in all the quality father-son time he can manage. This week proves no different, since Fuller House actor John Stamos and his son are celebrating 4th of July together. And, they're doing it in perhaps the cutest way imaginable.
Not only that, but in notifying the public of this particularly heartwarming father-son hangout sesh, Stamos shared what might be one of the most wholesome 4th-themed snapshots the internet's seen in a minute to his Instagram account, featuring baby Billy front-and-center. And if that alone doesn't have fans convinced that Stamos is at least vying for "#1 Dad" status here — just wait 'til you see this photo.
The snapshot sees three-month-old Billy donning a firetruck-printed grey onesie, staring up at his dad's smartphone camera, doing what angel-faced infants do best. (Warming hearts left and right, obviously!) At first glance, the photo's markedly, ahem, creative setup is almost lost on an unsuspecting viewer, who might have to do a quick double-take to realize that Billy is actually lounging inside the padded barrel of an empty guitar case. Shall we say "have mercy," or what?
Beside the guitar case is Stamos' actual guitar, a Gibson whose coloring seems to have taken a note from the American flag. "Looks like we got a stowaway," Stamos captioned the photo. If this is Stamos' version of a "dad joke," it seems safe to say the brand-new father is already getting the hang of this whole parenting thing. Even sweeter, he finished up the post's caption with a hashtag: #BillyinDC.
The post's caption (and bits of the photo, too) seems to allude pretty obviously to Stamos' upcoming 4th of July plans. This year's holiday will see the actor hosting A Capitol Fourth, PBS's annual 4th of July broadcast, which airs life in Washington, D.C. Stamos hosted the event last year, too. But, judging by Stamos' latest IG post, it looks like this year's 4th of July extravaganza might call for a little extra celebrating, what with little Billy in tow and all.
Tuesday's adorable IG post trails a series of posts just like it, courtesy of Stamos and his relatively recent foray into real-life fatherhood. Most recently, Stamos took to the social media platform on Father's Day to share his thoughts on becoming a dad. "My first Father's Day means that from this day forward— I will start to look my age (and older)," he joked, before adding, "Most importantly, it means that for the rest of my life, I'll always be known as someone's dad. And that's all I ever wanted."
His Father's Day comments echoed similar ones Stamos made to People back in December, when he and McHugh first announced they were expecting a child. Parenthood was a first for both of them, though it was Stamos' life-long dream of becoming a father that took center stage during the interview. "People would say, 'You should have a child,'" Stamos said during a December 2017 episode of PeopleTV's The Jess Cagle Interview. "I was like, 'That ship has sailed.'" But, of course, it hadn't. "The look on John's face when I told him we were pregnant was priceless," McHugh told People during the same interview. "It was the look of a man who has wanted a family of his own but wasn't sure it was going to happen for him. Now it is!"
So, who else would rather be spending this 4th of July with the Stamos men? If Tuesday's incredible father-son snapshot is any measure of what's in store for the holiday, it looks like this year's is going to be one for the books. Here's to hoping there's more Stamos-and-son sweetness where this came from.