Funny 'The Office' Group Costume Ideas That Would Win Any Dunder Mifflin Halloween Party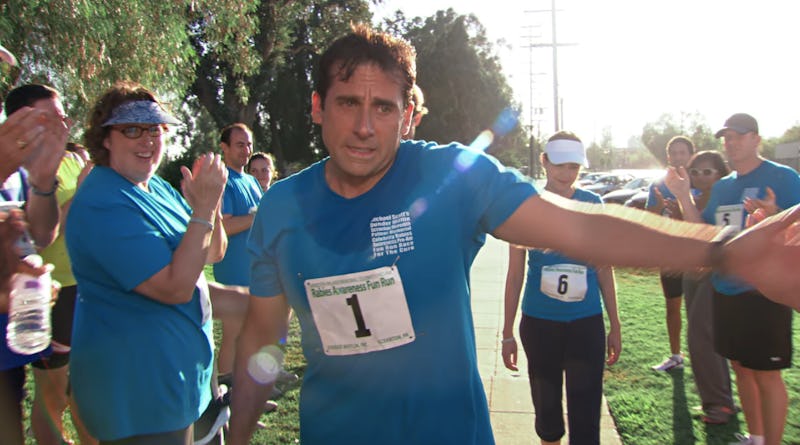 NBC
Dressing up like a character from The Office makes for some of the best Halloween costumes out there. The characters are all super recognizable — especially since people still continue to watch this show today, five years after it ended — and they're also all easy and not to expensive to recreate. But if you want to take things to the next level, an Office group Halloween costume is the way to go. Putting together the costumes below is still as easy as dressing up as a solo character. But by getting your entire group involved, the impact is so much stronger.
Dressing up as a bunch of the characters in their everyday wear is always an option — and a very good option at that — but if you want to make things more specific, try focusing in on one storyline or taking inspiration from a certain episode. You could be Jim, Dwight, and Michael, sure. But you could also be Jim, Dwight, and Michael in disguise as warehouse employees as a way to trick Karen Filippelli. (By the way, in that scenario, someone could also dress up as Karen!)
The ideas below include items you can buy in order to dress up, but for most of these you probably already have some stuff you can use. They mostly just involve different types of shirts.
Jim's Halloween Costumes
ASOS DESIGN Slim Wedding Tie In Black, $9, ASOS
Women's Plus Size Long Sleeve Camden Button-Down Shirt, $23, Target
Avery Print-or-Write Name Tags, $6, Staples
There are a lot of options here depending on what size your group is, and most of them are pretty easy. You just need a blue or white shirt and a black tie, plus an assortment of other items: three black paper circles (three-hole punch Jim), a name tag (Dave), face paint or an eyeliner (Bookface), a Chris Bosh jersey (Chris Bosh), or, if one of you really want to go for it, an entire Popeye costume.
Michael, Jim, & Dwight In Disguise
Easy-iron Shirt Slim Fit, $15, H&M
Hippie Mustache, $5, Party City
In the episode "Branch Wars", Dwight, Michael, and Jim all wear warehouse disguises so they can sneak around the Utica office unnoticed. To recreate the look, you'll need a gray shirt on to which you can pin a "Dunder Mifflin" tag, and if you don't have a mustache (or a beard that can be shaved into one), then you'll also need a fake 'stache.
Michael Scott's Dunder Mifflin Scranton Meredith Palmer Memorial Celebrity Rabies Awareness Pro-Am Fun Run Race For The Cure
Support The Rabid Men's Short Sleeve T-Shirt, $29, NBC Store
Schrute Farms Beets Long Sleeve T-Shirt, $33, NBC Store
Women's Visor, $10, Target
The NBC store sells Fun Run T-shirts, and while they're a little pricey, big Office fans probably need one of those anyway, right? For this costume you really just need a group of people to wear these shirts, but if your group wants to make things more specific, someone could be Dwight and wear a gray "Schrute Farms Beets" shirt, someone could wear a white visor like Pam, and someone could wear a neon green tank top and sunglasses like Andy. Also, you should all pin numbers onto yourselves.
Scott's Tots & Michael Scott
Jersey Jacket, $35, H&M
ASOS DESIGN Tie In Burgundy, $9, ASOS
The Office Scott's Tots T-Shirt, $16, Hot Topic
The "Scott's Tots" episode is notorious for being so cringeworthy that a lot of people skip over it when re-watching the series. It also makes for a very simple group costume. One person dresses as Michael Scott in a blazer with a white shirt and dark red tie, and the others wear Scott's Tots T-shirts... and have their dreams not come true.
Enjoy Halloween this year. Don't make any decade-long promises you can't keep.