Gal Gadot Finally Responds To Those Rumors About Brett Ratner & 'Wonder Woman 2'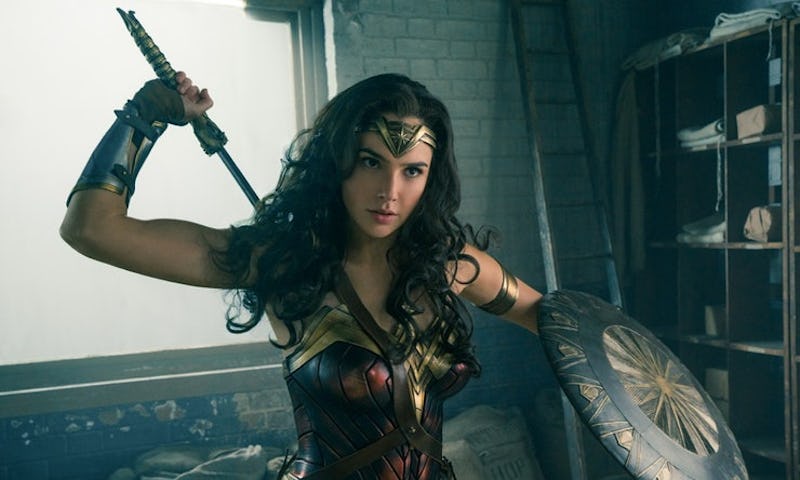 Warner Bros. Pictures
Wonder Woman fans have been anxious about the sequel ever since allegations emerged against one of its financiers. And on Wednesday, we finally got some closure — according to Gal Gadot, Brett Ratner isn't involved with Wonder Woman 2 anymore. (Bustle has reached out to Ratner's attorney and Warner Bros. for comment, but did not receive an immediate response.) Rumors had swirled in recent weeks that the lead actress had given the studio an ultimatum, saying she wouldn't sign on for the follow-up unless Ratner was removed. But the 32-year-old addressed some of the rumors on her Nov. 15 appearance on TODAY, where she alleged that things went down a little differently.
According to the actress, Ratner's financing company RatPac-Dune Entertainment was allegedly never committed to the second film, although they were involved in financing the first. In contrast, Gadot was already committed; she agreed to a three-picture deal as part of her original contract. Because of this, the film's star claims that she never actually had to leverage her participation in Wonder Woman 2. Not only because she had already signed on, but because the rest of the team was allegedly all on the same page. As Gadot told Savannah Guthrie:
"At the end of the day, a lot has been written about my views and the way that I feel, and everyone knows the way that I feel because I'm not hiding anything. But the truth is, there's so many people involved in making this movie, and they all echo the same sentiments. Everyone knew what was the right thing to do. But there was nothing for me to actually come and say because it was already done before this article came out."
She's referring to Page Six's Nov. 11 article, which claimed that Gadot was unwilling to work with Ratner in the wake of the allegations against him. Six women accused the director and producer of sexual misconduct in a Nov. 1 article from the Los Angeles Times.
In an initial statement through his attorney, Ratner "vehemently dispute[d]" the claims, but later announced his intention to distance himself from the Wonder Woman studio, saying:
"In light of the allegations being made, I am choosing to personally step away from all Warner Bros.- related activities. I don't want to have any possible negative impact to the studio until these personal issues are resolved."
It was a position echoed by Warner Bros. themselves, who cut ties with the producer shortly after the claims were aired. And according to Variety, the termination of the relationship was on the studio's terms more so than Ratner's. Before Nov. 1 was out, they reported that he no longer had an office on the Warner Bros. lot, that his expired first-look deal would not be renewed, and that Ratner had been removed from the upcoming Goldfinch film.
In short, no matter who was stepping away from whom, and for what reason, all this distancing had already taken place by the beginning of the month. So while Gadot hasn't hidden her views — she backed out of an Oct. 29 ceremony where she was supposed to present Ratner with an award, for example — she was not involved with the producer's removal from the next film.
And in fact, as previously stated, it seems as though that involvement was never actually confirmed in the first place. As the LA Times noted, the co-financing deal between RatPac-Dune and Warner Bros. was a limited arrangement that began in 2013 and was set to expire in Spring 2018. That's over a year before Wonder Woman 2's slated release date of Nov. 1, 2019, so the issue was likely moot even before it came up for discussion.
In any case, it seems confirmed from multiple angles that Ratner will not be involved in the much-anticipated sequel, so the film can move forward without any hint of controversy.