'GoT's Maisie Williams & Sophie Turner Are The Best BFFs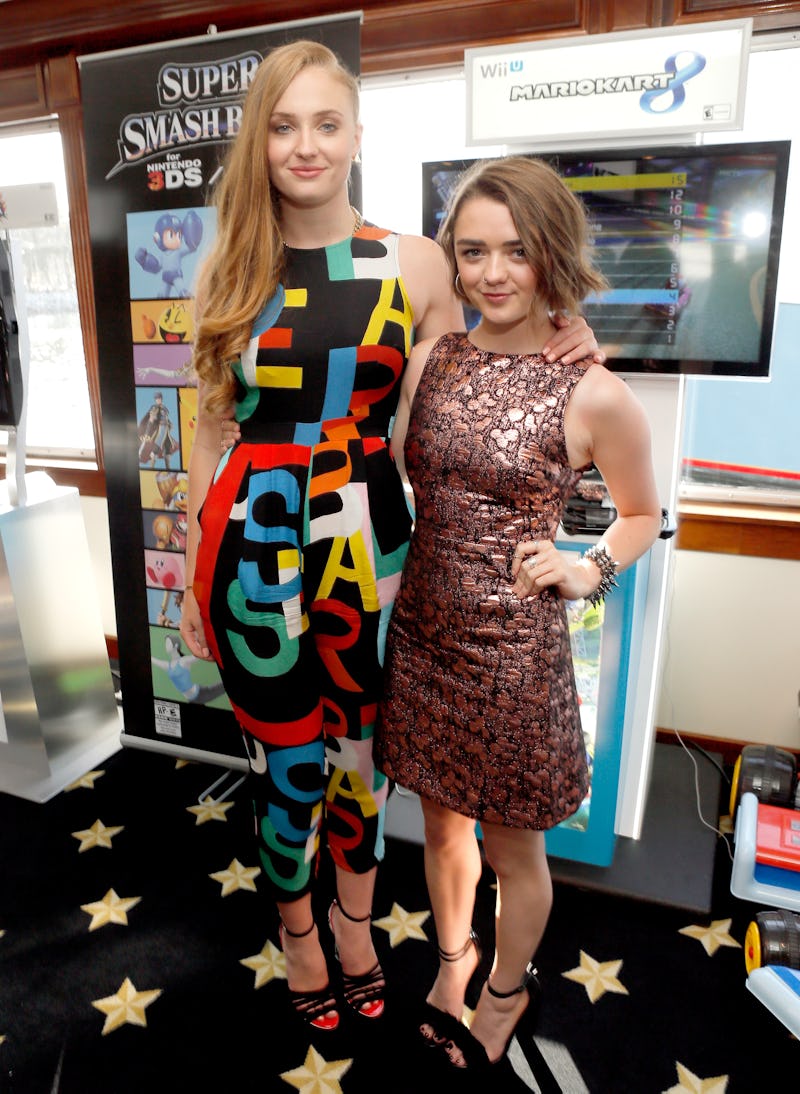 Mike Windle/Getty Images Entertainment/Getty Images
On Sunday, Aug. 27, the finale of Game of Thrones Season 7 will air on HBO. Sansa Stark (Sophie Turner) and Arya Stark (Maisie Williams) were combative sisters onscreen during Season 1, and here in Season 7 they play...combative sisters, only this time, with even more secrets. In real life, though, Turner and Williams celebrated the Game of Thrones finale day with a photo that proves they are still the definition of BFF goals.
On Saturday, Aug. 26, Turner posted a photo to her Instagram account of herself and Williams on set. While still dressed as their respective Stark sisters, both strike a pose that wouldn't be out of place on the cover of Drake's next album. Yes — It's a lot to take in. Turner's caption for it reads:
"In honour of the Thrones finale out tomorrow night, and of 6 mill followers on instaaaa... here's da reel roadmans of westeros"
It's hard to say exactly what she's referencing there; To be polite, "roadman" is British slang (so fetch) for punky young men. Is Sophie our roadman here? Is Maisie? Both? Neither? Based on their poses, it looks like the two could drop a fire mixtape on icy Winterfell in a second. Maybe a direwolf could be on the cover of the EP. Just a thought.
Whatever it is, fans will never get tired of seeing the pair messing around. Behind-the-scenes pictures are one thing, but this one is special. After all, it's been about six years since we last saw Maisie and Sophie on-screen together until recently. Being reunited with a best friend thanks to the reason you met in the first place? That's pretty fun. Particularly when you get to wear super cool costumes.
As for Game of Thrones, it's a challenge to predict where any of it is heading, and between Jon Snow's parentage, an ice dragon, and Cersei's possible pregnancy, it's easy to forget about the Stark sisters, but what is their deal? Arya needs an attitude adjustment, and Sansa has to learn to trust her family. Watching the Stark girls and their brother come together at home for the first time since Season 1 has been, uh, frustrating.
Fortunately for fans, that never seems to be the case in real life. Game of Thrones has brought together adorable couples and incredible photo ops, but little is as sweet (or cognitive dissonance-inducing) than the real-life friendship between Sophie Turner and Maisie Williams. They wear matching Halloween costumes, refer to each other as "soulmates," and fix one another's red carpet outfits. Sophie and Maisie definitely are not Sansa and Arya.
So, please, please, let Game of Thrones finale viewers get what they want — let Sansa and Arya get as close as the actresses who play them. That might really break the Internet for good.