17 'Game Of Thrones' Stars Who Are Nothing Like Their Characters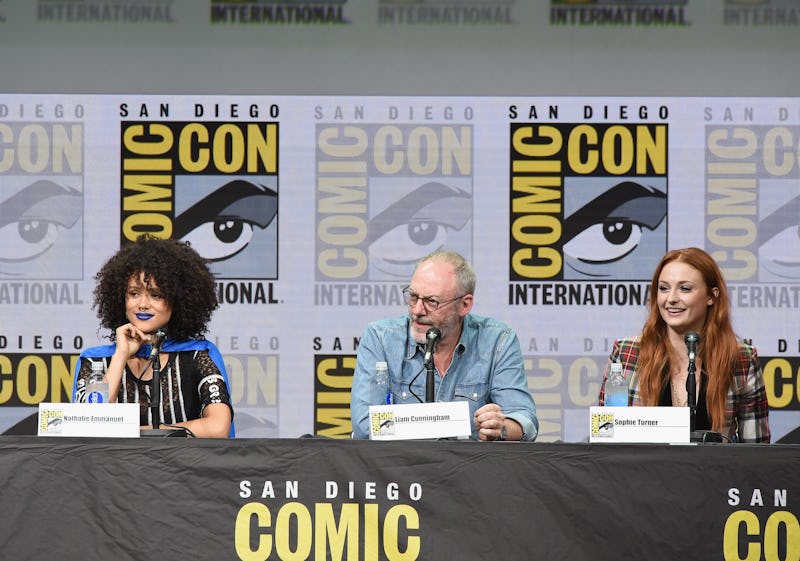 Kevin Winter/Getty Images Entertainment/Getty Images
All too soon, HBO's Game of Thrones will eventually end. But when the stars aren't battling winter in Westeros, what exactly are they up to? Whether they're in matching Halloween costumes or messing around on set, it's starting to seem like most Game of Thrones stars are nothing like their characters — at all. Some of that is obvious; for instance, as far as fans know, none of these actors have gone through some of the wild things their characters have been through on Game of Thrones.
Really, though, for all the "telling human stories in a fantasy world" that GoT has become known for, it's amazing to see how different some of these actors are in their daily lives. Sure, they're not actually battling the Night King in their free time. But would you believe that at least one fan favorite is actual Scottish nobility? Or that multiple actors from the show are also successful recording artists under different names? Different accents are hard enough for viewers to wrap their heads around, but what about Game of Thrones' cruelest characters being heart-melting sweethearts off-screen?
Here are 17 Game of Thrones stars who are nothing like their characters:
1. Maisie Williams (Arya Stark)
One of fan favorite Arya Stark's defining qualities has long been her reticence to conform to the gender norms of Westeros. By Season 7, free of adult interruption, she dresses and acts largely like a Westerosi warrior. In real life, Maisie Williams, the 20-year-old who portrays Arya on the show plays with makeup, goofs around with actress Sophie Turner, and dresses up for music festivals. Essentially, Game of Thrones depicts Arya as a self-satisfied, blood-thirsty assassin-slash-teenager with great eyebrows, but Maisie Williams is just your average awesome British gal. With great eyebrows.
2. Rory McCann (Sandor Clegane, "The Hound")
Throughout the series, Rory McCann — the "Yarp!" guy from Hot Fuzz — is sublime as the grouchy, tortured Hound. That has to be why footage of him playing guitar while singing twee songs for cast members in between takes is as magnificent as it is confusing.
3. Hafþór Björnsson (Gregor Clegane, "The Mountain")
Ser Gregor Clegane, "The Mountain That Rides," is a terrifying, undead maniac who has been bewitched to torture those who have wronged one Cersei Lannister. Sure, Hafþór Björnsson is a hulking mass of dude — he's won international strongmen competitions, and his 6-foot-9-inch frame is no joke — but he's so much more than that. Please enjoy this extremely real Instagram of the human giant training with his beloved Pomeranian puppy.
4. Rose Leslie (Ygritte)
Feisty, tough-as-Valyrian-steel Ygritte spent the majority of her life beyond the Wall, hunting, raiding, and pillaging along with her Wildling kin. In contrast, Rose Leslie is a literal Scottish noblewoman who was raised in a castle her family has held onto for 600 years. Ygritte has one name and no known relations. Rose Leslie can trace her ancestry across the globe. Of course, there's one thing Rose and Ygritte do have in common: Kit Harington, who plays Jon Snow.
5. Hannah Murray (Gilly)
The lovely Hannah Murray is a university graduate and trained theater actress. By all accounts, her life has been immensely different than that of Gilly, former daughter-wife to Craster and current overlooked partner of Samwell Tarly.
6. Isaac Hempstead Wright (Bran Stark)
Moody, mysterious Bran, now doing business as The Three-Eyed Raven, is a real piece of work. Isaac Hempstead Wright, however, is purely delightful. During shoots that required actor Kristian Nairn to carry him for extended periods of time, Isaac - by his own admission! - sang the Krusty Krab Pizza song in his ear for hours on end. Hilarious? Oh yes.
7. Kristian Nairn (Hodor)
Sweet, simple Hodor couldn't be further from the Northern Irish actor Kristian Nairn. Yes, they're both seven feet tall. But only one of them travels the world as a professional EDM DJ, and it's definitely not Hodor.
8. Natalie Dormer (Margaery Tyrell)
Natalie Dormer is a totally normal actor in real life. No schemes. No seditious plots.
9. Iwan Rheon (Ramsay Bolton)
One look at Iwan Rheon would strike fear in the eyes of GoT fans, as the Welsh actor brought life to the psychopathic Ramsay Snow, later Bolton. Off-screen, Iwan enjoys photos of nature, promoting charities, and generally keeping a low profile for someone who recently joined another massive franchise. He's a good-natured actor and comic, and — most unsettling of all — IRL friends with Alfie Allen.
10. Gwendoline Christie (Brienne of Tarth)
Gwendoline Christie is a model, actor, and fashion icon. She smiles for photos. She would not be bested in a fight by Maisie Williams. It is kinda great, though, that her name is Gwendoline. Legendary fighter and somewhat humorless Brienne of Tarth could totally be a Gwendoline.
11. Jerome Flynn (Ser Bronn)
Ser Bronn of the Blackwater was a '90s pop star in England. Jerome Flynn is not completely unlike Bronn, TBH, but it's important to me that everyone knows he was a singer in the 1990s and he's still got it.
12. Lena Headey (Cersei Lannister)
First of all, Heady has short, spiky, black hair, and seems to be a cool person, unlike the blood-lusting Cersei.
13. Jack Gleeson (Joffrey Baratheon)
Jack Gleeson is nothing like the infamous Joffrey. In fact, he's just the opposite: A sweet, mild-mannered university student who'd be happiest if he were anonymous. He's retired from acting to focus on school.
14. Emilia Clarke (Daenerys Targaryen)
Emilia Clarke is a cheerful, goofy brunette and seemingly free from the burden of birthing fire-spewing dragon-sons. Her life seems extremely fun, and her SoCal accent is beyond.
15. Conleth Hill (Lord Varys)
Please enjoy this video of Conleth Hill surprising Game of Thrones super fan Leslie Jones. Listen to that accent! And Varys got jokes! Also, he has hair in real life. He is not, in fact, a conniving, bald eunuch.
16. Carice van Houten (Melisandre)
Melisandre, aka the Red Woman, is a frightening and immensely powerful priestess. She wears great cloaks and is secretly extremely old. Fortunately, Carice van Houten, the Dutch actress who portrays her, is a far cry from the creepy Melisandre. Her Twitter and Instagram accounts are a constant stream of entertainment. She sings. She goofs around. She has never, to my knowledge, brought anyone back to life.
17. Jacob Anderson (Grey Worm)
The English actor and musician doesn't take himself too seriously, has a legit music career, and is not a formerly enslaved warrior. Did I mention his music career? He performs under the name Raleigh Ritchie, and I am here for it.
If I don't see a new Instagram post of the cast hanging out at least once a week before the series is over, I don't know what I'll do. Game of Thrones may be ending soon, but we hope these stars who are nothing like their characters continue to make me laugh, dance, and be just a little jealous of their lives for a long time to come.