Why Peter Dinklage Is Actually Happy That 'Game Of Thrones' Is Ending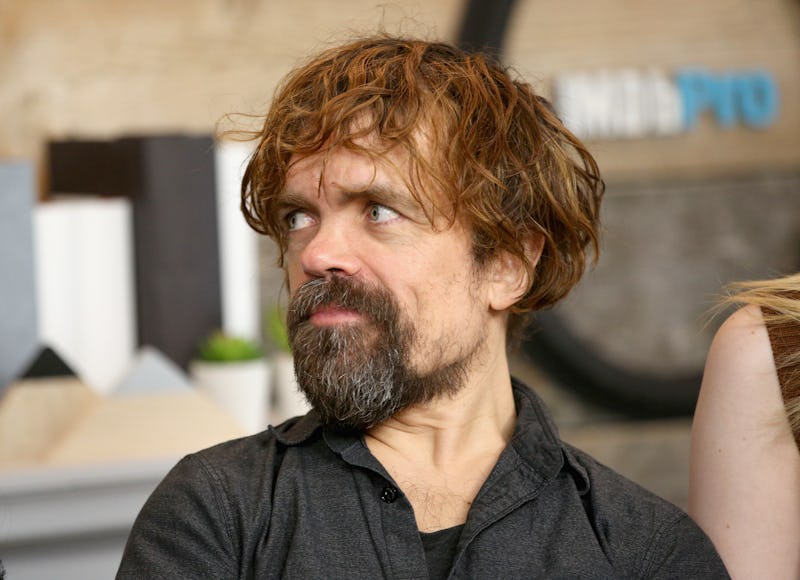 Rich Polk/Getty Images Entertainment/Getty Images
When Maisie Williams spilled the news earlier this month that Game of Thrones' final season would begin airing in April 2019, fans everywhere were devastated. Sure, it was nice to have a set timeframe for the new episodes, but having definitive proof that the HBO juggernaut was coming to an end was cause for more than a few tears. But one person who's not as upset over the show's upcoming finale is Peter Dinklage, aka Tyrion Lannister himself.
"Yeah, I'm looking forward to the future. You gotta move on," says Dinklage, when we chat about his new film I Think We're Alone Now at the Sundance Film Festival. "I've done a lot of projects that have been on the back burner for 10 years now, and I want to focus on them once Thrones is over."
Dinklage's eagerness for the series to end is perfectly understandable; after all, as he implies, being on Thrones is such a massive time commitment that taking on other movies and shows is often a difficult, if not flat-out impossible, task for its stars. Once he's done playing Tyrion Lannister, Dinklage will be able to sign on to whatever other projects he wants, without having to worry about fitting their filming in around Thrones' months-long shoots in Iceland or Croatia. But that's not to say he won't miss anything about the series, of course.
"It's gonna be sad when [Thrones] is over," Dinklage tells me, adding that the cast and crew are in the middle of shooting Season 8 now. "I really do love everyone I work with on that show."
Luckily, the Emmy-winning actor has plenty already lined up for after the show's ending — and even before that day comes. At Sundance, I Think We're Alone Now, starring Dinklage as one of the last people on Earth after an apocalypse, won the Special Jury Award for Excellence in Filmmaking, with the actor also earning praise for his leading performance. Then there's his recent turn in Best Picture nominee Three Billboards Outside Ebbing, Missouri; his highly-secretive part in May's Avengers: Infinity War; and his starring role in My Dinner With Hervé, an HBO drama awaiting a release date.
But it's I Think We're Alone Now that's clearly closest to Dinklage's heart at the moment, and not just because of its recent Sundance premiere. Directed by Reed Morano, the film stars Dinklage as Del, a reclusive man who enjoys being the only person around after an epidemic wipes out the rest of the population — until Elle Fanning's Grace shows up out of the blue. It's a thoughtful, gorgeously-filmed movie, and a showcase for its two lead actors.
"It was family away from home," Dinklage says now of the film, nodding at Morano sitting next to him. "[Morano] was also the camera operator and cinematographer so she was right there with Elle and I — literally right on top of us," he adds with a laugh. "We all got very close. I just loved that."
"I think I spontaneously texted 'I love you' to you so many times throughout the post process," Morano chimes in, addressing Dinklage. "I just look at the two of them and I just love them so much."
Dinklage and Morano both swoon over Fanning, whose kind, curious Grace adds energy and charisma into the film — apparently just as the 19-year-old actor did on set. "She's been doing this for awhile now and she's just such a pro," explains Dinklage, adding that unlike most people her age (and older), Fanning doesn't even bring a cell phone to set. "It was just so hard to be moody Del around her. I just wanted to laugh and hug and run around. She's incredible."
"She doesn't allow ever to be a dark cloud," Morano adds. "You could never have a rough day on set with Elle."
With that kind of time on set, it sounds like Dinklage won't have two Game of Thrones-like situations on his hands; there's no question that the actor will have an unequivocally tough time leaving the Sundance film completely behind.