'Game Of Thrones' Fans Are Fully Convinced Joe Jonas Has An Ulterior Motive For Marrying Sansa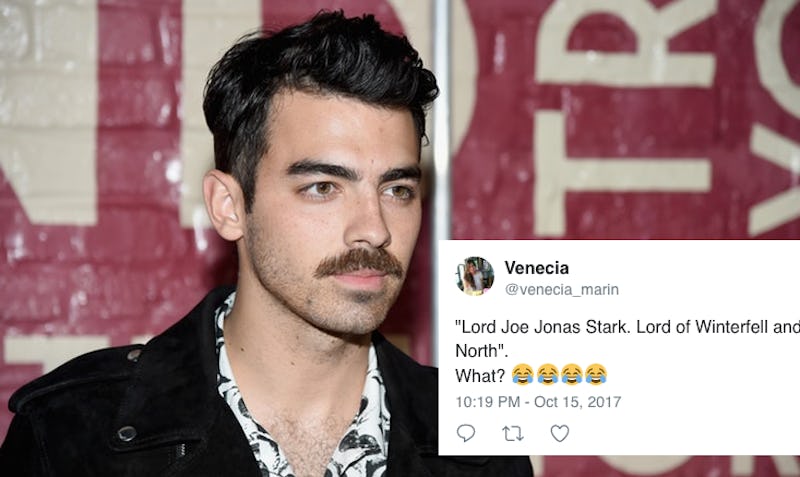 Getty Images
On Sunday, Westeros met Wycoff, New Jersey when Joe Jonas and Sophie Turner got engaged. The couple announced that they would be getting married with matching Instagram posts, and Twitter went wild. Fans online had plenty of thoughts on the couple's big news, but Game of Thrones viewers in particular had a of questions. If Jonas is engaged to the Sansa Stark, does that mean he could become the King of the North?
There were many GoT jokes flying around after the couple announced their engagement, including a dark theory that the Jonas might be a reincarnate Littlefinger. It's difficult to confirm, but the mustache similarities are suspicious. Fans also noted that Sansa Stark was already been engaged twice on the series and hoped that these nuptials would be more pleasant.
The biggest question, however, is whether or not the former-Jonas Brother is now the rightful air to the North. At the very least he could become Lord of Winterfell. The couple started dating in late 2016, so they've had plenty of time to discuss how they might divide the responsibilities of the kingdom. They were first spotted at a Kings of Leon concert in the Netherlands, but have kept their romance relatively private since. They did make the relationship Instagram official a couple months after dating and have been spotted out together numerous times, so while the engagement caught a few fans off guard, it's not a complete surprise.
Meanwhile, in Westeros, Sansa would want to keep her stature in the North, so Lord Jonas it might be. Here are all the people wondering whether or not Joe Jonas will become the King of the North now that he's marrying into the House of Stark.
Fans Are Confused
It seems like there's a good chance Joe could become Lord Joe of Winterfell.
The Title Is So Funny
When you imagine the star's title in Westeros, it does sound pretty strange.
Is Joe Jonas Celebrating RN?
Some fans think that Joe Jonas might be enjoying his newfound kingdom.
Career Goals
Joe Jonas' career trajectory is certainly interesting.
Did He Plan This All Along?
A lot of fans think that Joe Jonas might just be trying to make a name in Westeros.
Did Sansa Plan This All Along?
Is Sansa in on the Jonas' scheme? There are a couple fans who think so.
Some Fans Are Convinced
For some fans, the Jo-Bro's fate is sealed.
Many Are Accusing The Singer Of Scheming
It wouldn't be the first time someone in Westeros used marriage to try and seize a throne.
The Engagement Could Be A Way To Take Winterfell.
Lots of fans see the engagement as a play for the throne.
No Matter What His Intentions Are, Joe Jonas Will Take The Stark Name
Joseph Adam "Joe" Jonas Stark it is.
Sansa Fans Are Worried
What can he really bring to the kingdom?
Will DNCE Be On Season 8?
If Joe Jonas wants to be King of the North, he'll have to sing for his keep.
The Logistics
If Bran can't take the throne, and Jonas becomes Lord by marriage, what does it mean for Winterfell?
Some Fans Are Convinced
More than a few fans felt certain that the former-Jonas Brother was going to become the King of the North.
While it's entirely possible that Jonas and Turner are just normal a happy couple whose engagement has nothing to do with a fictional television show, Game of Thrones fans sense something afoot in Westeros. When Jonas marries into the house of Stark, will he, too, compete for the Iron Throne? Only time will tell.
For more on dating and relationships, check out Bustle's Save The Date, below: