The 'Game Of Thrones' S7 Teaser Is Here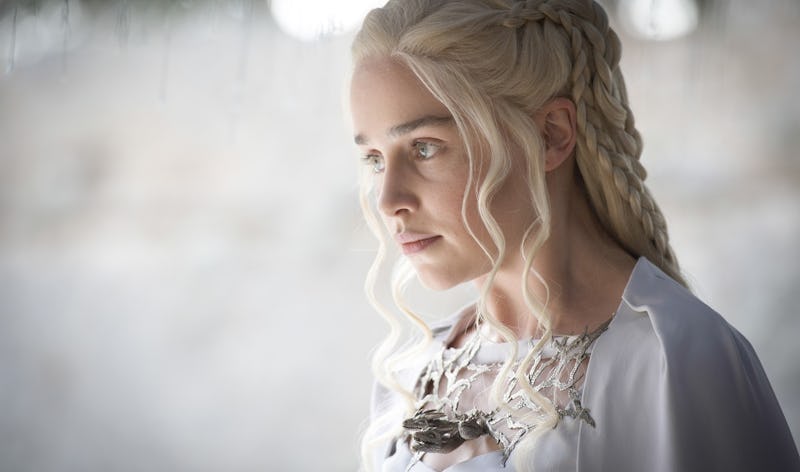 Macall B. Polay/courtesy of HBO
Fresh off the news that Game of Thrones will return July 16, HBO has already rolled out a new Game of Thrones Season 7 teaser. The network posted the video on its official social media accounts, following an agonizing wait to find out the premiere date. Considering fans had to watch ice melt for an hour (no, seriously) before the big reveal, I'm glad it ended up being a two for the price of one situation.
If you've been out of the loop and are now scrambling to catch up, let me give you a quick refresher. This season marks the the show's penultimate run, so there's a lot of build-up riding on it. The focus — ice and fire — is an homage to George R.R. Martin's Song of Ice and Fire novel series, which of course Game of Thrones is based on. Last we saw, Daenerys Targaryen (Emilia Clarke) had boarded her fleet of ships and was sailing home to Westeros to reclaim the Iron Throne, which had been seized by her father Robert Baratheon. Meanwhile, Jon Snow (Kit Harrington) was preparing for the coming war against the Night King and his army of White Walker. It's largely expected that this will be the season the two characters finally meet.
Fans will know that The Game of Thrones premise is complex and winding, but that brings us pretty much up to speed. As for the actual teaser, it promises the same sort of ultra violent, adrenaline-packed drama the prestige fantasy series has touted since its beginning, all pegged to the upcoming Great War. "There's only one war that matters. The Great War. And it is here," rings out an ominous voice.
The video itself doesn't offer much in the way of visual clues, panning across an array of stony, sinister-looking gargoyles as voices sling threats in the background. But from the sounds of it, this could be the show's most epic battle yet.