A Clue About 'Game Of Thrones' Premiere Date May Have Accidentally Been Revealed On Insta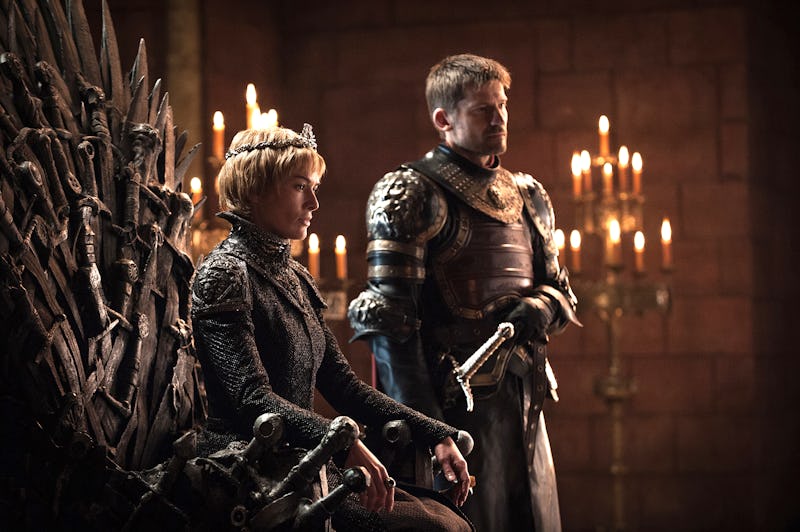 Helen Sloan/HBO
The winter between seasons of everyone's favorite HBO drama has come, and it has fans grasping at any straw they can. That's why a recent Instagram has some wondering whether an assistant director just accidentally revealed the Game of Thrones Season 8 release date. The account has since been made private, but a screenshot circulating teases two big reveals from GoT's eighth season. The first is that it will include a battle sequence that took 55 days to film and promises to dwarf any previous scene, according to IndieWire. And depending on your reading of the phrasing in the original post by longtime production member Jonathan Quinlan, the second reveal is that the final season might be dropping as soon as April 2019. (Bustle reached out to HBO, who could not comment on production details, storylines, or the airdate.)
Buried in the middle of what appears to be a thank you note to cast and crew, there's a line asking its reader to imagine how audiences will feel when they finally get the chance to watch this episode "a year from now." This is the kind of phrasing that should make your eyebrows go all the way up, because A. that's one of the first indicators fans have gotten about a specific release month, and B. it's not too long to wait. It's still a year away, sure, but it would be good news from the network, which has so far kept its promises vague, specifying only that Season 8 will drop sometime in 2019. An April 2019 release would place the premiere a full eight months before the far end of that window, so the hope is certainly something to cling to.
And based on what was posted, it doesn't even feel too terribly optimistic. Although it was quickly deleted, as mentioned above, Quinlan's April 7 post was preserved in a screenshot captured by a Twitter account with the handle @Ar_GOT0. The post includes an official-looking note signed by "Producer Types" which expresses gratitude for everyone's participation on the record-breaking shoot and reads as follows:
"This is for the Night Dragons. For enduring 55 straight nights. For enduring the cold, the snow, the rain, the mud, the sheep shit of Toome and the winds of Magheramorne. When tens of millions of people around the world watch this episode a year from now, they won't know how hard you worked. They won't care how tired you were or how tough it was to do your job in sub-freezing temperatures. They'll just understand that they're watching something that's never been done before. And that's because of you."
The statement is simple, but the meaning is significant. Quinlan didn't write "a year and a half from now," or "10 months from now." He wrote, "a year from now," and it's unlikely that he's just taking a stab in the dark to come up with that number. According to IMDb, Quinlan has worked on 20 episodes of Game of Thrones thus far; three as a trainee assistant director and 17 as an assistant director. In fact, his involvement stretches all the way back to 2011, so it's safe to say he's familiar with the production cycles on this project.
This would also be a very different conversation if the post had remained live. The GoT team is notoriously tight-lipped and spoiler-averse — for example, they're reportedly filming multiple endings to throw fans off. So if posts are being scrubbed from the internet, it's not such a long walk to imagine that it's because they contained information that production doesn't want to get out. Many outlets have seized on the fact that the note references an immense battle scene that took 55 days to shoot, 30 more than the next-most intensive battle scene, which Cinema Blend reports was the 25-day "Battle of the Bastards" shoot.
And as exciting as that is, what if the actual nugget of information wasn't the shoot length, but the release date? It doesn't seem like production would be that bothered by the length of the shoot getting out; if anything, it should just make fans more eager to watch. But casually leaking a piece of official documentation that seems to reference a release date? That seems like a much bigger deal, and the kind of information that a post might be removed in order to protect. Whenever the GoT release date is officially announced, it will almost certainly be through HBO itself, and not through the Instagram account of an assistant director.
In any case, this is all still speculation, but since this fandom flourishes on theories and there are no episodes to pore over right now, you can't blame anyone for drawing these sorts of conclusions in the meantime.