The Dragonpit May Hold More Significance In 'Game Of Thrones' Season 8 Than You Thought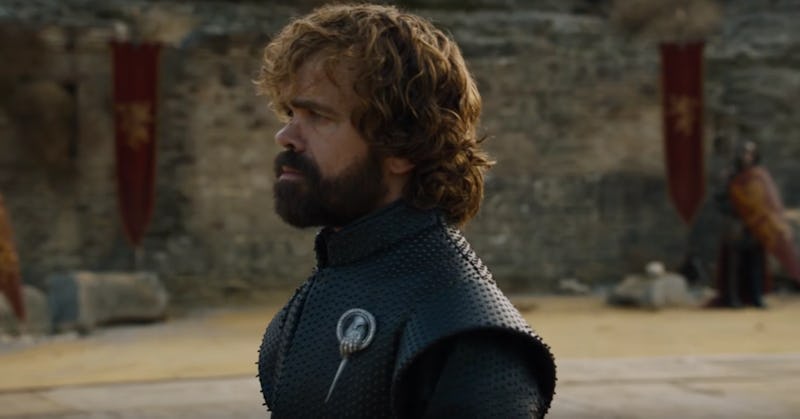 HBO
Though you might have to wait until 2019 to see the grand finale of Game of Thrones, there are some new clues about where things might be heading. According to Watchers on the Wall, several key Game of Thrones characters might meet at the Dragonpit. Though no one involved in the show or from HBO has confirmed the scene, several reports of actors being seen at (or traveling to) Seville, Spain has well-informed fans speculating on what's in store for the finale. Minor spoilers ahead for Season 7, and if the reports are correct, Season 8.
According to the Game of Thrones-dedicated website, the body doubles for Sansa Stark and Tyrion Lannister were both seen in Seville. The Spanish province is the site of the ruins of Itálica, an ancient Roman city that was used as the set of the Dragonpit in the Season 7 finale. The former married couple are not the only characters who are reportedly making an appearance either — other reports from the site placed Maisie Williams (Arya Stark) in the area while on "vacation" with her boyfriend, and Peter Dinklage (Tyrion) was apparently seen at a high-end restaurant called Restaurante Aponiente near Seville dining with showrunners David Benioff and D.B. Weiss.
The restaurant's chef Ángel León even posted a picture with Dinklage on Instagram. He wrote, "Yesterday was a really magic day because the @gameofthrones crew came to visit us... thank you!"
In addition to those already seen in Seville, there were reports of a slew of actors waiting in London to board a plane to the city. Jon Snow (Kit Harington), Sansa (Sophie Turner), Bran Stark (Isaac Hempstead Wright), Brienne of Tarth (Gwendoline Christie), and Samwell Tarly (John Bradley) were all reportedly en route from the airport.
Watchers on the Wall writer Luka Nieto speculated that if no other directors were seen in the area, it could mean that Benioff and Weiss are ending what they started in 2011, and shooting a scene for the series finale at the Dragonpit. With so many characters supposedly participating in the scene, it could be one of the final moments ever in Game of Thrones.
According to Westeros history — as revealed by Tyrion last season in GoT — the pit was built by the Targaryens in King's Landing hundreds of years before as an arena for their dragons. During the Season 7 finale, it was picked as a spot for enemy Westeros factions to come together to discuss the white walkers.
Due to the protected nature of Itálica, Watchers of the Wall's site argued that it's unlikely that a big battle scene will happen at the Dragonpit — though that wouldn't' necessarily stop a smaller, more contained fight necessarily. Still, given that all the characters listed as reportedly being involved are allies, it seems unlikely they'd be brawling. The scene consists of the three remaining Stark siblings; their "half-brother" (actually their cousin) Jon Snow; sworn protector of the Stark sisters, Brienne of Tarth; Jon's BFF Sam; and Tyrion, a guy also dedicated to destroying the White Walkers and unthroning Queen Cersei.
If anything this scene, especially with its proximity to the Westeros' capital, King's Landing, could be a meeting to discuss the future of the Seven Kingdoms. The characters could be planning what to do next with the war-torn country, deciding who should lead and how to rebuild. While the absence of Emilia Clarke (Daenerys Targaryen), Lena Headey (Cersei Lannister), Nikolaj Coster-Waldau (Jaime Lannister), and other notable remaining actors from the report does not mean their characters are necessarily dead. Those actors very well could be in Seville — they might just be better at keeping a low profile. But if they are missing, that could mean any number of things, including an ultimate victory for the Stark family, or if Daenerys is alive and wasn't invited, that she had a falling out with her nephew/lover Jon, which could be bad news.
It's impossible to say what the next season holds, but the meeting of these pivotal characters, in whatever capacity, so far away from the north promises to be an important scene in final season.