'Game Of Thrones' Season 8 Will Test Your Favorite Characters & Yes, You Should Be Nervous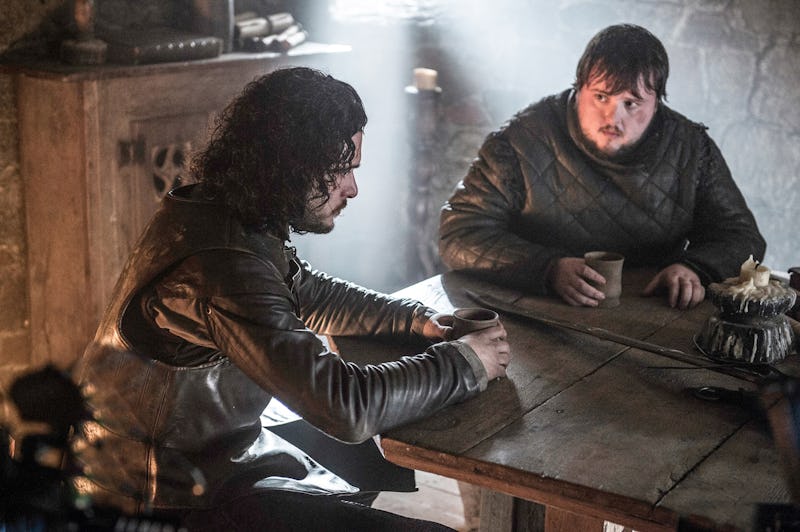 Helen Sloan/HBO
Unfortunately, fans will have to wait a little longer for the final season of Game Of Thrones' premiere date — like a whole entire year's worth of waiting. But Samwell Tarly himself, actor John Bradley is teasing Game Of Thrones Season 8 spoilers that should have fans excited, but also very concerned. That's because the upcoming season of the HBO series is going to be a real test for your favorite characters now that The Wall has come down.
In an interview with TV Guide right before the new year, Bradley previewed GOT Season 8 and said,
"Each of the characters this year is placed in a completely alien environment at some point in the season that they've never been placed in before."
On a show that isn't afraid to put its characters through the ringer — remember Cersei's naked walk of shame in Season 5? — that's saying something. And while it may cause concern for anyone who wants to see Jon Snow, Daenerys Targaryen, and, of course, Sam make it out of the series finale alive, Bradley said it is also quite thrilling.
"The thrill," he said specifically, "is seeing how they react to it and how they respond... This season, I think, more than any other is stretching these characters."
The remaining characters on Game Of Thrones will have to make choices that are unfamiliar to them, or may even seem out of character. As Bradley told TV Guide, this is sure to lead to some shocking moments:
"These characters are so detailed and so rich, you can feel that you've got a pretty good handle on your character. You can predict how your character will react in any given circumstance, but when you place these characters in a new environment, it's always putting them under a microscope, and you constantly have to reexamine your character."
Basically, what Bradley is saying is to expect the unexpected from these characters who you thought you knew. They might just surprise us with their choices, which are likely going to decide whether they come out of the war with the white walkers alive. More importantly, though, their decisions might be the difference between them being remembered as a hero or a villain. The truth is, some of your favorites may show their true colors and no longer be your favorite before this is all over.
Bradley didn't give any specifics on what kind of situations these characters will be put in, or which characters might be tested the most. Though, he did tell TV Guide that Bran and Samwell are a "formidable team," who figured out Jon Snow's true parentage. This might mean we're going to see these two teaming up more in Season 8, but no surprise, Bradley doesn't confirm that with the magazine.
That's why Bradley's "alien" comments are the most spoiler-y information GOT fans have gotten as of now. Sophie Turner teased that Game Of Thrones won't return until 2019 in an interview with Variety, but the show has yet to announce an official premiere date. All that is known is that the show is currently filming the final season.
Word of the extraterrestrial nature of the upcoming season is enough to get fans talking — not to mention, theorizing — because it's a clue that Season 8 may be different than the others. That's a bold move for the the show's creators, D.B. Weiss and David Benioff to take, being that the audience already has high expectations for the show's final season. Basically, it's a high risk/high reward season that if they pull it off will be a bit of a magic trick.
It's a trick that Bradley admitted will be hard to pull off. "The stakes definitely feel ramped up," he told TV Guide. "We know that we've got a real job to do. This has been a part of people's lives for so many years." There's that pressure, he said, to "satisfy people. We want to give people a payoff that they're going to be happy with." An ending, as he says, they they "deserve."
What will that be? Well, you guessed it, he's not going to talk about it because he's not going to get into any legal trouble with HBO. But, for the next year, fans can spend their time debating the kind of ending they deserve.