Becca's First Impression Rose Winner Is Here & 'Bachelorette' Fans Should Take Notice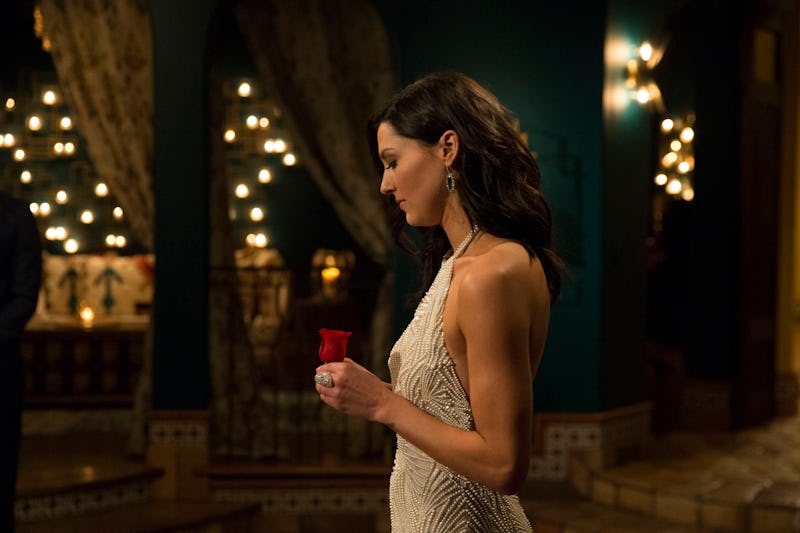 Paul Hebert/ABC
Rose ceremonies are an important part of every episode of The Bachelorette, but when it comes to the season premiere, no rose is more coveted than the first impression rose. And this time, it went to someone who had a connection with Becca from the start. On Monday's Bachelorette premiere, Garrett got the first impression rose, and let's not kid ourselves — it was totally the minivan that sealed it, right?
From first time Garrett was introduced, it was clear that he was gunning to basically be the opposite of Arie (which has to be a good thing where Becca's concerned). In the segment about his life at home in Reno, he seemed like a guy full of fun and energy with a huge personality, and even though he was instantly a lot to take, he appeared to be a pretty nice guy. That's a vibe that Becca probably picked up on when they met, especially since his first conversation with her was all about proving that he's ready for the commitment that she craves. Garrett was all about proving that he can offer her stability, and there are a lot worse things someone can offer.
Limo arrivals are all about making a memorable entrance, and Garrett got that down, too — and the car seat in the back was a nice touch. But where he really made that connection with Becca was what happened inside the mansion.
When they finally had the chance to talk inside, Becca said that Garrett and his outdoorsy interests (and the fact that he wanted to go "fishing" with her) reminded her of home, which is a really good thing when it comes to choosing the person you're potentially going to spend the rest of your life with. And even better than that, he made her laugh — something that she really seemed to value when she met her contestants. It's also something that shows how different he is from Arie, who wasn't exactly known for cracking jokes... or making grand gestures that included practical family vehicles.
And after Becca gave him the first impression rose, we got to see that yes, there's chemistry that exists between them, too. Garrett ended up being one of her first kisses of the season, which is definitely a Big Deal, and it was a steamy one. There are obviously a lot of guys who Becca could hit it off with, but Garrett seems to be the whole package.
And then, of course, there was that adorable moment after they kissed, where Garrett proclaimed, "I'm the luckiest guy in the world right now." That is exactly the reaction she should be looking for from anyone she gets serious about this season. No more hedging, unsure Aries this time.
From what we know about Becca from watching her on The Bachelor last season, she has a good sense of humor, but she's also serious about her future and finding the right person. Garrett could be the perfect mix of both of those qualities — and he already has the perfect dad car. After everything she went through with Arie, Becca deserves an awesome guy who wants the same things she wants out of life. Hopefully Garrett can back those initial first impressions up and be a solid guy throughout the show.
Of course, it's only night one, so there's a lot of room for anything to happen, and not all Bachelorette stars end up giving their final rose to the same person they gave the first impression rose to. Although, as the former Bachelorettes Rachel, JoJo, and Kaitlyn all pointed out — their first impression rose winners also won the show. So, Garrett is definitely off to a good start, and it'll be interesting to see if he and Becca maintain their connection as the season continues.